Freeway Insurance is Proud to Partner with LoanCenter to Offer Refinancing for Auto Loans.
Affordable Auto Refinancing Options with LoanCenter
If you've owned your car for a while and it was purchased through a loan, you should consider refinancing your car, especially if you're looking to lower your expenses, including your auto insurance. Refinancing is essentially taking out another loan to pay off the original one. It can offer you many benefits like lowering your monthly rates, shortening the time left on your loan or the opportunity to pay less interest overall.
Freeway has partnered with LoanCenter1 to offer customers the ability to save money by refinancing their current loan. If you are looking to save money on your monthly car payments, refinancing may be the right choice for you!
Refinancing with LoanCenter is Simple!
Auto refinancing is the process of replacing an existing loan with a new one. This allows borrowers to potentially find a new lender that can offer them an updated duration time and best of all, a lower interest rate.
The Benefits of Refinancing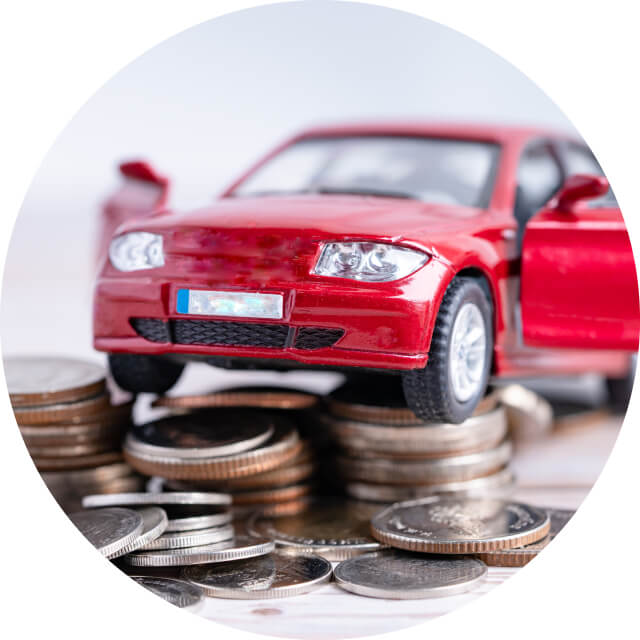 Lower Interest Rates
Shorter Repayment Period
Better Monthly Payments
Determining if you should consider to refinance can be tricky. Here are some additional reasons you might consider refinancing:
At the time of your purchase, you may have not received an ideal interest rate.
If you initially had credit problems or no history and now your score has improved, you may qualify for a lower rate through a refinance.
Your financial situation has changed, and you need options.
If you are encountering financial issues and need to decrease your monthly payments.
Refinancing your car loan can be a great option in some circumstances and give you the ability to have more control of your finances.
The Process Is Simple!
1

Prequalify

2

Instantly

Confirm your personal information and tell us what vehicle you are looking to refinance. Best part? It won't impact your credit score.

2

Select Your Offer

Choose the offer that best aligns with your savings goals and complete the application process.

3

Start Saving

Welcome to your new loan! We hope you enjoy your new savings.
How Much Can I Save with LoanCenter?
Don't overpay on your loans! Prequalify with LoanCenter to see your savings potential.
$119
$1,710
Average Savings on Monthly Payment

3

Average Total Savings
Get Affordable Car Insurance with Freeway Insurance
Car insurance is needed when you are refinancing a car. Freeway Insurance can help you navigate the car insurance maze with an online quote or by calling us at (800) 777-5620. You can also visit us at an office near you.
1 Westlake Direct, LLC makes or arranges loans under the fictitious business name LoanCenter, except in CA, IL, SC and UT, where it operates as Westlake Direct, LLC. Loans are not available in all states. Please contact Westlake Direct, LLC at our toll-free number (888) 739-9192 or email at loansupport@loancenter.com for a complete list of states where we offer loans.
2 LoanCenter When you apply for credit under this offer you consent to using the Clutch loan application tool (owned by WithClutch, LLC) and allowing Westlake Financial to share your information. LoanCenter and WithClutch will review that information along with other information you provide (for example, an updated credit report), to determine whether your credit history meets our pre-established criteria. We will also determine whether you meet other pre-established criteria (for example, payment to income requirements). Your application is subject to the verification of acceptable income, your employment, the grant of a first lien on your motor vehicle, collateral of acceptable value, valid insurance on the motor vehicle, and verification that you meet all pre-established criteria for the offer. Your existing auto loan cannot be with Westlake Financial, Western Funding, or Wilshire Consumer Credit. This offer is not transferable and is available to individuals of legal age or older. The minimum loan amount that LoanCenter will finance is $6,000. Vehicle restrictions: vehicles must not be older than 10 years or have more than 150,000 miles.
3 Average savings based on applications received between 06/2019 and 01/2020. Savings were seen most for customers with an existing rate of 11.99% or more under their current contract.
Notice to California Residents: Loans made pursuant to California Department of Financial Protection and Innovation.