Illinois is a friendly, centrally-located state that offers the well-known and generally loved Chicago deep-dish pizza. Although the Prairie State is, for the most part, flat, there is still plenty to do for the adventurous, including checking out the beautiful Garden of the Gods and Rim Rock Recreational Area, located in Shawnee National Forest. And don't forget Lake Michigan, plus plenty of other great lakes, for boating, fishing and other water sports. Music fans already know about the three-day-long music fest known as Lollapalloza that takes place in summer and don't get the sports fans started – with teams like the Chicago Bulls, Chicago Bears, Chicago Cubs and Chicago White Sox, the state is a mecca for basketball, football and baseball groupies.
If you are planning to drive in Illinois, you'll be sharing the roads with more than eight million licensed drivers and all drivers are required to carry car insurance in Illinois.
Quick Facts
In 2019, 186 fatal crashes out of 1,010 in Illinois were caused by unlicensed drivers
I-55/Stevenson Expressway is one of, if not the, most dangerous roads in Illinois. It runs from Chicago to New Orleans.
Uninsured drivers account for 11.8 percent of drivers in Illinois, making it #24 in the nation.
How Much Is Car Insurance in Illinois?
Full coverage car insurance in Illinois will cost on average $1,485 per year. This is actually less than the national average of $1,738 per year. Drivers who opt for the state-required minimum liability insurance in Illinois will pay on average $442 per year, slightly lower than the $480 average of the nation.
Keep in mind that everybody will pay a different premium for their auto insurance. If you are looking for the cheapest car insurance in Illinois, you'll need to explore the basic liability insurance, plus have a stellar driving record and take advantage of all car insurance discounts you can.
What Is the Average Premium for Cheap Full Coverage Car Insurance in Illinois?
The average premium in Illinois for full coverage car insurance is $124 per month, slightly lower than the national average, which is about $144.
Full coverage car insurance is liability plus comprehensive car insurance and collision auto insurance. If your vehicle is financed, your lender will most likely require full coverage insurance. Many drivers choose to carry full coverage for the enhanced financial protection it offers. You can also increase your liability coverage.
How Much Is It for Cheap Liability Insurance or the Minimum Required Car Insurance in Illinois?
The average price for the mandatory minimum liability car insurance coverage in Illinois is around $37 per month. That's a few dollars cheaper than the national average of $40.
At first, that sounds like a great deal. However, paying the least amount for the least coverage is a precarious situation for many drivers who don't have enough cash savings to cover themselves and others if they wind up in an accident. Because Illinois is an at-fault state, drivers who cause a crash must compensate other drivers for their losses. That's why Illinois drivers must insure against losses for both themselves and others. Otherwise, they may have to pay additional expenses out of pocket.
How Do Rates Compare Across Major Cities in Illinois?
More than 12 million Americans call Illinois home. The state known as the Land of Lincoln is the sixth-largest in the U.S., with Springfield as its capital. Bustling Chicago sits in northeastern Illinois, with small industrial and agricultural cities also dotting the landscape. The southern half of the state has bountiful natural resources, with towns and cities invested in coal, timber, and petroleum production. Here's a look at the average monthly car insurance premiums that Illinois drivers pay across the state.
Keep in mind that insurance companies look at collective data, such as how many accidents, incidents of vehicle crime and personal injury lawsuits are filed when factoring on rates for a certain area.
| City | Full Coverage Insurance | Liability Insurance Coverage |
| --- | --- | --- |
| Cicero | $182 | $61 |
| Chicago | $227 | $67 |
| Berwyn | $169 | $58 |
| Decatur | $123 | $43 |
| Bloomington | $110 | $38 |
| Peoria | $128 | $45 |
| Naperville | $122 | $45 |
| Skokie | $171 | $65 |
| Springfield | $130 | $45 |
| Rockford | $129 | $44 |
Unless otherwise specified, we use the following methodology to arrive at our average cost: male, age 30, lowest possible legal coverage allowed by state. Your rates will be determined by several factors, including your age, your gender and the amount of coverage you want to purchase.
Are There Good Driver Discounts in Illinois?
Good driver discounts are available to Illinois drivers through most insurers. Drivers may also find discounts such as:
Policy discounts that reward customer loyalty. This includes registering for paperless billing, for example, or getting both home and auto policies from the same insurer
Driver discounts that are available to those who are lower risk to insure, like experienced drivers with clean driving histories and students with good grades car insurance discounts.
Vehicle discounts, which help drivers save money if their vehicles have certain safety features, for example, or anti-theft systems
Getting a Free Auto Insurance quote with Freeway is easy!
Illinois Car Insurance Laws
Ensuring drivers are safe on the road is the top concern of the state of Illinois. All Illinois registered vehicles undergo an electronic verification program twice a year through a company that receives required real-time information from all Illinois insurance companies. If you cancel or have a lapse in car insurance coverage, the state will find out and you will get a notification in the mail.
Auto insurance protects you from financial losses such as vehicle repairs, medical bills, and legal services that result from a crash you caused.
What Are the Mandatory Car Insurance Requirements in Illinois?
The minimum coverage Illinois requires its drivers to carry is 25/50/20 or:
Illinois is an at-fault state, which means that the driver who causes a crash must pay for the other driver's bills.
What Is the Penalty for Driving Without Insurance in Illinois?
Auto insurance is not an option in the state of Illinois. A first-time offender can expect:
A $500 to $1,000 fine
Have their license suspended, with a $100 fee to have it reinstated
Be required to have SR-22 insurance  for at least three years
Penalties and fines only go up the more driving without insurance convictions you rack up in Illinois.
What Factors Does Illinois Law Allow in Determining Your Premiums?
Drivers who want the cheapest car insurance in Illinois want to know how their premiums are calculated. If you know what goes into a calculation, you can hope to control where your auto insurance quote lands.
Insurers use many factors in determining an appropriate car insurance rate for you, including age, education, occupation, and zip code. In Illinois, the criteria typically used are:
These criteria might also include:
Your age, gender, and marital status
Your coverage limits
The type of vehicle you drive, how often you drive, and its annual mileage
Where you live
Find an office near you to help with your auto insurance
What Is Driving Like in Illinois?
How Many Car Accidents Happen in Illinois?
Sadly, car accidents are the leading cause of most unintentional deaths in Illinois. According to the state statistics, 938 fatal crashes were reported in 2019, resulting in 1,010 deaths. That number is slightly lower from previous years — down 1.37% compared to 2018, which saw 951 fatal crashes statewide, and down 6.19% compared to figures for 2017, which saw 998 fatal crashes.
Here's a look at the total number of accidents in Illinois' largest counties in 2018.
| County | Accidents |
| --- | --- |
| Cook | 326,633 |
| Lake | 27,439 |
| DuPage | 41,419 |
| Will | 28,735 |
| Kane | 21,237 |
These numbers are frustrating because many of these accidents could have easily been prevented. In 2018, 252 drivers and passengers were killed in fatal crashes across the state who were not wearing a seat belt. Even more disturbing, of the 951 fatal crashes that happened in Illinois in 2018, 27% were alcohol-related. Help keep Illinois' roads and highways safe by buckling up and not driving while under the influence of alcohol or drugs.
How Many Uninsured and Underinsured Motorists Are in Illinois?
In 2019, Illinois reported that roughly 11.8% of its drivers are on the road without insurance. Running the risk of being involved in a crash with an uninsured or underinsured motorist isn't worth it. This is why many Illinois motorist choose to carry Uninsured Motorist Insurance coverage, which is actually pretty cheap and will keep you better protected.
FAQs About Illinois Car Insurance
I am a low-income driver. What can I do about getting the cheapest car insurance in Illinois?
First, maintain an excellent driving record. Second, shop around for car insurance. Third, ask potential car insurance companies about discounts they offer. When you look for a car to purchase, buy one that has lower insurance numbers – your insurance agent can help you identify these money savers.
If all else fails, Illinois drivers who cannot find affordable car insurance might want to consider the Illinois Automobile Insurance Plan, managed by the Automobile Insurance Plans Service Office (AIPSO), a nonprofit management company.
Can an undocumented worker get cheap car insurance in Illinois?
Yes. Illinois allows undocumented workers to obtain a temporary visitor driver's license for undocumented, non-visa status individuals. This license is valid for three years and is typically issued only in a Class D, L, M, DL, or DM, authorizing operation of a personal car, motorcycle, or motor-driven cycle.
Applicants between the ages of 18 and 20 must present proof of successful completion of a six-hour adult driver education and training course.
To be eligible for this license, an applicant must:
Present acceptable documentation to show proof of Illinois residency for the prior 12 months
Provide two acceptable documents for proof of current U.S. residency
Be ineligible for a Social Security number
Provide acceptable documentation that proves date of birth and verification of written signature
Provide a valid passport or consular identification card
Pay the appropriate fee and successfully complete a vision screening and the appropriate written and road tests
Applicants must also provide proof of insurance coverage for the vehicle they will be driving during the road test.
Is it possible to get cheap car insurance in Illinois with a DUI mark on my record?
Yes, but you may have to find a new insurance provider. Because having a DUI mark on your record makes you a high-risk driver, your insurer may either cancel your policy or raise your rate dramatically. You'll need to obtain coverage from an insurer that specializes in high-risk policies. In Illinois, you will need to file an SR-22 certificate once convicted of DUI. You'll need to find auto insurance you can afford before you can drive again.
Get an Affordable Illinois Car Insurance Quote Online Today!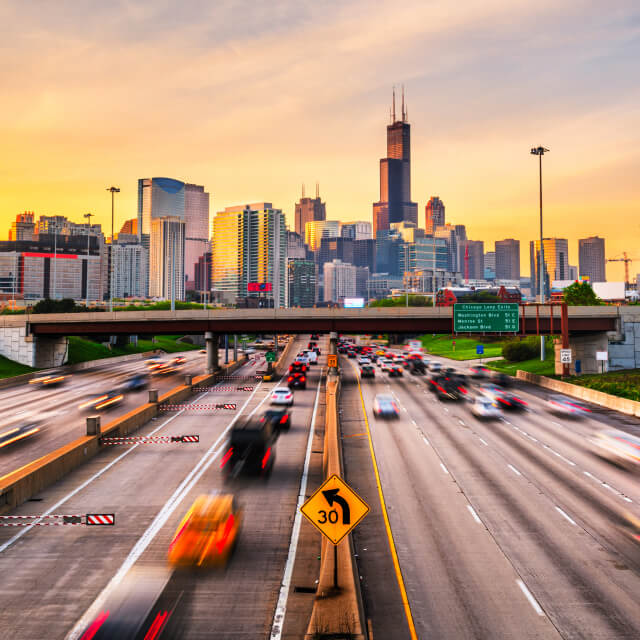 Insurance is more than just a legal requirement. It's a method of protecting yourself from the risks of daily driving in Illinois. Don't let yourself get bogged down with substantial medical expenses and car repair bills that often result from collisions. Get started with a simple and free car insurance quote online, visit us at an Illinois office near you, or call us at 800-777-5620 for a quote.
Auto Insurance Info by City
Select a Product or Service to request a quote
Ready to Get a Quick Quote?