The largest city in central Illinois, Springfield is an under-the-radar, historically significant city. It was a key stomping ground of both Abraham Lincoln and Barack Obama before their presidential runs. The city is also home to some of the nation's most revered libraries and museums, including the Abraham Lincoln Presidential Library and Museum, Lincoln Home National Historic Site, and Frank Lloyd Wright's Dana-Thomas House.
To drive legally in Springfield, you must carry an active auto insurance policy. Keep reading to learn more about car insurance in Illinois, including penalties for driving without insurance, available discounts, and the state's minimum liability requirements.
Quick Facts
Abraham Lincoln is Springfield, Illinois' most famous past resident, living there from 1837 to 1861.
Springfield's former name was Calhoun, after former South Carolina senator John C. Calhoun.
The city of Springfield is home to a

4,200-acre

artificial reservoir.
Famous poet Vachel Lindsay, the author of "The Congo" and "Rhymes to be Traded for Bread," was born in Springfield.
Two interstate highways run through Springfield:

I-55

and

I-72

.
How Much Does Car Insurance Cost in Springfield, IL?
Motorists choosing full coverage car insurance can expect to pay an average monthly premium of $130 a month in Springfield, which is an excellent deal compared to the state average of $162 and the national average of $140. Those who are seeking the cheapest car insurance in Springfield may go for the state-required minimum, which averages $45 per month. That compares to an average of $38 per month for the state overall and $47 for the nation.
Illinois requires the normal liability car insurance, which consists of bodily injury and property damage, plus uninsured motorist coverage.
Those who choose the protection of full coverage will receive those minimums, plus comprehensive car insurance and collision auto insurance.
Insurance companies look at the number of claims in an area as one of the factors to determining your premium. If you live in an area with a high number of claims, your rates will be higher. Here is a look at the average monthly premiums paid by residents in other Illinois cities.
| City | Full Coverage Insurance | Liability Insurance Coverage |
| --- | --- | --- |
| Springfield | $130 | $45 |
| Chicago | $159 | $58 |
| Evanston | $141 | $53 |
| Naperville | $122 | $45 |
Low-Cost Car Insurance Rates by Zip Code in Springfield, Ill
Insurance rates vary depending on which Springfield zip code you live in. This disparity is due to demographic distribution as well as the volume of moving violations and other low- or high-risk driving behaviors that affect rates for all residents in the region.
To learn the average monthly premiums paid by zip code in Springfield, see our breakdown below.
| Zip Code | Full Coverage Insurance | Liability Insurance Coverage |
| --- | --- | --- |
| 61107 | $121 | $43 |
| 62701 | $130 | $45 |
| 62702 | $122 | $43 |
| 62703 | $128 | $44 |
| 62704 | $121 | $43 |
| 62707 | $121 | $40 |
| 62711 | $119 | $41 |
| 62712 | $121 | $41 |
| 62716 | $130 | $45 |
| 62764 | $130 | $45 |
Affordable Car Insurance Rates by Age in Springfield, Ill
Generally, younger drivers pay more in insurance premiums. However, once you have spent more time on the road, you can expect to see insurance rates drop, usually around your late 20s and entering your 30s, 40s, and 50s.
To learn the average monthly premiums paid by age in Springfield, see our breakdown below.
| Age | Full Coverage Insurance | Liability Insurance Coverage |
| --- | --- | --- |
| Teenagers | $479 | $189 |
| 20s | $183 | $62 |
| 30s | $126 | $44 |
| 40s | $115 | $42 |
| 50s | $111 | $41 |
| 60s | $114 | $43 |
| 70s | $137 | $55 |
Unless otherwise specified, we use the following methodology to arrive at our average cost: male, age 30, lowest possible legal coverage allowed by Illinois. Your rates will be determined by several factors, including your age, your gender and the amount of coverage you want to purchase.
Get a Quote for Car Insurance in Illinois Today!
Driving Conditions in Springfield, Illinois
How Many Fatal Accidents Happen in Springfield, Ill?
In 2019, Springfield had 12 fatal road traffic accidents, resulting in 12 fatalities. A total of 31 people were involved, though no accidents involved any pedestrians.
How Are the Road Infrastructure and Bridges in Springfield?
The city of Springfield, Illinois, has an active Public Works department that works to maintain the city's roads and infrastructure. Some recent proposed and active road improvement projects have focused on Koke Mill Road, Hedley Road, MacArthur Boulevard, and Lawrence Avenue.
A big component of these projects is street and sidewalk improvements, with Public Works staff responsible for conducting ongoing condition analysis on all its streets and alleys every two years.
Minimum Car Insurance Requirements in Springfield, Illinois
All Illinois drivers must carry:
$25,000 bodily injury liability per person
$50,000 bodily injury liability per accident
$20,000 property damage liability per accident.
$25,000/$50,000 uninsured motorist coverage per person/per accident
Although meeting the state-required minimum liability insurance of 25/50/20 allow you to drive in the state legally, we recommend seeking higher liability limits. Many vehicle accidents easily exceed the max payouts for bodily injury and property damage, forcing responsibility back to the driver.
Uninsured motorist coverage is invaluable and protects you if you get hit by a driver who doesn't have insurance – or a hit and run.
Remember, even one day of lapsed coverage can result in a license/registration suspension, increased rates for 3+ consecutive years, court costs, administrative fees, and requiring the filing of SR-22 insurance to prove to the state you are carrying the minimum required coverage.
What Are the Penalties for Driving Without Insurance in Springfield, Ill?
Penalties for driving without insurance in Illinois are stiff and steep.
First and second-time offenders can expect to see their driver's license and registration suspended for up to three months until proof of insurance is provided, on top of fines up to $1,000 and an additional $1,000 if caught driving with suspended plates. Subsequent offenses see stiffer penalties ($1,000 fine plus an extra $2500 fine if involved in an accident)
Other fees include a $100 reinstatement fee, all administrative costs in filing for SR-22 insurance, and proof of financial responsibility to the state of Illinois you are carrying the minimum required coverage.
Factors Allowed in Springfield Car Insurance Rates
Many factors determine Springfield auto insurance rates, including, but not limited to:
Driving record and claims history
Physical location
Gender
Age
Marital status
Type of vehicle
Credit score
To keep premiums low and peace of mind high, we recommend maintaining a clean driving record free of claims, moving violations, traffic infractions, and other riskier driving behaviors for as long as possible. Even a single claim could double your monthly rate, blowing up your monthly budget.
Discounts for Car Insurance in Springfield, Ill
There are many ways to save money on car insurance in Springfield.
One of these methods involves enrolling in defensive driving courses and installing anti-theft devices, which show insurers you are taking a proactive approach to keep your car safe from theft and you driving record clean.
Other types of car insurance discounts include but are not limited to:
To learn what discounts you qualify for, call your insurance company every six months (or as your life circumstances change). Even switching to an older make and model vehicle or becoming a member of a trade/professional organization (e.g., military and AARP) could help you save a few dollars.
Get an Online Quote for Low-Cost Car Insurance in Springfield Today!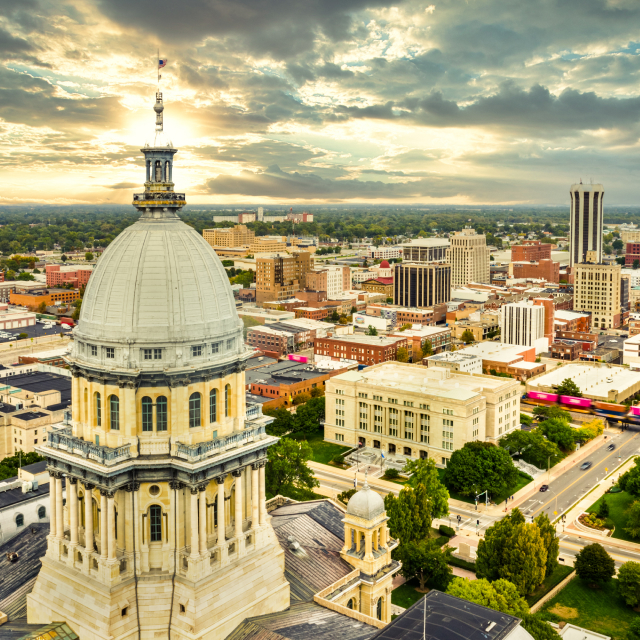 Freeway Insurance is ready to help you find an affordable auto insurance policy for greater peace of mind anywhere you go, whether it's a state minimum liability policy or full coverage policy comprehensive and collision insurance.
To get started, request a car insurance quote online, visit a local Springfield office, or call us at 800-777-5620 for a free no-obligation quote by one of our friendly agents. Contact us today!
Select a Product or Service to request a quote
Ready to Get a Quick Quote?