How Much Is Auto Insurance for the Toyota Camry?
The average annual premium is $316 for minimum and $1,267 for full. The newer models are equipped with safety features that make it one of the more affordable for car insurance. If your new ride is financed, then your lender is probably requiring full, which just means the state-required minimum coverage, plus comprehensive and collision.
However, if you own, your cheapest auto insurance is going to be the state minimum, which differs from state to state.
Freeway is ready to help you find an affordable state minimum, liability-only, or full coverage policy.
Getting a Free Auto Insurance quote with Freeway is easy!
Comparing Costs for Your Sedan to Other Makes and Models
Policy costs for these sedans are different compared to other similar makes and models based on several factors, including resale value, rate of depreciation, safety features, and the cost of parts and labor.
| Make/Model | Annual |
| --- | --- |
| Camry | $1,267 |
| Corolla | $1,273 |
| Highlander | $1,468 |
| Honda Accord | $1,234 |
| Kia K5 | $1,568 |
| Nissan Altima | $1,323 |
Toyotas are well known for lower premiums than competitors thanks to cheaper OEM parts and a slew of safety features, such as pre-collision systems and lane departure assist warnings that do an exceptional job of preventing road accidents.
Types of Car Coverage for the Toyota
All drivers have the option of different types, including full or state minimum, plus a variety of optional types.
Full Coverage
Full policies for drivers include liability plus additional protections, such as collision and comprehensive.
Collision protects against damages related to vehicle-to-object, and rollover collisions. In turn, comprehensive covers damages due to non-collision-related accidents from natural disasters, falling objects, theft, vandalism, and similar "acts of god."
All comprehensive and collision claims require a deductible anywhere from $250 to $1,000. Once your deductible is paid out-of-pocket, your insurer covers the rest up to the limits of your policy.
Outside of comprehensive and collision, drivers can add various options such as roadside assistance, uninsured motorist coverage, and rental reimbursement. These are not must-haves, but they are nice to haves.
Don't be surprised if your lease or loan requires a full policy to better preserve your residual value.
State Minimum Liability
Liability-only pays for damages to others via bodily injury and property damage liability. Bodily injury liability coverage pays up to a maximum policy limit, split into a maximum amount paid per person and a maximum amount paid per accident.
Property damage liability coverages offer a maximum payment for damages to other vehicles or property, not including yours.
Different states set different minimum liability limits. For example, Arizona drivers must carry a minimum bodily injury of $25,000 per person, $50,000 per accident, and property damage liability of $15,000 per accident. On the other hand, Texas drivers must carry minimum bodily injury of $30,000 per person, $60,000 per accident, and property damage liability of $25,000 per accident.
Unless the cost of comprehensive and collision exceeds the value of your sedan, you should opt for full over a liability-only policy for greater peace of mind.
How Does a DUI Affect Rates for a Toyota Camry?
If you are convicted of a DUI, you will definitely see higher premiums, on top of a suspended license/registration, fines, administrative fees, and possible jail time. Drivers could see their premiums increase by 93%.
With DUI convictions, insurers reclassify you as a higher-risk driver. Expect high premiums for at least three years. Rates vary depending on whether or not you have a single conviction with an otherwise clean driving record or multiple DUI convictions. Some carriers may even refuse to provide coverage. Freeway does offer cheap DUI insurance.
Most states require DUI drivers to obtain SR-22 to prove they are carrying the state's minimum requirements.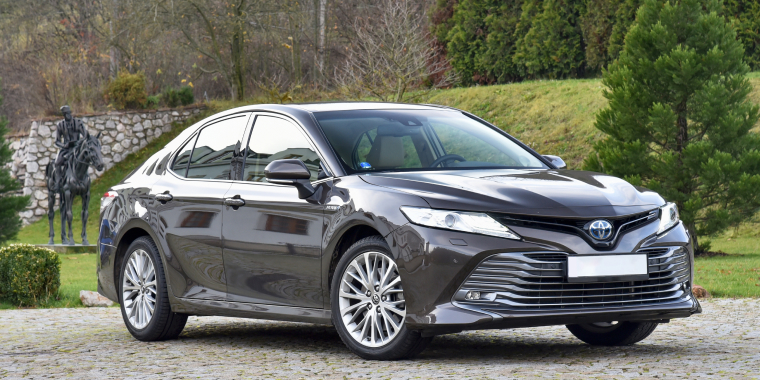 What Are Some Auto Discounts for Toyota?
There are many ways  drivers can save.
Discounts are typically placed into one of four categories: policy, driver behavior, vehicle-based, and affiliation discounts.
Some popular discounts include:
To stay current on the latest discounts offered by your insurer, try calling them every several months to see if you qualify for new discounts. When it is time to renew, do not forget to compare rates from several carriers.
Find an office near you to help with your auto insurance
What Are Some of the Characteristics Of the Camry?
It is one of the more popular midsize sedans. It comes in five trim levels: LE, SE, XLE, XSE, and TRD, and two engine options: a 203-horsepower four-cylinder and a 301-horsepower V6.
It's entry-level trim, the LE, has an eight-speed automatic transmission and a 203-horsepower 2.5-liter four-cylinder engine. Its highest level trim, the TRD, comes with a V6 engine and track-tuned suspension system that drops or raises the height to tweak performance. It also comes with a 7-inch touch screen.
The main competitors are the Honda Accord, Hyundai Sonata, Kia K5, and Nissan Altima.
Find the Best Auto Insurance Rates Online for the Toyota Camry Today