If you are looking for some true southern hospitality, Alabama is a friendly mecca for residents and visitors alike. Known as the Yellowhammer state for the state bird, even people who don't follow college football have heard of the Crimson Tide – the University of Alabama's award-winning football team. From beautiful beaches to stellar music history and notable authors, Alabama has a little something for everyone.
Drivers are required to have car insurance in Alabama. Driving without insurance is not just a criminal offense, it could also leave you financially liable for the high cost of a devastating accident.
Quick Facts
There are more than 2.2 million automobiles in Alabama.
In 2019, there was a traffic crash in Alabama every three minutes.
77 percent of all Alabama accidents occur in urban areas.
The deadliest highway in Alabama is U.S. Highway 431.
How Much Is Car Insurance in Alabama?
When it comes to the state-required minimum liability car insurance, the average cost is $469 per year. For a full coverage auto insurance policy, the average cost is $1,623 per year.
It is important to remember that there are different types of car insurance. Each type of coverage carries different costs. These costs are also impacted by other factors, including your driving record, age, and zip code. Your insurance premium will be based on your specific circumstances.
What Is the Average Premium for Cheap Full Coverage Car Insurance in Alabama?
On average, full coverage costs $135 per month. Although it is not mandated by state law, many drivers feel cheaper full coverage car insurance is the best option for them. Full coverage is more than just liability insurance that protects from claims by other drivers. It also includes collision and comprehensive insurance to help pay for your own losses in an accident.
How Much Is It for Cheap Liability Insurance or the Minimum Required Car Insurance in Alabama?
The average cost of this basic liability car insurance is $39 per month. This consists of coverage to pay for the bodily injury/death liability insurance and property damage liability insurance of other people if you are at fault in an accident.
Carrying the minimum required coverage can be tempting, as it is typically the cheapest car insurance available. The downside to minimum coverage is that it could leave you exposed to financial liability for major accidents. Remember: You are responsible for any damages above and beyond your policy limits if you cause a wreck. For that reason, it could be in your best interest to purchase coverage above the minimum levels required by state law. Vehicle repairs and medical bills have never been more costly, and better coverage could prevent you from having to pay for those damages out of pocket.
For the same reasons, it could also be in your best interest to consider other types of car insurance coverage in addition to liability coverage. After all, your liability coverage only protects you from claims filed by other drivers. It does nothing to pay for your own losses in an accident. The good news is that there are different types of policies in addition to cheaper liability coverage that could pay for your own losses — even if you were ultimately responsible for the accident. They include:
Medical Payments. Medical payments, or MedPay, cover your medical expenses resulting from a vehicle accident. This type of insurance is considered "no fault," which means the benefits could be available even if you cause the accident.
Uninsured Motorist. Also known as UIM, uninsured motorist insurance will pay your bills when you are injured by another driver who lacks insurance coverage. These benefits are even available when the other driver has coverage but not enough to cover all the bills.
How Do Average Rates Compare Across Major Cities in Alabama?
Birmingham and the surrounding metro area are by far the most populated part of Alabama. Compared to other states, the population is not centered in large metropolitan areas. However, there are other towns of note, including Montgomery, Mobile, and Huntsville.
Where you live plays an important part in how much your car insurance costs. Places where the crime rate is higher and more people file personal injury lawsuits will see overall higher insurance premiums. Here is a look at the monthly average of some of the cities in Alabama.
| Alabama Cities | Full Coverage Insurance | Liability Insurance Coverage |
| --- | --- | --- |
| Birmingham | $166 | $52 |
| Montgomery | $150 | $48 |
| Mobile | $160 | $53 |
| Huntsville | $137 | $45 |
Unless otherwise specified, we use the following methodology to arrive at our average cost: male, age 30, lowest possible legal coverage allowed by state. Your rates will be determined by several factors, including your age, your gender and the amount of coverage you want to purchase.
Are There Good Driver Discounts in Alabama?
The good news for Alabama motorists is that there are good driver discounts, plus plenty more for those who want to explore the cheapest car insurance rates. A good driving discount provides you with a lower rate due to your clean driving record and history of safe, responsible driving.
Drivers can take advantage of other discounts as well. You could enjoy discounts for going paperless, taking a defensive driving course, or driving less often. Some other discounts include:
When you discuss your options with an insurance agent, do not hesitate to ask about any auto insurance discounts that might apply to you. These discussions could represent your best chance for securing a low rate for excellent coverage.
Getting a Free Auto Insurance quote with Freeway is easy!
Alabama Insurance Laws
Alabama has a series of laws that apply to auto insurance. When drivers fail to acquire the necessary insurance or allow their coverage to lapse, the consequences could be significant, including fines and the suspension of your driving privileges. Insurance companies in Alabama are required to report all new car insurance policies, and lapses and cancellations in auto insurance policies. This is done in real-time via electronic reporting.
What Are the Mandatory Car Insurance Requirements in Alabama?
Alabama law requires a minimum level of liability insurance coverage for every driver. Drivers are required to carry at least:
$25,000 in bodily injury/death coverage per person
$50,000 of bodily injury/death coverage per accident
$25,000 of property damage per accident
These are only the minimum levels of coverage required by law. You are free to purchase additional coverage to ensure you are never left personally liable for an accident.
A minimum level of liability insurance is important given that Alabama is an "at-fault" state. In an at-fault state, drivers who are responsible for an accident are required to pay for any damages. Liability insurance protects you from third-party claims, covers those losses, and provides you with legal counsel if a lawsuit is brought against you.
It is important to remember that only liability insurance is mandatory. While insurance companies offer an array of helpful products other than liability coverage, these policies are never required under the law. Some popular types of voluntary policies include medical payments, uninsured motorist, and collision coverage.
What Is the Penalty for Driving Without Insurance in Alabama?
Alabama law treats driving without insurance seriously. Even first-time offenders face serious consequences. For a first-time offense, a conviction could result in up to three months in jail, a fine of no more than $500, and a 45-day suspension of your vehicle registration.
The penalties are steeper for second and subsequent offenses. A fine could run as much as $1,000 and your driving privileges could be suspended for up to six months. You also face the possibility of up to six months in jail.
The good news for drivers who had insurance but simply failed to provide proof is that these charges are often dropped or reduced with evidence of coverage at the time of the ticket.
What Factors Does Alabama Law Allow in Determining Your Premiums?
Insurance companies in Alabama use a variety of factors to set premiums. These factors have been found to play a part in how responsible a driver may be behind the wheel. Some of these factors include:
Marital status
Age
Gender
Credit history
Driving record
Some of these factors could balance out to result in a lower rate. For example, younger drivers face higher car insurance rates in general, but a clean driving record could help them lower their premiums.
Am I Required to Report an Accident in Alabama to Authorities?
You are required to report an accident to the police in Alabama under most circumstances. Any time there are bodily injuries involved in an accident, the law requires that you notify the police right away. The same is true for accidents involving serious property damage. Collisions with injuries and only minor damage do not have to be reported to the authorities.
The threshold for minor damages is $250. This is important, as even minor body damage to a vehicle could cost more than $1,000 to repair. The reality is most cars that sustain notable damage in an accident will require more than $250 to fix.
Reporting an accident to the police can protect you and your legal rights after an accident. Because Alabama is an at-fault state, it is important that you get the facts of the accident in the police report.
There is another step to consider when it comes to reporting an accident. Even in cases where you do not have to report an accident to the police, your policy language likely requires that you report your accident to your insurance company. Reporting an accident to your insurer as soon as it happens could help protect your right to file a claim. This is because the terms of your insurance policy likely require you to report every accident, even if you have no plans to file a claim. The failure to report your accident to the insurance company could have serious consequences, including denied claims or even revoked policies.
Find an office near you to help with your auto insurance
What Is Driving Like in Alabama?
How Many Car Accidents Happen in Alabama?
The unfortunate reality is that motor vehicle accidents are common in Alabama. In 2018 alone, there were nearly 160,000 accidents throughout the state of Alabama. That works out to approximately 438 accidents every day. These accidents resulted in thousands of serious injuries, including 953 fatalities.
In 2019, there were 159,102 vehicle wrecks – a very slight decrease. Of those, 851 were fatal with 930 people killed. According to the Alabama Department of Transportation, 47 fatal accidents were associated with distracted driving and 91 were associated with a driver who was driving under the influence.
Most accidents occurred in urban areas, while the majority of fatalities happened in Alabama's rural areas. Birmingham is at the top of the list with 38 fatalities in 2019 alone.
| City | Fatal Car Accidents in 2019 |
| --- | --- |
| Birmingham | 38 |
| Mobile | 32 |
| Montgomery | 23 |
| Huntsville | 23 |
How Many Uninsured/Underinsured Motorists Are in Alabama?
There are a large number of uninsured and underinsured motorists in Alabama. According to the Insurance Information Institute (III), Alabama ranks seventh among the states with the highest percentage of uninsured drivers. Research shows that approximately 19.5 percent of drivers are uninsured.
That figure does not take into account the number of drivers who are underinsured. An underinsured driver is someone who carries liability insurance but lacks enough coverage to pay for all of the damages associated with a major vehicle collision.
The financial consequences of not carrying enough liability insurance can be significant. Given what is at stake, it is in your best interest to ensure you have all of the coverage you need, which may include increasing your liability coverage and adding other coverages.
FAQs About Alabama Car Insurance
I Am a Low-Income Driver. What Can I Do About Getting the Cheapest Car Insurance in Alabama?
If you are on a tight budget, it is vital that you make wise decisions when selecting an insurance policy. While you need at least the minimum coverage required by Alabama law, any additional coverage you carry will depend on your available budget.
Don't forget the possibility of discounts. There are a variety of discounts available depending on the circumstances, and some of them might apply to you. A deep discount could allow you to purchase coverage you might have thought was out of your budget.
Another helpful suggestion for drivers on a budget is to re-evaluate their insurance requirements continually. Over time, you could become eligible for discounts that did not initially apply to you. For example, as tickets roll off your record, you could become eligible for a safe driver discount. By staying in touch with your insurance agent, you could apply new discounts to your policy as soon as you become eligible for them.
Can an Undocumented Worker Get Cheap Car Insurance in Alabama?
As is the case with most states, undocumented workers cannot get a driver's license in Alabama. This complicates things for undocumented drivers, as insurers will not insure an unlicensed driver. The lack of a valid driver's license will inhibit most undocumented workers from securing any form of insurance coverage.
This can lead to frustrating circumstances for anyone involved in a vehicle collision with an undocumented driver. While most drivers carry liability insurance, the inability for undocumented workers to obtain liability insurance means anyone they injure while driving is on their own to pay for the damages.
To address this issue, some states allow undocumented workers to obtain driver's licenses and liability insurance. To date, Alabama has not adopted this practice.
Is It Possible to Get Low-Cost Car Insurance in Alabama With a DUI Mark on My Record?
When it comes to getting car insurance in Alabama, having a DUI on your record is not a deal-breaker. However, you can expect to pay more for this DUI car insurance compared to drivers with a clean record.
You can find cheap car insurance within your budget even with a DUI conviction on your record. You may need to shop around because not all insurance agencies offer DUI solution coverage. Be sure to discuss your driving history with your insurance agent before you select a policy.
One common requirement for drivers with DUIs on their records is obtaining an SR-22 certificate. Contrary to popular opinion, an SR-22 is not a type of insurance policy offered to individuals convicted of DUI. Instead, an SR-22 is a certification issued by an insurance company. This certification guarantees that liability insurance will be available for the high-risk driver in question.
The trade-off for securing this guarantee is that the cost of monthly premiums is much higher. While the higher cost of car insurance is unfortunate, it is a necessary trade-off for most people with a DUI on their record.
Get an Affordable Car Insurance Quote Online in Alabama Today!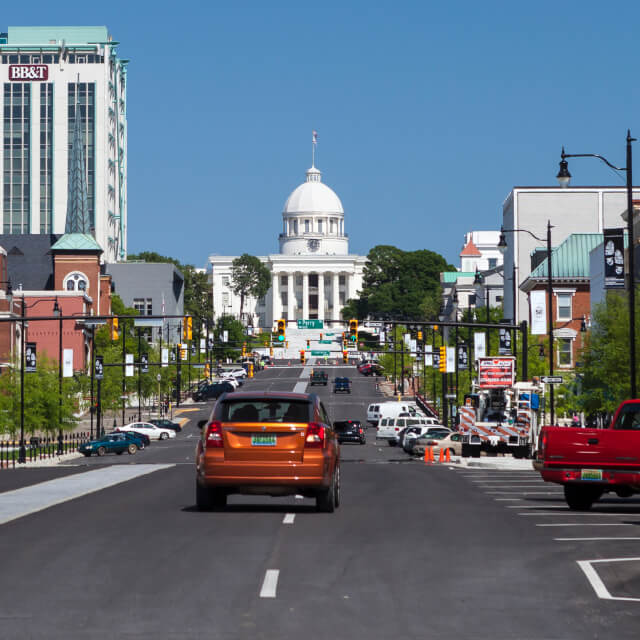 Car and truck culture is big in Alabama. In order to explore what this beautiful state has to offer, you will need to secure the minimum level of liability insurance for your vehicle. There is no need to risk driving without coverage when Freeway Insurance can help you find great coverage that fits your budget.
Ready to get started? You can get an easy and free car insurance quote online today or find an agent at an Alabama office near you. Alternatively, you can call us at 800-777-5620 for a quote. Contact us right away!
Auto Insurance Info by City
Select a Product or Service to request a quote
Ready to Get a Quick Quote?