As the third-largest city in Alabama, Mobile is called the Port City because of its status as Alabama's only saltwater port. Mobile is considered one of the South's cultural centers, with notable art museums, orchestras, and a professional ballet company.
Mobile is also known for its celebration of Mardi Gras. Thanks to the early French-Catholic settlers in the city, it boasts the first Mardi Gras celebration in the United States.
Quick Facts
As of 2019, the population of Mobile was 195,111.
The average cost of car insurance in Mobile is $1,592.
How Much Is Car Insurance in Mobile?
For the average driver in Mobile, car insurance is $1,592 annually. This cost is slightly above both the state and national average. This should come as no surprise as it is one of the larger metropolitan areas in the state. The cost of your Alabama car insurance coverage will vary depending on multiple factors.
| City | Average Annual Premium |
| --- | --- |
| Mobile | $1,592 |
| Montgomery | $1,488 |
| Huntsville | $1,431 |
| Birmingham | $1,648 |
There are several rating factors that could affect the cost of car insurance in Mobile. Chief among these factors is your driving history. If you have traffic violations or accidents on your record, expect the cost of insurance to go up. Other important factors include your age, gender, and zip code.
While the cost of your policy is important, having the right amount of coverage should be your top priority. If you are involved in an accident while driving with inadequate liability insurance, you could be on the hook for any damages you cause. The proper level of insurance coverage will ensure you are not saddled with significant debt after an accident.
Mobile Car Insurance Rates by Zip Code
You might be surprised to learn that your zip code could affect the cost of your insurance. Research has shown that accidents are more likely in some zip codes than others, meaning that drivers in these zip codes can expect to pay a premium. The higher the accidents in a zip code, the higher the insurance rates are likely to be.
Mobile covers portions of 35 zip codes, and each of these zip codes could have dramatically different insurance rates. Understanding how your zip code could affect the cost of your coverage is essential. Here are some comparisons for annual average premiums between a few zip codes.
| Zip Code | Average Annual Premium |
| --- | --- |
| 36608 | $1,920 |
| 36618 | $1,872 |
| 36671 | $1,920 |
Affordable Car Insurance Rates by Age in Mobile
Your age is another crucial factor in determining your car insurance rate. Teenagers generally pay significantly higher premiums, given that they are more likely to be involved in an accident. These rates fall until drivers reach their 30s. They remain consistent until drivers reach their 70s, at which point the insurance rates rise. Despite your age, there are different steps you can take to avoid the high costs of auto insurance.
| Age | Average Car Insurance Rate |
| --- | --- |
| Teenagers | $6,615 |
| 20s | $2,278 |
| 30s | $1,567 |
| 40s | $1,518 |
| 50s | $1,423 |
| 60s | $1,452 |
| 70s | $1,735 |
Driving Conditions in Mobile
How Many Fatal Accidents Happen in Mobile?
In 2019, there were 30 fatal accidents in Mobile. In total, these accidents involved 48 different vehicles with 33 total fatalities. Of these accidents, 12 were attributed to drunk driving.
How Are the Road Infrastructure and Bridges in Mobile?
Mobile has had its struggles with infrastructure, including roads and bridges. According to the national transportation research group TRIP, over 32% of all roads in the city are in poor condition.
Statewide, Alabama also faces poor marks for its infrastructure. The state received a grade of C-, which is on par with most other states. However, roughly half of all roadways in Alabama were found to be in fair, poor, or very poor condition.
Get a Quote for Car Insurance in Alabama Today!
Minimum Car Insurance Requirements in Mobile
Any time a motorist causes an accident in Alabama, they are held liable for the damage they caused. This is because Alabama is considered a "tort" state. In a tort state, it is possible to sue negligent drivers for damages when they cause an accident. To address the cost of these accidents, all Alabama motorists must carry a minimum level of insurance coverage. These minimums include:
$25,000 for bodily injuries per person
$50,000 for bodily injuries per accident
$25,000 for property damage per accident
There are other insurance requirements outside what is mandated by the government. Private lenders generally require drivers to take out full coverage when purchasing a vehicle. Full coverage includes liability insurance along with covering the policyholder's damages.
Factors Allowed in Determining Mobile Car Insurance Rates
The cost of car insurance can vary dramatically from one Mobile resident to another. That is because there are many factors that combine to determine what your monthly premiums might be. These include:
Driving history
Credit score
Zipcode
Age
Gender
Marital status
Type of vehicle
Condition of the vehicle
Discounts for Car Insurance in Mobile
As a driver in Mobile, you have many options when it comes to saving money on car insurance. There are a variety of discounts, and you might be surprised at home many you qualify for. Some of the most popular discounts on car insurance include:
Multi-policy discounts

Military discounts

Safe driver discounts

Anti-theft discounts

Good student discounts
There are often discounts available you may have never considered before. Always ask your insurance agent about what discounts might apply to you.
What Are the Penalties for Driving Without Insurance in Mobile?
The penalties for driving without insurance in Mobile can be steep—even for first-time offenders. These penalties vary in severity depending on if you have a prior conviction or not.
For a first offense, you could face up to a fine of $500 and as much as three months in jail. For second and subsequent offenses, you could receive as much as $3,000 in fines and six months in jail. Second and subsequent offenses also potentially bring license suspensions and other consequences, like the requirement to secure SR-22 insurance.
Get a Mobile Insurance Quote Today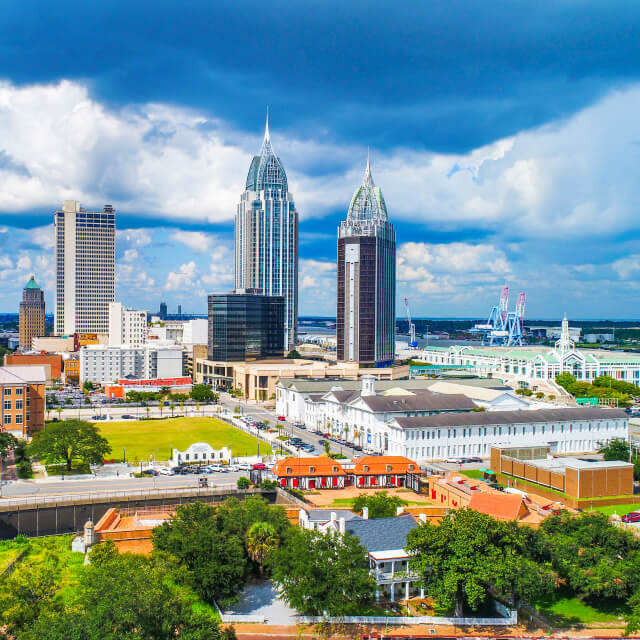 It is important that you protect yourself if an accident happens. The best way to do that is by having the appropriate amount of insurance coverage for your vehicle. Liability insurance is mandatory under state law, but it could be in your best interest to select a policy with better coverage.
Freeway Insurance is ready to help you find the policy you need. You can contact us online or at a Mobile office near you for your free quote. You can also call us at (800) 777-5620.