Vermont is one of the most underrated states in the nation. The second smallest state by population (trailing only Wyoming), Vermont offers a diverse topography, luxurious ski resorts, and some of the most beautiful fall foliage you will ever see.
Some of the state's most popular attractions include Lake Champlain, the historical Willard Street Inn, Hildene, the Shelburne Museum, and Lemon Fair Sculpture Park, with its breathtaking sculptures and gardens.
When driving in Vermont, you are required to carry car insurance. Keep reading to learn everything you need to know about car insurance, including traffic data, and average rates paid by region.
Quick Facts
Vermont State Route 15 is rated as the most dangerous road in Vermont.
Vermont's roads are considered some of the worst in the nation.
The number of traffic fatalities in Vermont is close to twice the national rate.
How Much Is Car Insurance in Vermont?
Vermont drivers pay an average rate of $100 per month for full coverage. This is lower than the national average monthly rate of $138. The state-required minimum or liability insurance coverage averages $24 per month in Vermont, also lower than the national average of $40 per month.
Remember, overall rates change depending on several variables, including where you live in the state. Insurance companies look at collective claims for losses, including accidents, theft and personal injury lawsuits, when they set costs for specific cities and areas. Your individual price will also be different, since it will be based on unique factors, such as age and driving history. Those who are looking for the cheapest car insurance in Vermont will need to have a great driving record.
What Is the Average Premium in Vermont for Full Coverage Car Insurance?
Full coverage auto insurance in Vermont averages $1,200 per year.
Many drivers choose full coverage over the minimum required insurance, since a full-coverage plan offers greater protection, including collision insurance and comprehensive insurance on top of liability. Full coverage auto insurance provides greater peace of mind when you are out on the road.
How Much Is It for Liability Insurance or the Minimum Required Car Insurance in Vermont?
The average state-required minimum liability auto insurance paid in Vermont is $300 per year.
Although this is where the cheapest car insurance in Kentucky can be found, many drivers feel that carrying the minimum required car insurance is not enough. Since Vermont is an at-fault state, the driver who causes the accident will be responsible for the other party's injuries and damages. With today's costs, in many cases the minimum liability insurance is not enough to cover the costs, leaving the at-fault driver paying out of pocket. The at-fault driver will also get no help from their insurance company for their own injuries and damages.
How Do Rates Compare Across Major Cities in Vermont?
Expect to pay different rates depending on the Vermont city you live in. Insurance costs for cities are based on collective claims activity.
See our breakdown below for the monthly average rate paid in four Vermont cities:
| City | Full Coverage Insurance | Liability Insurance Coverage |
| --- | --- | --- |
| Burlington | $114 | $36 |
| Essex Junction | $116 | $37 |
| Montpelier | $116 | $34 |
| Wilmington | $118 | $33 |
Unless otherwise specified, we use the following methodology to arrive at our average cost: male, age 30, lowest possible legal coverage allowed by state. Your rates will be determined by several factors, including your age, your gender and the amount of coverage you want to purchase.
Is There a Good Driver Discount in VT?
You can take advantage of many types of good driver discounts. Maintaining a clean driving record with no history of claims for the past three years is an excellent start toward lowering your monthly premiums.
Also, you can take advantage of other discounts, such as multi-car discounts (insuring multiple vehicles for a lower quote per vehicle), taking defensive driving courses, driving less than 7,500 miles a year, and installing anti-lock brakes and anti-theft devices. Using discounts is a good way to find the cheapest car insurance in Vermont.
Other car insurance discounts in Vermont include good student discounts, current and former military discounts, multi-policy (bundling) discounts and more. Be sure and ask your agent about available discounts.
Getting a Free Auto Insurance quote with Freeway is easy!
Vermont Car Insurance Laws
There are mandatory requirements for Vermont car insurance, starting with the minimum amount of insurance coverage required. Failing to show a law enforcement officer you have proof of insurance after a traffic stop, moving violation, or suspected DUI will result in harsh penalties and a suspended driver's license and registration until proof of insurance is provided.
In Vermont, insurance companies are required to report their policy holders' status to a real-time database so law enforcement and the state knows which vehicles are insured and which vehicles are uninsured. A single lapsed day of coverage can force your insurance company to report this information to the state, which may reach out to you demanding proof of insurance.
What Are the Mandatory Car Insurance Requirements in Vermont?
You must carry a minimum level of liability insurance designed to protect against third-party claims in an accident. You also can purchase additional coverage, such as comprehensive (non-collision-related damages) and collision (damage caused to/by another vehicle). This type of coverage is not mandatory under state law.
You are required to carry the following liability minimums:
Bodily injury liability coverage: $25,000 per person
Bodily injury liability coverage: $50,000 per accident
Property damage liability: $10,000 per accident
Uninsured motorist bodily injury coverage: $50,000 per person
Uninsured motorist bodily injury coverage: $100,000 per accident
Uninsured motorist property damage coverage: $10,000
We recommend seeking auto insurance coverage above state-mandated limits for greater peace of mind. All Vermont drivers are required to present proof of insurance to register their vehicles.
What Factors Does Vermont Law Allow in Determining Your Premiums?
When determining the cost of car insurance, auto insurers consider several factors. Outside of age, gender, and zip code, they pay attention to the following things:
Claims history
Marital status
Credit history
Driving record
What Is the Penalty for Driving Without Insurance in Vermont?
Uninsured driving in Vermont is a serious traffic violation that will result in license suspensions, fees, and difficulty finding an affordable policy.
Expect a civil penalty of no less than $500 for each offense, on top of a suspended license until you can prove to the Vermont Department of Motor Vehicles (DMV) you have insurance. In addition, you may be required to file for an SR-22 certificate. Also known as a "certification of financial responsibility," it shows proof of financial responsibility and the minimum state-required coverage.
Outside of driving without insurance, other common reasons for filing an SR-22 include a DUI/DWI conviction, severe car accident, suspended license, and accumulating too many points on your license. Your annual premiums will increase significantly, depending on the accident or violation. For example, driving 25 miles per hour over the speed limit will hike your premiums a lot less than being convicted of a DUI or leaving the scene of an accident.
Remember, law enforcement officers will always ask for insurance information at every traffic stop. Do not forget to keep your insurance card in your purse/wallet or glove compartment at all times. Even with an electronic ID card, it is always wise to keep a paper copy.
Am I Required to Report an Accident in Vermont to Authorities?
Yes, you are required to report a car crash if it results in injury/death or total property damage estimated at $3,000+. According to Vermont's 23 Vt. Statutes section 1129, reports must be filed with the Vermont Department of Motor Vehicles within 72 hours. This report will ask for your vehicle's insurance information and confirm the amount of liability coverage when the accident occurred.
After the report is submitted, the DMV may reach out to you for additional details. Please note that reports must be made by every driver involved in an accident.
Find an office near you to help with your auto insurance
What Is Driving Like in Vermont?
How Many Car Accidents Happen in Vermont?
According to the Vermont Highway Safety Alliance, there were 47 fatal crashes in 2019, 61 in 2020, and 74 in 2021.
There are many causes for car accidents in Vermont, including the use of cell phones, tailgating another vehicle, maintaining an unsafe speed, ignoring traffic controls, and failing to yield the right of way. A single accident could cause disastrous consequences, including a driver's license/suspension, reinstatement fees, filed SR-22, and skyrocketing premiums that could easily throw your monthly budget off for the next several years.
For more information on Vermont fatality rates, fatal crash maps, speed-related traffic fatalities, and other traffic data points, visit Vermont Highway Safety Alliance.
Many Vermont crashes happen due to distracted driving and run-ins with moose. Most crashes happen outside of city limits in the more rural areas.
| County/City | Fatal Car Accidents in 2020 |
| --- | --- |
| Addison County (Middlebury) | 5 |
| Chittenden County (Burlington) | 12 |
| Rutland County (Rutland) | 7 |
| Washington County (Montpelier) | 8 |
How Many Uninsured/Underinsured Motorists Are in Vermont?
A 2019 study by the Insurance Information Institute projects that 8.8% of Vermont's motorists are uninsured. This stat places Vermont in 37th place, with Mississippi having the highest rate at 29.4% and New Jersey having the lowest rate at a whopping 3.1%.
Although there are no official stats on the number of uninsured motorists (due to not being self-reported), these projections are based on the ratio of uninsured drivers to bodily injury claims.
FAQs about Vermont Car Insurance
I Am a Low-Income Driver. What Can I Do About Getting the Cheapest Car Insurance in Vermont?
There are many ways for low-income drivers to obtain discounted or low-cost auto insurance in Vermont.
For starters, evaluate all of your coverage options. Minimum liability policies are cheaper than full coverage policies. Additionally, drivers may opt for higher deductibles and removal of miscellaneous coverage items like rental car reimbursement, towing & labor, and medical payment coverage. Always look at more than one option and do comparison shopping for your car insurance.
Low-income drivers can receive discounts by bundling policies (e.g., auto and homeowners insurance), enrolling in defensive driving courses, and maintaining a clean driving record free of claims for at least the past three years. Every insurance carrier classifies safe driving differently, so check with your insurance provider on any available discounts.
You may also modify your policy to make it cheaper by lowering liability limits and increasing deductibles. Keep in mind that if you need to make a claim, your deductible will come out of your pocket so don't make it so high that you cannot meet it, if necessary.
Can an Undocumented Worker Get Car Insurance in Vermont?
Vermont is one of 15 states allowing undocumented workers to get driver's licenses. They can also purchase a vehicle as long as they have a valid driver's license, insurance card, and income/residency documents, such as proof of residency and pay stubs.
Another important note is that undocumented status will not necessarily result in a lower or higher premium. This is because premiums are calculated based on other factors, including age, gender, zip code, and driving record.
Is It Possible to Get Low-Cost Car Insurance in Vermont with a DUI Mark on my Record?
If you have a DUI on your record, expect serious annual car insurance price hikes. Average annual penalties for car insurance with a DUI in Vermont can increase by 70%.
Fortunately, DUIs are not a deal-breaker. All DUI convicted drivers are expected to file for an SR-22, which clears a driver's license suspension and proves minimum coverage mandated by Vermont law is in place. An SR-22 remains on file for three years from the incident, with any lapses or cancellations reported by the insurance company to the Vermont Department of Motor Vehicles.
Finding low-cost car insurance coverage with a DUI on your record is not impossible. Remember, you must keep your SR22 insurance in place because your time frame starts over every time you let it lapse.
Get a Low-Cost Vermont Car Insurance Quote Online Today!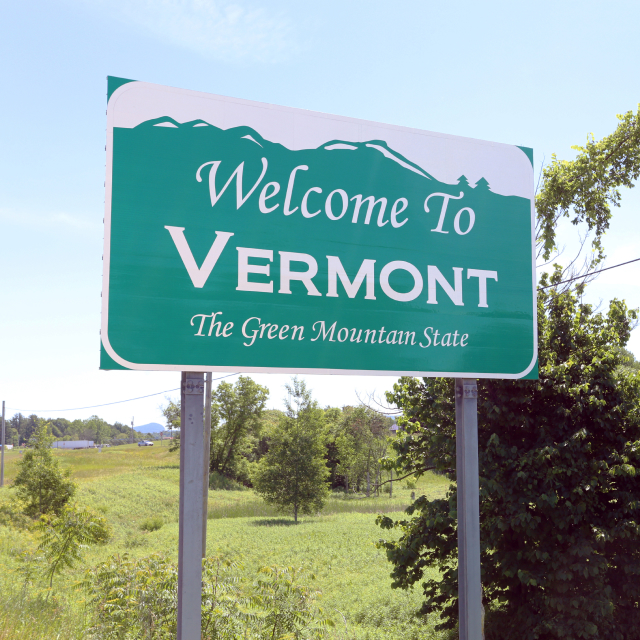 With car accidents happening every day, it is important to stay covered. Freeway Insurance is ready to help you find the appropriate auto insurance for your budget and needs.
To get started, request a quick car insurance quote online, visit us at a Vermont office, or give us a shout at 800-777-5620 for a free quote. Get in touch today!
Auto Insurance Info by City
Select a Product or Service to request a quote
Ready to Get a Quick Quote?