Burlington is a highly underrated city in Vermont that offers a little bit of everything for residents and visitors alike. The area's most popular attractions include Lake Champlain, Church St. Marketplace, and the Burlington Farmer's Market. We also appreciate its strategic location, with snow opportunities 30 minutes away from the city and endless hiking trails and small beaches.
All Burlington drivers are required to carry auto insurance. Keep reading to learn more about car insurance in Vermont, including average monthly rates paid in nearby cities, penalties for driving without insurance, and the discounts available to drivers in good standing.
Quick Facts
The largest city in Vermont is Burlington
Burlington's nickname is the "Queen City"
Montreal is about 100 miles away from Burlington
Lake Champlain was the site of one of the Revolutionary War's first naval battles, The Battle of Valcour Island
Almost 4,000 U.S. troops were stationed in Burlington during the War of 1812
The famous ice cream brand Ben and Jerry's started in Burlington, with their first ice cream shop enjoying quick success before becoming a nationwide phenomenon
How Much Does Car Insurance Cost in Burlington, Vermont?
In Burlington, drivers pay an average monthly rate of $37 for the state-required minimum car insurance. This is cheaper than the national average of $47 per month and more expensive than Vermont's $24 per month. Keep in mind that drivers in rural areas will be paying less for their car insurance due to less congestion, less accidents and less automobile crime. Liability car insurance consists of bodily injury liability insurance and property damage liability insurance. Vermont also requires drivers to carry uninsured motorist insurance, which is protection against uninsured and underinsured drivers –a great deal for a small cost.
For drivers who seek enhanced coverage, the average cost of full coverage car insurance in Burlington is $118 per month. This is less than the national average of $140 per month and higher than the state average of $101 per month. Full coverage offers a combination of liability car insurance, comprehensive car insurance and collision auto insurance – all important protections for one of your biggest assets.
How does Burlington compare with other cities in Vermont? Here is a breakdown of average monthly car insurance costs for other cities in the state:
| City | Full Coverage Insurance | Liability Insurance Coverage |
| --- | --- | --- |
| Burlington | $118 | $37 |
| South Burlington | $113 | $35 |
| Essex Junction | $116 | $37 |
| Montpelier | $116 | $34 |
Affordable Car Insurance Rates by Zip Code in Burlington, VT
Your zip code is a deciding factor in determining how much or how little you pay for your auto policy premiums. Generally, the fewer accidents and vehicle crime per zip code, the lower the monthly premium.
Here is a breakdown of the average car insurance rate by zip code in Burlington, Vermont:
| Zip Code | Full Coverage Insurance | Liability Insurance Coverage |
| --- | --- | --- |
| 05401 | $114 | $36 |
| 05405 | $118 | $37 |
| 05408 | $114 | $36 |
Low-Cost

Car Insurance Rates by Age in Burlington, Vermont

In determining the cost of auto premiums, age is very important. Some age ranges (e.g., drivers ages 16-19) are required to pay higher premiums than drivers in their 30s and 40s. These younger drivers in Burlington are considered inexperienced and a high-risk to insure. The good news is that teenagers can see their rates go down once they get into their 20s, if they keep a clean driving record.

Here is a breakdown of the average car insurance rate by age in Burlington, Vermont:
| Age | Full Coverage Insurance | Liability Insurance Coverage |
| --- | --- | --- |
| Teenagers | $334 | $107 |
| 20s | $130 | $41 |
| 30s | $114 | $36 |
| 40s | $103 | $33 |
| 50s | $96 | $31 |
| 60s | $101 | $32 |
| 70s | $107 | $35 |
Unless otherwise specified, we use the following methodology to arrive at our average cost: male, age 30, lowest possible legal coverage allowed by Vermont. Your rates will be determined by several factors, including your age, your gender and the amount of coverage you want to purchase. 
Get a Quote for Car Insurance in Vermont Today!
Driving Conditions in Burlington, VT and South Burlington, Vermont
How Many Fatal Accidents Happen in Burlington, Vermont?
In 2018, there was only one fatal road traffic accident in Burlington and two in South Burlington, resulting in three fatalities with five people involved. In 2019, there were no fatal accidents in Burlington or South Burlington. In 2020, there were 3 fatal crashes in South Burlington and two in Burlington.
How Are the Road Infrastructure and Bridges in Burlington, VT?
Burlington's Public Works department works on road infrastructure and bridge improvements for better mobility. Many initiatives have improved public infrastructure this decade, including the Great Streets Initiative for a more walkable urban center. Other projects have included improvements to the Winooski Ave. corridor and an Integrated Water Quality Plan (IP) to improve wastewater and stormwater investments.
Minimum Car Insurance Requirements in Burlington, VT
All Burlington drivers must carry the following car insurance minimums:
Bodily injury liability coverage: $25,000 per person
Bodily injury liability coverage: $50,000 per accident
Property damage liability: $10,000 per accident
Uninsured motorist bodily injury coverage: $50,000 per person
Uninsured motorist bodily injury coverage: $100,000 per accident
Uninsured motorist property damage coverage: $10,000
For greater peace of mind, look for an auto insurance policy above the state-mandated limits. For example, $10,000 in property damage liability is barely enough to cover the cost of a new vehicle, forcing you to go out of pocket to cover the rest.
What Are the Penalties for Driving Without Insurance in Burlington, Vermont?
Driving without insurance in Burlington-South Burlington will have you face severe consequences.
First-time offenders will see an up-to-$500 fine and their driving privileges suspended until proof of insurance is provided to the Vermont Department of Motor Vehicles (DMV) within 20 days of being stopped. You will also need to file for SR-22 insurance, which proves to the state you are carrying the minimum required coverage. SR-22 insurance will remain on file for a minimum of three years.
Worse of all, with an SR-22 on file, your premiums will most likely skyrocket. Depending on your driving record and past claims history, it may double, or even triple, in some instances. Remember, all Vermont drivers must purchase liability insurance with 25/50/10 limits.
Factors Allowed in Burlington Car Insurance Rates
Many factors affect car insurance rates, including your age, gender, and driving record.
Other factors include but are not limited to:
Marital status
Education
Occupation
Make and model of vehicle
Note: Burlington drivers can purchase a state minimum liability policy (25/50/10) or a full coverage policy that includes comprehensive and collision coverage. Comprehensive and collision coverage applies to more damages, such as rollovers, animal collisions, theft, and hitting other objects. In most states, full coverage is not required, but it doesn't hurt to have additional protection.
Discounts for Car Insurance in Burlington, VT
Burlington-South Burlington drivers can enjoy all kinds of discounts, including but not limited to the following:
Your monthly premiums should decrease over time if you have a clean driving record with no at-fault accidents, moving violations, or other traffic infractions within the last three to five years. As your life circumstances change, such as a switching to an older vehicle or bundling an auto/home insurance policy, we highly recommend calling your insurance provider to see if you qualify for any discounts.
Get an Online Quote for Low-Cost Car Insurance in Burlington, VT Today!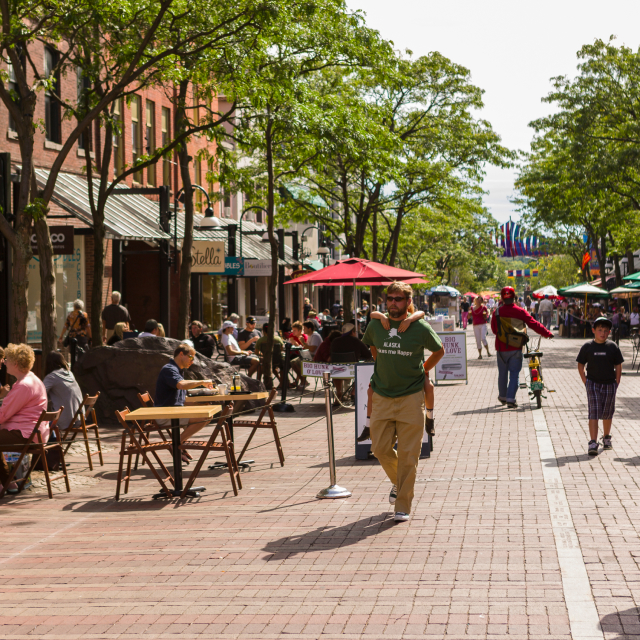 Driving without the required car insurance coverage in Burlington will result in a license/registration suspension and fines. Let Freeway Insurance help you find an affordable state minimum or full coverage policy.
Get started with a fast and free car insurance quote online. You can also visit us at a Burlington office or call 800-777-5620 for a no-obligation quote. Contact us today!
Select a Product or Service to request a quote
Ready to Get a Quick Quote?