Maine, the northeastern most U.S. state, offers a healthy mix of impressive topography, quaint town living, and worthwhile tourist attractions. Towns like Lewiston and Bar Harbor capture the imagination with their exceptional wintery and cross country activities. Coastal sites like Seal Island and Matinicus Rock also offer whale watching opportunities unlike anywhere else.
Maine's most popular attractions include Acadia National Park, Cape Elizabeth, and the Portland Head Light, Marginal Way, Kennebunkport, and Bar Harbor, with bird watching and coastal walking galore.
To drive legally, all drivers must carry car insurance in Maine. Keep reading to learn everything there is to know about Maine car insurance, including average rates paid in different cities, ways to save on your policy, traffic data, and how to secure your next policy through Freeway Insurance.
Quick Facts
Maine is responsible for 90% of the country's lobster production.
With an average of 10 fatalities every year, US Route 1 is the most dangerous road in Maine.
There were 150 total fatal crashes in 2020 in Maine with 163 people killed.
Augusta is the capital of Maine.
How Much Is Car Insurance in Maine?
The average annual cost of full coverage car insurance in Maine is $965. This is one of the lowest averages in the country, a far cry from the national average of $1,674 and slightly below one of its largest cities, Portland ($80). The average annual cost of the state-required minimum liability car insurance is $294, much lower than the national average for car insurance at $565.
Even though Maine has high limits on its required liability insurance, overall premium quotes are lower than most states due to a low population density – which translates to less accidents, less crime and less claims. Qualifying for the cheapest insurance in Maine requires a blemish-free driving record and taking advantage of car insurance discounts.
Car insurance rates vary depending on the driver's age, gender and other factors insurers use to classify risk. There is also some disparity between average monthly rates from town to town in Maine. For example, the average monthly rate in Bangor is $89 versus Portland's $93.
What Is the Average Premium for Cheap Full Coverage Car Insurance in Maine?
The average monthly premium for full coverage car insurance in Maine is $80. Full coverage consists of liability insurance (at least the minimum required), plus collision car insurance and comprehensive auto insurance.
We are big fans of adding collision and comprehensive coverage. These types of auto insurance cover collisions with other vehicles (up to a specified liability amount), non-collisions, or items outside your control, such as theft, hail, and vandalism. Some comprehensive policies may even offer up to actual cash value if your car is stolen.
The amount paid for full coverage car insurance depends on one's driving record, deductible amounts, and liability limits for bodily injury, property damage, collision, and comprehensive. The lower your car insurance deductible and the higher the liability limits, the higher the premiums.
How Much Is It for Cheap Liability Insurance or the Minimum Required Car Insurance in Maine?
The average monthly cost of minimum car insurance in Maine is $24.50.
The purpose of minimum insurance coverage is to adhere to state legal requirements. For example, liability limits for bodily injury and property damages are set at the minimum legal limits, offering lesser protections in an accident.
A minimum Maine car insurance policy will carry bodily injury/death liability insurance coverage of $50,000 per person, bodily injury liability coverage of $100,000 per accident, and property damage liability insurance coverage of $25,000 per accident. Additionally, Maine motorists must carry MedPay in the amount of $2,000 and uninsured motorist coverage in the amount of $50,000 per person and $100,000 per accident.
How Do Rates Compare Across Major Cities in Maine?
In Maine, do not expect each city to pay the same monthly rate. Monthly rates vary depending on age/gender distribution, collective driving record, and population density in the region.
For the monthly average premium five Maine cities pay, see our breakdown below.
| City | Full Coverage Insurance | Liability Insurance Coverage |
| --- | --- | --- |
| Bangor | $89 | $30 |
| Augusta | $89 | $32 |
| Sanford | $91 | $33 |
| Auburn | $93 | $34 |
| Portland | $93 | $35 |
Methodology: For Maine, we used the following demographic to arrive at our average monthly rates calculation: M 30+ with the state-required minimum coverage. Age, gender, zip code, driving record, and policy health tactics like enrollment in autopay and paperless billing are some factors that affect rates from person to person.
Are There Good Driver Discounts in Maine?
Yes. Maine drivers can take advantage of good driver discounts, provided they have a clean driving record for the last three to five years free of moving violations, thefts, and other incidents that may raise rates.
Maine drivers can apply for other discounts, including:
Defensive driving could cut $50 off your 6-month premium rate. Different insurers may award more or less.
Getting a Free Auto Insurance quote with Freeway is easy!
Maine Car Insurance Laws
All Maine drivers must have auto insurance to drive in the state legally. Expect fines and a suspended license and registration if you fail to comply or fail to provide proof of insurance at a traffic stop.
What Are the Mandatory Car Insurance Requirements in Maine?
All Maine drivers must carry the following minimums:
Bodily injury liability coverage: $50,000/$100,000 per person/accident
Property damage liability coverage of $25,000 per accident
MedPay of $2,000
Uninsured/underinsured motorist coverage: $50,000/$100,000 per person/accident
Many drivers choose to increase their liability insurance coverage so they don't end up paying out of pocket for injuries and damages they might cause in an accident.
What Factors Does Maine Law Allow in Determining Your Premiums?
Some factors auto insurance companies in Maine consider when determining how much premiums you pay include but are not limited to the following:
Age
Gender
Make and model of vehicle
Zip code
Driving record
Claims history
What Is the Penalty for Driving Without Insurance in Maine?
Take driving without insurance in Maine very seriously.
First-time and repeat offenders can expect to pay anywhere between $100 and $500 in fines and suspended driving privileges until they provide proof of insurance. In addition, you will be expected to pay a $50 reinstatement fee, a $20-$30 license fee, and a $35 registration fee.
One of the worst things about driving without insurance in Maine is the required filing of an SR-22, which is maintained for three years and shows proof of financial liability, guaranteeing that you carry the state minimum required insurance. More serious and repeat offenders can also face up to six months in jail. A requirement to file an SR-22 certificate is a red flag to insurers and will generally cause your premiums to be significantly higher.
Am I Required to Report an Accident in Maine to Authorities?
All Maine drivers must report car accidents if it results in injury, death, or $1,000 or more worth of property damage. Failure to file a timely police report is considered a Class E crime, with up to six-month jail sentences and $1,000 fines assessed to the offender.
Plus, police reports are required in order for you to file collision claims through your insurance company. It must adequately describe the full details of people and vehicles, as well as how the accident occurred. They may also contain the amount of car insurance for each involved vehicle.
Find an office near you to help with your auto insurance
What Is Driving Like in Maine?
How Many Car Accidents Happen in Maine?
According to the Maine Department of Transportation, there were 150 fatal traffic crashes in Maine, which resulted in 163 fatalities in 2020. The most common types of traffic crashes are veering off the road, rear-ending/sideswiping, intersection movement, and deer. There were 28,746 total crashes in 2020 and 1,271 of those included someone under the influence of drugs or alcohol as a factor.
For more information on Maine crash rates, including the total number of fatal crashes and fatalities by year dating back to 1972, visit Maine Highway Fatal Crashes and Fatalities – 1972-2020.
See our breakdown below for the highest number of fatal traffic accidents in some of Maine's counties in 2020.
| County | Fatal Car Accidents in 2020 |
| --- | --- |
| Penobscot County | 18 |
| York County | 23 |
| Hancock County | 15 |
| Cumberland County | 15 |
How Many Uninsured/Underinsured Motorists Are in Maine?
According to the Insurance Information Institute, Maine is estimated to have only 4.9 percent of all of its drivers uninsured. To make this estimate, it measures the ratio of uninsured motorist claims versus bodily injury claims.
Many Northeastern states (New Jersey, Massachusetts, New York, and Maine) tend to fare better than central and western states, falling between New Jersey's country-best 3.1 percent to Maine's 4.9 percent.
To learn more about the Insurance Research Council and view the full table of the estimated percentage of uninsured motorists by state for 2019, visit Insurance Information Institute: Facts + Statistics: Uninsured motorists.
FAQs About Maine Car Insurance
I Am a Low-Income Driver. What Can I Do About Getting the Cheapest Car Insurance in Maine?
Fortunately, low-income drivers in Maine can save on car insurance.
Our preferred method is to maintain a clean driving record. A claims-free history for three to five years with the same insurer is a surefire way to save on premiums. Another way is to apply for discounts, such as enrolling in autopay/paperless billing, bundling your auto and homeowners insurance policy, and installing anti-theft devices or anti-lock brakes on your vehicle.
Lastly, do not forget to exclude coverages that are nice-to-haves, but not must-haves. These include rental car reimbursement, roadside assistance, and uninsured/underinsured motorist bodily injury coverage.
Can an Undocumented Worker Get Cheap Car Insurance in Maine?
Maine does not allow undocumented workers to obtain driver's licenses.
For more information on undocumented workers and the issuance of driver's licenses by state, visit States Offering Driver's Licenses to Immigrants.
Is It Possible to Get Low-Cost Car Insurance in Maine with a DUI Mark on my Record?
Yes. You won't be able to find car insurance at the same rate you had before your DUI, but you can find DUI insurance if you shop around.
Expect your annual auto insurance premium to rise by $500 to $1,000 – or more. Of course, the worse your driving record, the larger the rate hike. First-time offenders can also receive up to $2,000 in fines, a 150-day license suspension, required use of an ignition interlock device, and a one-year conditional license. Many insurance agencies do not even offer DUI solution coverage. Once you are convicted of Operating Under the Influence in Maine, you will be labeled a high-risk driver to insurance agencies.
Second and third offenses will see even stiffer penalties with increased jail time, more significant fines, and lengthier license suspensions of up to three years. You may also be required to attend an alcohol education program.
Get an Online Affordable Car Insurance Quote in Maine Today!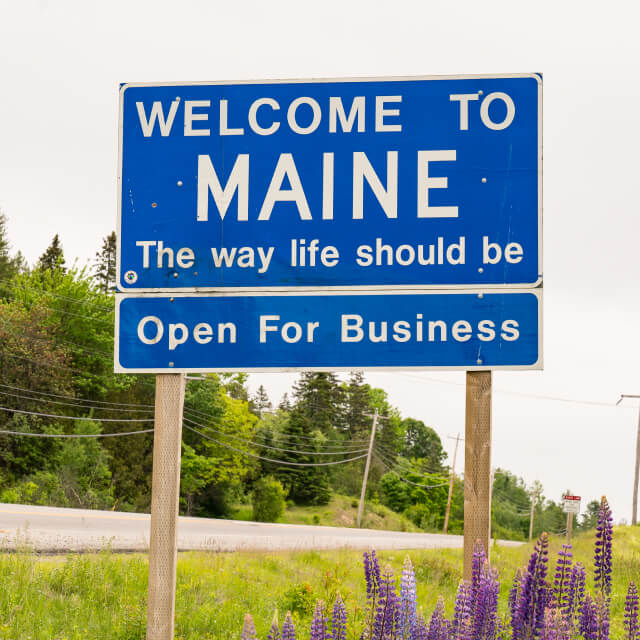 Let Freeway Insurance increase your peace of mind by helping you find a car insurance policy that meets your needs and your budget.
If you are ready to learn more about your insurance options, contact Freeway Insurance by requesting a free car insurance quote online, visit us at a Maine office near you, or call 800-777-5620 for a free quote. One of our friendly agents is ready to speak with you now.
Auto Insurance Info by City
Select a Product or Service to request a quote
Ready to Get a Quick Quote?