Portland is one of Maine's most interesting cities. The state's largest city is well-respected for its tonnage seaports, food and beverage festivals, and some of the finest farmer's markets in the country. Our favorite attractions include Portland Head Light, the Children's Museum of Maine, the Portland Museum of Art, Casco Bay, or one of the many international restaurants in its offering.
All Portland drivers are required to carry insurance. Even a single lapsed day of coverage could put you in trouble with your insurance company and the state. Keep reading to learn more about car insurance in Maine, including the state minimum liability requirements, factors that affect your insurance premiums, and the types of discounts your auto insurer can offer.
Quick Facts
Portland is Maine's largest city
40% of all Maine residents live in Portland or its immediate surroundings
Old Port is Portland's historic district, known for its renovated brick buildings
Commercial Street receives almost 120 cruise ship arrivals per year, serving more than 200,000 passengers
Portland is known for its Victorian-era homes
Portland is the closest transatlantic port to Europe
How Much Does Car Insurance Cost in
Portland, ME?
In Portland-South Portland, drivers pay an average monthly rate of $93 for full coverage car insurance, well below the national average monthly rate of $140 and a little over the Maine average monthly rate ($80). For the state-required minimum liability car insurance, motorists in Portland-South Portland pay an average of $35 monthly, slightly less than the national average of $47 and slightly above the Maine average of $25 per month.
Full coverage car insurance consists of liability, plus comprehensive car insurance and collision auto insurance. Full coverage insurance costs more, but it protects you and your finances better than the state minimum. The cheapest car insurance in Maine is the required insurance, which consists of liability, uninsured motorist and MedPay, which helps pay for medical costs associated with an accident.
Some of the cheapest car insurance in the nation can be found in Maine. This is due to a low population density, the lowest rate of uninsured drivers in the nation and a low amount of automobile crime and accident claims.
See the breakdown below for how much drivers in nearby cities to Portland-South Portland pay in monthly auto insurance premiums:
| City | Full Coverage Insurance | Liability Insurance Coverage |
| --- | --- | --- |
| Portland | $93 | $35 |
| Augusta | $89 | $32 |
| Bangor | $89 | $30 |
| South Portland | $86 | $32 |
Low-Cost Car Insurance Rates by Zip Code in Portland, Maine
Auto policy premiums can vary depending on the zip code where you live. Some zip codes have a higher number of reported accidents and other incidences affecting how high or how low your premiums will be. Don't expect a sparsely populated area to pay the same insurance premiums as a city with a population of 1 million.
See the breakdown below for average monthly auto insurance premiums by zip code in Portland-South Portland.
| Zip Code | Full Coverage Insurance | Liability Insurance Coverage |
| --- | --- | --- |
| 04101 | $93 | $35 |
| 04102 | $92 | $34 |
| 04103 | $90 | $34 |
| 04108 | $86 | $31 |
| 04109 | $87 | $31 |
| 04210 | $93 | $34 |
| 04983 | $94 | $30 |
Affordable Auto Insurance Rates by Age in Portland, Maine
Some age ranges pay higher insurance costs than others due to collective driving history. For example, young drivers can spend as much as quadruple the rate of drivers in their 30s and 40s. This is because, as a group, young drivers tend to be involved in more accidents – and the insurance company has no driving history for young drivers. That is why young drivers tend to be charged for high-risk car insurance.
See the breakdown below for average monthly auto insurance premiums by age in Portland-South Portland:
| Age | Full Coverage Insurance | Liability Insurance Coverage |
| --- | --- | --- |
| Teenagers | $308 | $122 |
| 20s | $108 | $41 |
| 30s | $90 | $34 |
| 40s | $82 | $32 |
| 50s | $80 | $31 |
| 60s | $79 | $31 |
| 70s | $80 | $31 |
Unless otherwise specified, we use the following methodology to arrive at our average cost: male, age 30, lowest possible legal coverage allowed by Maine. Your rates will be determined by several factors, including your age, your gender and the amount of coverage you want to purchase.
Get a Quote for Car Insurance in Maine Today!
Driving Conditions in Portland, ME
How Many Fatal Accidents Happen in Portland, Maine?
In 2020, four fatal accidents occurred in Portland, Maine, with five vehicles and one motorcycle involved. Four people were killed. In 2021, there were two fatal accidents in Portland with four people involved, 4 vehicles and two people were killed.
In South Portland, there were no fatal crashes in 2020 and one in 2021. That one accident involved a car and a motorcycle and one person was killed.
How Are the Road Infrastructure and Bridges in Portland?
Portland, Maine, is constantly undergoing construction projects to improve life in the city. Its Department of Public Works leads these projects. Past projects have included construction projects at Forest @ Lincoln/Arlington Crossing (crossing improvements) and fixing curb ramps at Forest @ Coyle Pedestrian Improvements, and intersection improvements at Congress Square (Congress & High Intersection).
For more information on Portland, Maine's construction projects, visit City of Portland – Major Constructions Projects.
Minimum Car Insurance Requirements in Portland, Maine
All Maine drivers must maintain the following car insurance limits to drive legally in the state:
Bodily injury liability coverage: $50,000/$100,000 per person/accident
Property damage liability coverage: $25,000 per accident
MedPay: $2,000
Uninsured/underinsured motorist coverage: $50,000/$100,000 per person/accident
One of the best ways to stay protected is to increase your liability insurance coverage. The higher your liability limits, the less you pay out of pocket for injuries and damages after an accident. Your liability insurance includes bodily injury/death liability insurance and property damage liability insurance. Maine also requires its drivers to carry uninsured/underinsured motorist coverage to protect against those driving without insurance who may cause an accident. Maine drivers must also carry MedPay, a medical insurance that helps pay for medical expenses related to an accident.
Maine is an at-fault state. This simply means that the insurance of the person who caused the accident will help pay for injuries and damages to other drivers and passengers. Your own liability insurance will not pay for your damages and injuries. This is one reason Maine asks drivers to carry a small amount of medical coverage.
We also highly recommend seeking full coverage instead of the state minimum amount of coverage. Full coverage includes comprehensive and collision insurance to protect against additional scenarios, such as theft, vandalism, and total vehicle loss.
What Are the Penalties for Driving Without Insurance in
Portland, ME?
Driving without insurance in Maine is not a good idea.
First-time and repeat offenses can expect to pay up to $500 in fines on top of a $50 reinstatement fee, a $20-$30 license fee, and a $35 registration fee. Further, the state will suspend your driving privileges until you show proof of insurance.
On top of these fees, you have to file an SR-22, proving to the state that you're carrying the state minimum required insurance. Unfortunately, an SR-22 designation typically increases your rates, potentially tripling in some cases depending on past offenses and your driving record.
Forget about driving with a DUI as well. DUIs can increase your annual auto insurance premium by $500 or more, with first-time offenders subject to fines up to $2,000, a 150-day license suspension, and required use of an ignition interlock device. Some carriers will not cover those who have been convicted of offenses like DUI. You may need to shop around to find a provider that offers DUI solutions.
Factors Allowed in
Portland Car Insurance Rates
Many factors determine your premiums, including your age, gender, and zip code of residence.
Other factors affecting Portland car insurance rates include:
Make and model of vehicle
Driving record
Claims history
Marital status
As your life circumstances change, it is crucial to know what will affect your rates. For example, switching to an older make and model vehicle affects your rate, so calling your auto insurer to let them know is essential.
Discounts for Car Insurance in Portland, ME or South Portland, Maine
Car insurance discounts are a good way to save some money on your premium. As your life circumstances change, you may be eligible for new and different discounts, so be sure and keep your agent updated. Some common discounts include:
Bundling your homeowners and auto insurance policy could save several hundred dollars a year in premiums, putting more money back into your pocket for other expenses.
Get an Online Quote for
Low-Cost

Car Insurance in Portland, ME or South Portland, ME Today!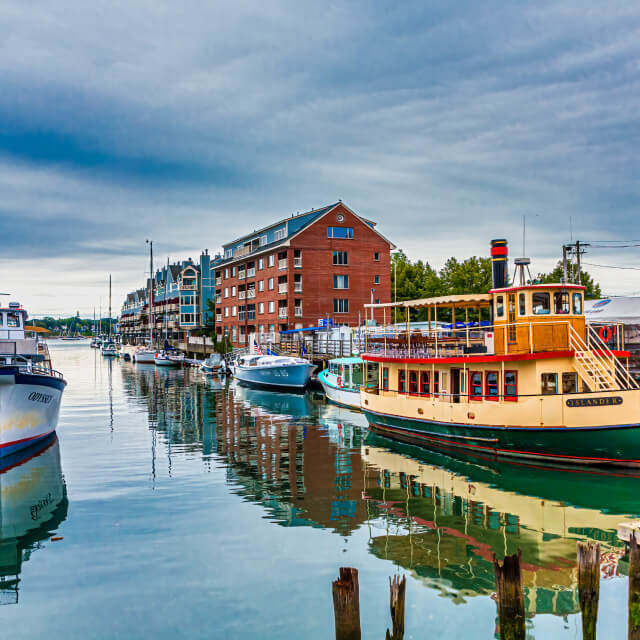 All Portland-South Portland drivers can benefit from an affordable auto insurance policy, courtesy of Freeway Insurance. We have you covered whether you are looking for the state minimum required coverage, a full coverage policy or something in between.
To get started, request a free car insurance quote online, visit a Portland-South Portland location near you, or call us at 800-777-5620.
Select a Product or Service to request a quote
Ready to Get a Quick Quote?