Everything You Need to Know About Auto Insurance in Alabama
Located less than 30 miles from the Georgia and Florida coasts, Dothan is best known for its impressive peanut production and laid-back, small-town lifestyle. Some of Dothan's most popular attractions include Landmark Park, Dothan Area Botanical Gardens, Adventureland, Waterworld, and the Wiregrass Museum of Art.
To drive legally, all Dothan drivers must carry an auto insurance policy. Keep reading to find out more about auto insurance in Alabama, as well as how to pay less for your insurance, how to get discounts on your policy and more about Dothan's auto coverage costs.
How Much Does Car Insurance Cost in Dothan, AL?
Dothan drivers pay an average monthly premium of $100 for full coverage, which is the same as the state average and significantly lower than the national average of $140. It is lower than more populated Alabama cities like Birmingham, Mobile, and Montgomery.
The state-required minimum car insurance is $49 on average, roughly the same as the national average of $47 and higher than the state minimum average of $37.
What Does Full vs Minimum Mean?
Several types of auto insurance policies are available, including state minimum liability and full coverage which includes comprehensive and collision insurance.
With full coverage, you get the liability required by Alabama (or more if you choose to increase your levels), plus comprehensive and collision. Comprehensive helps pay for things that mostly happen when you are not driving, such as storm damage and car theft. Collision helps pay for repairs to your vehicle after a covered event, such as a wreck, regardless of who is at fault.
The state liability is designed to protect other drivers and their passengers if you cause a wreck. It will help pay for damages up to your policy limits. Anything over that comes out of your pocket. Your liability will never pay for repairs to your vehicle, which is why some drivers choose full coverage. Remember, you can always increase your liability limits.
Your independent Freeway agent can help you decide the best car insurance for your circumstances.
Get a Quote for Car Insurance in Alabama Today!
Affordable Car Insurance Rates Comparison by Cities in Alabama
For the average monthly premium paid in Alabama cities, check out our breakdown below.
| City | Full Coverage Insurance | Liability Insurance Coverage |
| --- | --- | --- |
| Dothan | $159 | $49 |
| Birmingham | $149 | $47 |
| Mobile | $149 | $47 |
| Montgomery | $149 | $46 |
| Tuscaloosa | $143 | $45 |
Affordable Car Insurance Rates by Zip Code in Dothan, AL
Residents of each Dothan zip code pay a different average monthly premium thanks to activity within the region, such as the number of thefts, acts of vandalism, and the number of accident claims.
See our breakdown below for the average monthly premium paid by Dothan residents by zip code.
| Zip Code | Full Coverage Insurance | Liability Insurance Coverage |
| --- | --- | --- |
| 35005 | $159 | $49 |
| 36301 | $132 | $44 |
| 36302 | $132 | $44 |
| 36303 | $132 | $44 |
| 36305 | $131 | $44 |
Low-Cost Car Insurance Rates by Age in Dothan, AL
Every age group living in Dothan pays a different average monthly premium thanks to several factors including the length of driving history and volume of claims. This is why younger drivers almost always pay higher premiums than older drivers.
See our breakdown below for the average monthly premium paid by Dothan residents by age.
| Age | Full Coverage Insurance | Liability Insurance Coverage |
| --- | --- | --- |
| Teenagers | $493 | $187 |
| 20s | $150 | $49 |
| 30s | $131 | $44 |
| 40s | $124 | $41 |
| 50s | $117 | $39 |
| 60s | $119 | $41 |
| 70s | $126 | $45 |
Unless otherwise specified, we use the following methodology to arrive at our average cost: male, age 30, lowest possible legal coverage allowed by Alabama. Your rates will be determined by several factors, including your age, your gender and the amount of coverage you want to purchase.
Driving Conditions in Dothan, AL
How Many FataI Accidents Happen in Dothan?
In 2019, there were nine fatal road traffic accidents in Dothan involving 16 vehicles and 20 people, including three pedestrians.
How Are the Road Infrastructure and Bridges in Dothan, Alabama?
The city of Dothan's Public Works department is divided into four divisions responsible for maintaining all traffic flow initiatives and infrastructure: Engineering Services, Environmental Services, Street Division, and Traffic Engineering Services Division.
Its Street Division is responsible for street maintenance initiatives. In contrast, the city's Traffic Engineering Services Division is in charge of all transportation infrastructure, including installing, upgrading, and maintaining traffic signals, traffic signs, sidewalks, and other traffic flow areas.
For more information on Dothan's Public Works Department, visit City of Dothan – Public Works.
Minimum Car Insurance Requirements in Dothan, Alabama
Every driver in Alabama must adhere to the following minimum liability limits:
$25,000 in bodily injury/death liability per person
$50,000 of bodily injury/death liability per accident
$25,000 of property damage per accident
Adhere to these minimum liability limits to avoid a suspension of your driver's license and registration, fines, reinstatement fees, and aggravation. Do not think of going a day without coverage. Even a single day of lapsed coverage of force insurance companies to report it to the Alabama Department of Motor Vehicles.
Find an office near you to help with your auto insurance
What Are the Penalties for Driving Without Insurance in Dothan, AL?
We highly encourage you to drive with proof of insurance in Dothan (or anywhere), as not doing so will result in a Class C misdemeanor charge.
First-time offenders will see fines up to $500 and a registration suspension for 30 days until proof of insurance is provided to the Alabama Department of Revenue. Second and subsequent offenses will see fines of up to $1,000 with potentially six months of imprisonment, depending on the severity of the offense.
In addition, expect to pay the $200 registration reinstatement fee and file an SR-22 for one year after reinstatement on the first offense and three years after reinstatement for the second and subsequent offenses.
How Does an SR-22 Affect Car Insurance Rates?
Unfortunately, filing for an SR-22 will reclassify you as a high-risk driver. As a result, your premiums can double or even triple in some cases, and it will undoubtedly be more challenging for you to find an affordable policy.
If affordability is an issue, note that you do have the option of purchasing state minimum liability. All Alabama drivers must have minimum liability limits of $25,000 in bodily injury per person, $50,000 in body injury liability per accident, and $25,000 for property damage liability per accident.
The truth is you can't afford not to have car insurance. If you cause an accident in Alabama and you do not have insurance, you will be subject to a lawsuit that could involve your assets, such as your home, being seized to pay for damages.
Car Insurance Factors Allowed in Dothan, AL
There are many factors auto insurance providers take into consideration when determining the cost of your premiums:
Age
Gender
Zip code of residence
Marital status
Driving record
Driving an older make and model vehicle
Note — this is not an all-inclusive list. It's very rare for you to have the same insurance quote as someone else, since premiums are based on factors unique to you.
Discounts for Car Insurance in Dothan, Alabama
If you want to save money off of your next auto insurance premium, take advantage of some of the following discounts (assuming a driving record in good standing):
Auto insurance discounts are typically slotted into four categories: policy-based, usage-based, driver-characteristic, and vehicle-based.
Policy-based discounts include enrolling in autopay/paperless billing and paying your annual premium upfront. Usage-based discounts are awarded for clocking yearly low mileage or enrolling in a telematics program to monitor your driving behavior. Driver characteristic pertains to your driving record, with "Good Driver" discounts available to those who have maintained a clean driving record for the past three to five years.
Lastly, vehicle-based discounts are extended for risk-proofing your vehicle. Installing anti-lock brakes, anti-theft devices, daytime running lights, and audible alarms may all qualify.
Get an Online Quote for Low-Cost Car Insurance in Dothan Today!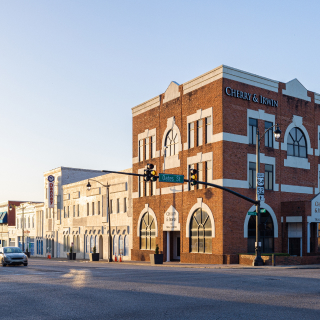 If you are looking for an affordable auto insurance policy, then Freeway Insurance will be more than glad to go over all of your coverage options.
Getting started with Freeway Insurance only takes a single step. First, visit us online, visit a Dothan office near you, or call 800-777-5620 to speak with one of our friendly agents. We welcome speaking with you today.
Select a Product or Service to request a quote
Ready to Get a Quick Quote?