Everything You Need to Know About Auto Insurance in Alabama
Huntsville is one of the most iconic cities in the Southeast. As the home to NASA's Marshall Space Flight Center and the U.S. Space and Rocket Center, it has an incredible space culture. Huntsville is also well-known for its sprawling Tennessee Valley, with excellent road-tripping opportunities to places like Monte Santo State Park and Big Spring International Park.
To drive legally, you must have car insurance in Alabama. First-time offenders caught driving without insurance can expect to pay a fine of at least $500 with up to 40 hours of community service
Keep reading to learn more about auto insurance in Huntsville, including how much it costs, factors that determine premiums, and how you can save on your next auto insurance policy.
How Much Does Car Insurance Cost in Huntsville, AL?
Huntsville drivers pay an average monthly premium of $110 a month for full coverage, much less than the national average monthly premium of $140. For the state-required minimum, which is the cheapest insurance in Huntsville, you may average $41 per month. This compares well to the national average of $47.
Get a Quote for Car Insurance in Alabama Today!
Why is Insurance so Cheap in Alabama?
One of the reasons Huntsville residents enjoy lower than average rates is because Alabama doesn't require much in the way of minimum liability. Minimum requirements in Huntsville include:
Some states ask motorists to carry higher amounts, plus other coverages such as uninsured motorist coverage and personal injury protection (PIP).
What Are the Penalties for Driving Without Insurance in Huntsville, AL?
If caught driving without auto insurance in Huntsville, expect fines and plenty of aggravation.
You will have to pay a fine of up to $500 on top of a 30-day registration suspension until you provide proof of insurance. There is also a $200 registration reinstatement fee and a required one-year filing of an SR-22 form. An SR-22 form lets Alabama know that you are carrying the state's minimum required liability coverage.
Second and subsequent offenders can expect even more issues with fines of up to $1,000 and a possible six-month prison term. On top of that, a $400 registration reinstatement fee will help you get your driving privileges back.
Affordable Car Insurance Rates Comparison by Cities in Alabama
For the average monthly premium paid in Alabama cities, check out our breakdown below.
| City | Full Coverage Insurance | Liability Insurance Coverage |
| --- | --- | --- |
| Birmingham | $159 | $49 |
| Decatur | $132 | $41 |
| Mobile | $149 | $47 |
| Montgomery | $149 | $46 |
| Tuscaloosa | $143 | $45 |
Affordable Car Insurance Rates by Zip Code in Huntsville, AL
Your zip code significantly impacts the average premiums people pay. For example, expect residents of New York City to pay a different monthly premium than residents of the sparsely-populated Sioux City, Iowa.
For the average monthly premium paid by Huntsville residents by zip code, see our breakdown below.
| Zip Code | Full Coverage Insurance | Liability Insurance Coverage |
| --- | --- | --- |
| 35649 | $131 | $41 |
| 35756 | $133 | $43 |
| 35757 | $138 | $46 |
| 35801 | $137 | $45 |
| 35802 | $139 | $46 |
| 35803 | $140 | $47 |
| 35804 | $140 | $47 |
| 35805 | $138 | $46 |
| 35806 | $137 | $46 |
| 35808 | $139 | $47 |
| 35809 | $140 | $47 |
| 35810 | $140 | $46 |
| 35811 | $139 | $46 |
| 35815 | $140 | $47 |
| 35816 | $139 | $46 |
| 35824 | $136 | $45 |
| 35896 | $140 | $47 |
| 35899 | $138 | $45 |
Low-Cost Car Insurance Rates by Age in Huntsville, AL
It is common for younger drivers 20 years old and younger to pay quadruple the monthly premium as drivers in their 30s, 40s, and 50s.
For average monthly premium paid by Huntsville residents by age, see our breakdown below.
| Age | Full Coverage Insurance | Liability Insurance Coverage |
| --- | --- | --- |
| Teenagers | $527 | $194 |
| 20s | $158 | $52 |
| 30s | $134 | $44 |
| 40s | $128 | $43 |
| 50s | $122 | $41 |
| 60s | $124 | $43 |
| 70s | $149 | $55 |
Unless otherwise specified, we use the following methodology to arrive at our average cost: male, age 30, lowest possible legal coverage allowed by Alabama. Your rates will be determined by several factors, including your age, your gender and the amount of coverage you want to purchase.
Driving Conditions in Huntsville, AL
How Many Fatal Accidents Happen in Huntsville?
In 2019, there were 22 fatal car crashes in Huntsville. A total of 40 vehicles were involved, as well as 51 people and eight pedestrians.
How Are the Road Infrastructure and Bridges in Huntsville, AL?
Huntsville's Public Works Department labors tirelessly to maintain its streets, roads, and infrastructure. It has several divisions, including a Maintenance, Sanitation, and Construction Division that works to install new roads and parking areas, improve drainage projects, optimize garbage collection, and dozens of other related services performed for the city.
For more information on Huntsville Public Works programs, visit Huntsville – Public Works Department.
Find an office near you to help with your auto insurance
Factors Allowed in Huntsville, AL Insurance Rates
All auto insurance companies have their underwriting criteria that determine the cost of premiums you pay.
Some of these factors auto insurance companies use to determine your premiums include, but are not limited, to:
Driving record and claims history
Your zip code and address
Gender
Marital status
Age
Type of vehicle
Here's What You Need to Know About Driving in Alabama
Alabama offers a host of great travel destinations, but there are rules that are unique to that state. For example, drivers must turn their headlights on if they are using their windshield wipers for rain, sleet or snow. Alabama also has plenty of uninsured drivers, so you should consider adding uninsured motorist coverage to your policy. For what it costs, it's the best optional coverage you can consider.
Alabama's motorcycle rules include that the driver and passenger must wear a helmet at all time.
Remember, full coverage offers a higher degree of protection on Huntsville's road. It provides not only liability, but also comprehensive and collision – two coverages that can help you pay for repairs even if a car accident is your fault.
The Best Car Insurance Discounts in Huntsville, Alabama
Drivers can take advantage of discounts to save a few dollars each month on their auto insurance premiums.
Some of these discounts include but are not limited to the following:
We recommend keeping an open line of communication with your auto insurance provider. Remember to give them a call every six months to a year to understand all of the new discounts that may apply to you. As your life circumstances change (e.g. switching vehicles), expect the premiums you pay to change as well.
Get a Quote for Low-Cost Car Insurance in Huntsville, AL Today!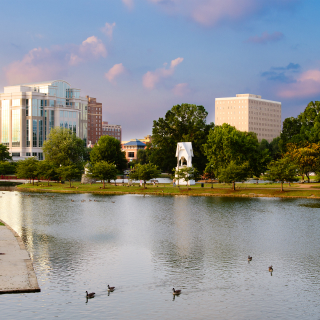 Avoid all of the aggravation of driving without insurance and getting your driver's license and registration suspended. It may be time to look for a new, cheap car insurance policy from Freeway Insurance.
Get started by requesting a quote online, calling 800-777-5620, or visiting your nearby Huntsville office to get a no-obligation quote from a Freeway Insurance agent. Contact us today!
Select a Product or Service to request a quote
Ready to Get a Quick Quote?