Chicago is, without a doubt, one of the greatest cities in the United States of America. You could live in the city your whole life and never discover all of the culture, heritage, and beauty that the city has to offer.
To see most of what the city has to offer, though, you'll need to drive around. And that means you'll need to learn everything there is to know about car insurance in Chicago.
Our guide will help you learn what you need to know. Keep reading to discover the info that can help you save money on car insurance and avoid accidentally violating the law.
The average cost of car insurance in Chicago is $2,969
There were 139 traffic-related fatalities in Chicago in 2020
How Much Does Car Insurance Cost in Chicago?
If you're driving around the state, it's important to know about Illinois car insurance. However, like most states, the actual cost of car insurance in Illinois can vary significantly between areas. Below, we've got info about the average car insurance cost in different cities throughout the state.
| City | Average Annual Premium |
| --- | --- |
| Springfield | $2,174 |
| Peoria | $2,203 |
| Rockford | $2,260 |
| Champaign | $1,978 |
| Naperville | $2,229 |
| Elgin | $2,311 |
| Joliet | $2,397 |
| Schaumburg | $2,379 |
| Chicago | $2,969 |
Chicago Car Insurance Rates by Zip Code
One of the biggest factors affecting the cost of your insurance is actually where you live. In fact, car insurance can vary significantly by zip code in different areas throughout a city.
Obviously, Chicago is a fairly large city. And as you might expect, there can be some major differences in car insurance cost from place to place.
Below, we have a chart with info about the average car insurance cost by zip code throughout the city.
| Zip Code | Average Cost of Insurance |
| --- | --- |
| 60636 | $5,437.22 |
| 60623 | $5,385.12 |
| 60624 | $5,378.19 |
| 60651 | $5,361.85 |
| 60644 | $5,359.76 |
| 60621 | $5,323.19 |
| 60649 | $5,173.45 |
| 60620 | $5,156.08 |
| 60426 | $5,086.94 |
| 60639 | $5,082.84 |
Chicago Car Insurance Rates by Age
Another major factor affecting the cost of your car insurance is your age. At different ages throughout your life, you can expect to pay different car insurance premiums. Below, we have a chart that provides key info about average car insurance costs by age throughout Chicago.
| Age | Average Cost to Expect |
| --- | --- |
| Teenagers | $6,358 |
| 20s | $2,366 |
| 30s | $1,668 |
| 40s | $1,604 |
| 50s | $1,488 |
| 60s | $1,519 |
| 70s + | $1,846 |
Driving Conditions in Chicago
How Many Fatal Accidents Happen in Chicago
Whether you live there or are simply visiting, there is plenty to see and do in Chicago. Seeing most of it requires you to drive around. But how safe is it to drive in Chicago?
Honestly, it is getting more dangerous to drive within the state. In 2020, there were 139 traffic-related fatalities. And that number represents a 45% jump up from the previous year when there were only 96 such deaths in 2019.
This may be only a temporary spike due to COVID-19. The virus has kept the roads from being as congested in 2020. And as annoying as congested traffic can be, such congestion usually helps limit traffic-related fatalities.
How Are the Road Infrastructure and Bridges in Chicago
Like most major cities, Chicago has a few bridges and roads that could use some work. Fortunately, the city has recently invested a sizeable amount of money into improving its infrastructure.
Specifically, the city has invested billions of dollars into a multi-year infrastructure plan. This plan will be 75 miles of arterial streets a year and make streets safer and smoother for traveling by foot, bike, or car.
This infrastructure plan will also address community concerns about fixing traffic lights and beautifying neighborhoods in addition to paving roads. In short, the infrastructure plan for the city of Chicago spells out a safer, brighter future for area residents.
Minimum Car Insurance Requirements in Chicago
Our guide has information about the minimum car insurance requirements in Chicago. Whenever possible, though, we recommend you get more than the minimum car insurance that is required. Regardless of your plans, though, it's important to know what these minimums are.
In Chicago, you must have coverage of $25,000 for injury or death of one person in an accident. You also need to have $50,000 in coverage for the injury or death of more than one person in an accident. Finally, you'll need $20,000 in coverage for damage to another person's property.
Additionally, Illinois residents must have Uninsured Motorists insurance with the same levels of minimum coverage. If any of your insurance drops below these minimum levels of coverage, you will be in violation of Chicago and state laws concerning car insurance. As always, we recommend you compare rates from multiple insurance carriers.
Factors Allowed in Chicago Car Insurance Rates
So far, our guide has touched on a few key elements regarding your car insurance cost, including things like your age and your zip code. However, several other factors can influence your car insurance cost in Chicago. Below, we have a list of the factors that car insurance companies are allowed to use when determining your premiums.
Age
Zipcode
Education & occupation
Marital status
Credit score
Gender
Discounts for Car Insurance in Chicago
If you really want to get a better price on your car insurance, it's important to ask about discounts offered by your insurance carrier. While there are no state-sponsored driving discounts, your insurance carrier may take the price off your premium for any of the following:
Safe driving
Anti-theft device installation
Defensive driving course discount
Good student discount
Bundled insurance discount
What Are the Penalties for Driving Without Insurance in Chicago
It's dangerous to drive in Chicago without insurance. You'll face some pretty stiff fines, even for your first offense. And the penalties get worse if you become a repeat offender.
For the first offense, your fine will range from $501-$1000. The fine for the second offense is the same. If you drive with suspended plates, you'll probably need to pay an additional $1000 on top of that.
For third offenses and beyond, the minimum fine is $1000. If you have at least two previous convictions and are involved in an accident, the minimum penalty is $2500.
The first and second offenses may result in your license and registration being suspended for three entire months. Violations beyond that may result in a four-month suspension. It will cost $100 to reinstate your license. And after the second offense, you will be required to present an SR-22 certificate for the next three years.
Get a Chicago Car Insurance Quote Today!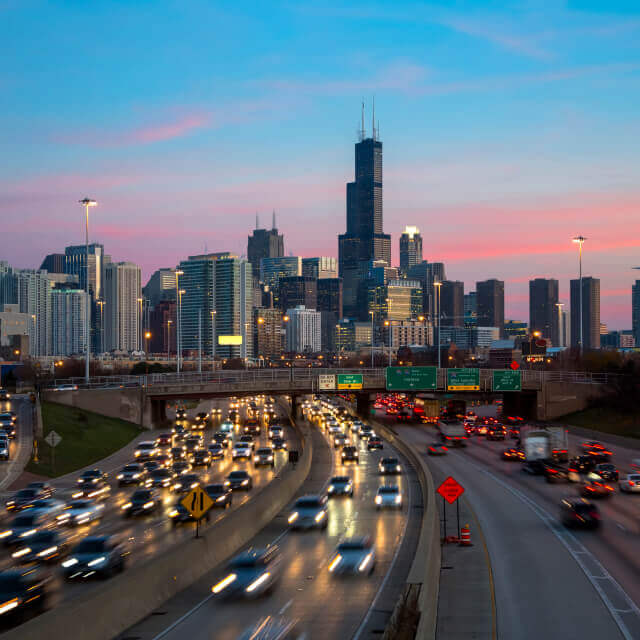 Now you know all about car insurance in Chicago. But do you know where you can get solid insurance at an affordable rate?
We make it easy for you to get an insurance quote right away. You can get started with a quote online. Alternatively, you can visit us at a local office near you. And you can always pick up the phone and call us at (800) 777-5620 for a quote