In 2023, having car insurance is more important than ever. Not only is it legally required in most states, but it also provides financial protection in the event of an accident or other incident involving your vehicle. Without insurance, you could be left to pay for costly repairs or medical bills out of pocket. Additionally, an insurance company like Freeway can also protect you from liability in the event that you cause an accident and hurt someone else. With so much at stake, it's crucial to have a car insurance policy that meets your needs and budget.
Naperville, a city located 28 miles west of Chicago, was founded in 1831 and is currently the fourth-largest city in the state of Illinois. With a population of over 148,400, the city is known for its historic charm, but has recently faced challenges in managing traffic congestion and flow. These issues have been exacerbated by a lack of public transit options, leading to increased risk of car accidents and higher insurance rates for residents. With that said, all drivers are legally required to have auto insurance in Illinois.
How Many Fatal Accidents Happen in Naperville?
Illinois reported 938 fatal crashes that resulted in 1,010 deaths in 2019. Naperville had a significantly lower number, with a total of three fatal crashes resulting in three deaths that same year.
None of the fatal crashes that took place in Naperville in 2019 were alcohol-related. While three died, seven others were hurt or seriously injured, including a pedestrian. By comparison, the state of Illinois reported that 276 people were killed in alcohol-related crashes in 2019, which was roughly 27% of the state's 1,010 total crash fatalities.
Having car insurance is crucial in case of a car accident, as it can provide financial protection for both yourself and any family members who may be involved. Without insurance, the costs of medical treatment, vehicle repairs, and legal fees can be overwhelming, and can put a significant financial strain on a family. Additionally, if you are found to be at fault in an accident and don't have insurance, you could be held financially liable for any damages or injuries caused. Car insurance can also provide peace of mind, knowing that you and your loved ones are protected in case of an unexpected event.
Naperville Illinois Auto Insurance Quotes
Expect to pay an average of $1,273 for full coverage car insurance if you're a driver in the Naperville area. Compared to a large urban center like Chicago, premiums in Naperville are in the lower range, costing around $438 less than in the Windy City. Naperville drivers pay around $127 more than drivers in smaller cities and towns, though. Due to the amount of time drivers spend on the highways, consumer protection laws and Illinois car insurance provide some of the best coverage in the U.S.
| City | Average Annual Premium for Full Coverage |
| --- | --- |
| Naperville | $1,273 |
| Chicago | $1,711 |
| Champaign | $1,146 |
| Decatur | $1,238 |
| Peoria | $1,283 |
Zip code and age are two factors that insurers typically use to determine your car insurance rates. The average number of accidents that occur in your zip code, as well as how populated the area is, how much crime occurs, and the average income affect your rate. In a high-income neighborhood, residents usually invest in pricy cars that often become the target of theft, which makes your rate soar.
Naperville Car Insurance Rates by Zip Code
There are four zip codes in Naperville, Illinois. Zip code 60564, which is southwest of the city center and is home to several golf courses, has one of the highest average premiums in the city at $1,263, while 60563, which is north of the downtown area, is nearly $225 less than that at $1,038.
Auto insurance rates are usually based on zip code statistics, like population. In Naperville, for example, the population density between the zip codes 60565 and 60540 is within close range, with 3,251 and 3,253 people per square mile, respectively. But the median home value in 60540 is roughly $18,965 higher than 60565, indicating that residents in the pricier zip code might be more inclined to buy expensive vehicles, which contributes to higher annual auto insurance rates.
The following table lists several zip codes in the Naperville area along with the average insurance rates drivers will likely pay for full coverage:
| Zip Code | Average Premium for Full Coverage |
| --- | --- |
| 60563 | $1,038 |
| 60540 | $1,066 |
| 60565 | $1,143 |
| 60564 | $1,263 |
Naperville Car Insurance Rates by Age
While marital status and gender can be factored in to determine a driver's insurance rate, this information generally has a minimal influence on premium costs. As stated earlier, zip code and age tend to play a larger role in calculating premium rates.
Younger drivers will pay more for car insurance until they have spent more time on the road and have gained experience. Once a young adult is in their 20s, insurance rates will begin to drop.
| Age | Average Annual Premium for Full Coverage |
| --- | --- |
| Teenagers | $2,627 |
| 20s | $1,332 |
| 30s | $861 |
| 40s | $744 |
| 50s | $757 |
| 60s | $740 |
| 70s | $883 |
A clean driving record that shows no accidents or tickets during the past three to five years will keep your annual premium low.
Minimum Car Insurance Requirements in Naperville
Illinois is an at-fault state, which means that the driver who causes a crash must pay for the other driver's collision bills. The negligent driver's insurance may also cover their own damages, depending on what their coverage options are.
Per Illinois Mandatory Insurance Law §625 ILCS 5/7-601, drivers must carry the minimum liability insurance for any vehicle registered in the state. The minimum coverage Illinois requires its drivers to carry is 25/50/20, or:
$25,000 for the injury or death of one person in an accident that you cause,

$50,000 total for all injuries or deaths in an accident that you cause, and

$20,000 for damage to the property of another person in an accident that you cause.
Factors Allowed in Naperville Car Insurance Rates
Across the nation, insurers rely on certain criteria to determine your annual car insurance premium. In Naperville, Illinois, the criteria typically used are:
Driving history

Credit score
Discounts for Car Insurance in Naperville
Taking advantage of discounts available through your auto insurance carrier can save Naperville drivers money. Your carrier will let you know what these discount offers are. They might include a:
What Are the Penalties for Driving Without Insurance in Naperville?
By law, drivers are required to have auto insurance in Naperville as well as the state of Illinois. When you're behind the wheel, you need to carry the minimum amount of coverage or you'll have to face stiff penalties. A first-time offender can expect to receive:
A $500 to $1,000 fine

License suspension, with a $100 fee to have it reinstated

Requirement of an SR-22 for at least three years 
What Happens if I Damage a Property?
Having car insurance is important because it provides financial protection in the event of an accident. In the case of property damage, car insurance can cover the cost of repairs or replacement of another person's vehicle or property that you may have damaged in a collision. Additionally, car insurance can provide coverage for your own vehicle in the event of damage from an accident, vandalism, or natural disasters. Furthermore, car insurance can also offer life insurance for the driver and passengers of the vehicle, which can provide financial support to their families in case of death or injury caused by a car accident. In summary, car insurance is essential for protecting yourself and others financially in the event of an accident and can provide peace of mind while you are on the road.
Having a reliable car insurance policy can bring a sense of tranquility to your life. It can give you peace of mind knowing that you have the best option for protecting yourself and your vehicle in case of an accident or other unforeseen event. There are a number of factors to consider when choosing a car insurance policy, such as the coverage options, the cost, and the reputation of the insurance company. By taking the time to carefully evaluate these factors, you can make an informed decision and select the policy that best meets your needs. With the right car insurance in place, you can enjoy the freedom and convenience of driving without the added stress of worrying about the potential financial consequences of an accident.
The Best Car Insurance Company in Naperville
Insurance is an inexpensive way to protect yourself from the tremendous risks of daily driving in Naperville. Crashes are expensive and usually bring substantial medical expenses and car repair bills. Here at Freeway Insurance we can give you complete advice and support so that you can resolve all your doubts. We are experts in the insurance industry and we have an alternative for you. Call us at (800) 777-5620 or find your nearest office on our website. We are sure that our agents will be happy to assist you with our great service!
Get a Quote for Car Insurance in Naperville Today!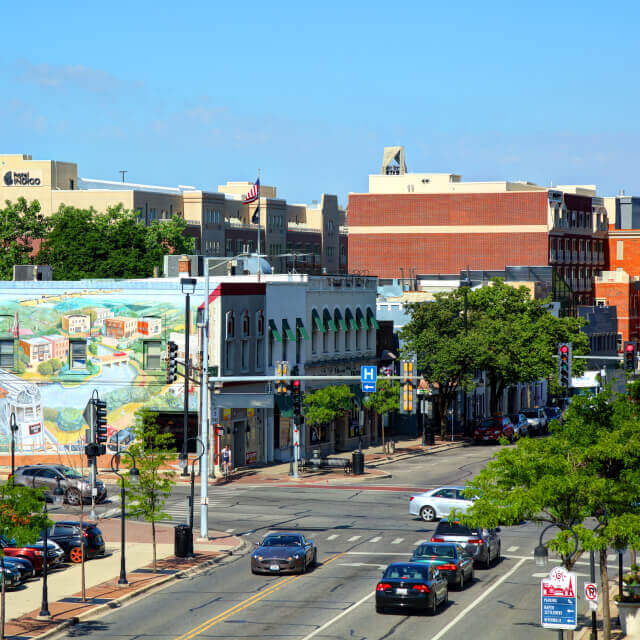 Insurance is an inexpensive way to protect yourself from the tremendous risks of daily driving in Naperville. Crashes are expensive and usually bring substantial medical expenses and car repair bills. Having the right coverage takes care of you and everyone involved. Find the best coverage options by getting a quote online, visiting us at a Naperville office near you, or calling us at (800) 777-5620.