In Illinois, Elgin is the eighth-largest city. And being only 35 miles from Chicago, it's possible to live here and still experience "the big city" whenever you want. Whether you stay within the city limits or drive to neighboring cities, it's important for you to have the right car insurance. But let's be honest: do you really know enough about car insurance in Elgin?
Our guide will walk you through the car insurance costs and driving conditions in Elgin, Illinois. By the time you complete our guide, you'll be ready to drive in both style and safety.
Quick Facts
The average cost of car insurance is $1,341.
The city has invested heavily in infrastructure improvements in recent years.
How Much Does Car Insurance Cost in Elgin?
When you're driving throughout the state, it's important to know the details about Illinois Auto Insurance. And one of the biggest details is how much you can expect to pay in car insurance.
In Elgin, the average cost of car insurance is $1,341. That is a little more expensive than the average cost of car insurance in the state ($1303) but still cheaper than the national average ($1548).
Elgin Car Insurance Rates by Zip Code
There are many different factors that can affect the cost of your insurance. Our guide will explore more of these factors, but your zip code is a major cost consideration.
The costs of car insurance in Elgin vary from zip code to zip code. Our table below will help you identify the average monthly insurance costs for different Elgin zip codes.
| Zipcode | Average Monthly Cost |
| --- | --- |
| 60120 | $106.59 |
| 60121 | $107.53 |
| 60123 | $92.70 |
| 60124 | $97.49 |
Elgin Car Insurance Rates by Age
One of the other big factors affecting the cost of your insurance is age. You may have noticed, for example, that insurance costs are typically much higher for younger drivers before prices begin to taper off (usually when the driver is 25 years old).
Below, we have compiled a chart showing how much you can expect to pay for your monthly car insurance in Elgin based on your age.
| Age | Average Monthly Cost |
| --- | --- |
| 16-19 | $195 |
| 20-29 | $129 |
| 30-39 | $71 |
| 40-49 | $76 |
| 50-59 | $73 |
| 60-69 | $68 |
| 70+ | $80 |
Driving Conditions in Elgin
How Many Fatal Accidents Happen in Elgin?
One of the biggest considerations that car insurance companies have is the general safety of the city. If there are many accidents and vehicle-related fatalities in an area, for example, this is likely to drive insurance costs up.
With that in mind, it's important to know what the driving conditions are in Elgin, IL. And that starts with knowing how many fatal accidents happen within the city.
In 2019, there were six fatal accidents that resulted in a total of seven fatalities. While there are safer cities out there, this relatively low amount of deadly accidents highlights that Elgin is one of the safer areas to drive within the United States.
How Are the Road Infrastructure and Bridges in Elgin
The driving conditions of a city are about more than how many crashes or fatal accidents occur each year. It is also important to understand the quality of the overall road infrastructure.
Generally speaking, Elgin has very solid infrastructure. In 2017, the city invested $8.5 million to improve the existing infrastructure. This included improving 25 miles of streets, installing a new water main across 2.1 miles, and installing a new sanitary sewer system across a quarter of a mile.
The city also began resurfacing dozens of streets and invested over a million dollars in a sanitation sewer separation project. And all of this is on top of the $25 million capital improvement project the city began in 2016.
Overall, Elgin has demonstrated their commitment to improving infrastructure for its residents and visitors.
Minimum Car Insurance Requirements in Elgin
We always encourage you to buy more than the minimum car insurance requirements if you can afford to do so. But when you're shopping around for different insurance quotes, it's still important to know what the minimum requirements are.
When driving in Elgin, you must have coverage of $25,000 for injury or death of one person in an accident. You also need to have $50,000 in coverage for injury or death of more than one person in an accident. Finally, you'll need $20,000 in coverage for damage to property of another person.
Additionally, Illinois residents must have Uninsured Motorists insurance with the same levels of minimum coverage. If any of your insurance drops below these minimum levels of coverage, you will be in violation of the law in Elgin and throughout Illinois.
Factors Allowed in Elgin Car Insurance Rates
We have touched on several of the different factors that can affect your car insurance cost. However, there are other factors, and any one of them can have a profound effect on what your monthly expenses are.
In Elgin, car insurance companies are allowed to take the different factors into account:
Age
Zipcode
Education & occupation
Marital status
Credit score
Gender
Discounts for Car Insurance in Elgin
One of the best ways to lower your monthly insurance premium is to seek out discounts from your insurance carrier. It is up to the carrier to determine what they do (or do not) offer discounts for. However, common discounts include the following:
Safe driving
Anti-theft device installation
Defensive driving course discount
Good student discount
Bundled insurance discount
What Are the Penalties for Driving Without Insurance in Elgin?
Driving without insurance in Elgin carries certain penalties. As with most cities and states, these penalties get more severe for repeat offenders.
For your first offense, you must pay a fine that will range from $501-$1000. The penalty for the second offense is the same amount. If you are driving with suspended plates, you can expect to pay an additional $1000 on top of that.
For third offenses and beyond, the minimum fine is $1000. If you have at least two previous convictions and are involved in an accident, the minimum fine is $2500.
The first and second offenses may result in your license and registration being suspended for three months. Violations beyond that may result in a four-month suspension. It will cost $100 to reinstate your license, and after the second offense, you will be required to present an SR-22 certificate for the next three years.
Get an Elgin Car Insurance Quote Today!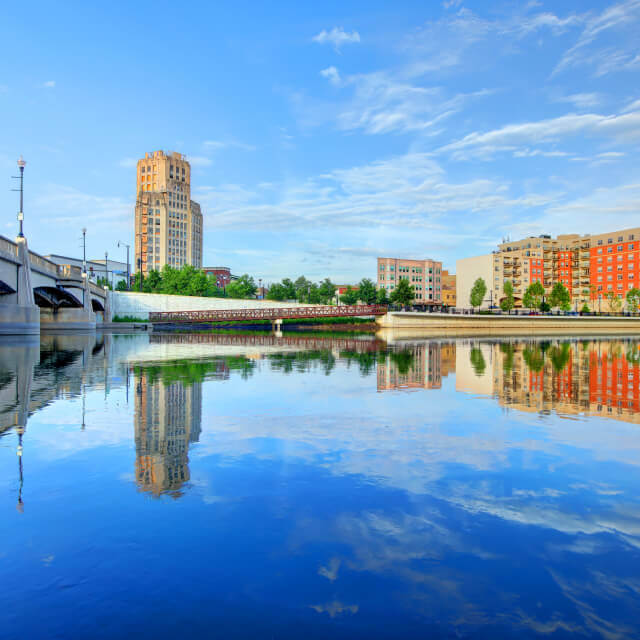 Now you know all about car insurance in Elgin, Illinois. But do you know who can help bring you the best and most affordable car insurance?
At Freeway Insurance, we make it easy to get things started. With just a click, you can get a quote online. If you'd like to visit in person, come see us at a local Elgin office near you. Alternatively, you can grab your phone and simply call us at (800) 777-5620 for a quote.