Paying too much for car insurance is not a new concept for most drivers, but calculating how much of the monthly premium qualifies as "too much" can be a lot more elusive. The best way to determine how much you could save on car insurance is by comparing your current rate with your area's average car insurance cost. Freeway Insurance can help you take the hassle out of it and find the coverage you need with ease.
Before you begin your search for more affordable rates, you should know what prices to expect when comparing quotes. Learn how to use the average monthly premiums, along with your location and driving history, to match with the best quotes and save some serious money.
How Much Does Car Insurance Cost?
How much is the average cost of car insurance each year? Generally speaking, the average cost is about $1,600. However, this number can only tell drivers so much because different states all have their own average car insurance costs. Within those states, there can also be cost variation within different cities and even different zip codes.
Also, consider how different drivers opt for varying levels of car insurance coverage.
What Does "Average Cost" Mean to You?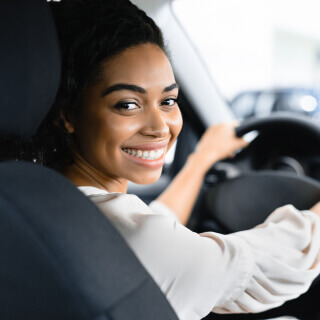 Knowing the average car insurance cost across the nation is a great way to gain perspective on how expensive your current insurance premium is, but paying attention to the average for your state offers you a more realistic view on how much you can lower it. Ideally, you could compare how much you are paying to the average cost of insurance in your zip code to get the most accurate price.
Still, it's important to remember that only you can determine if you are paying too much. The most important thing is that you have the insurance coverage you need to protect yourself and your family.
The Cost of Minimum Coverage
The first time behind the wheel, most drivers will ask about how much insurance they actually need. And there are two ways to answer that question.
The first answer involves a lot of introspection. As we mentioned before, every driver must figure out how much insurance they want, and no one else can answer that for them.
The second answer involves the letter of the law. Most states require liability coverage for all drivers, making this the only type of coverage most drivers "need." The national average for this level of minimum coverage is about $560.
You may be tempted to go with only minimal coverage. After all, the national average for minimal coverage is over $1,000 cheaper than the national average for car insurance. However, minimal coverage may not be nearly enough if you are in a car accident.
Liability insurance pays for any property damage and bodily damage caused by an accident in which you are at fault. But if the damages exceed your insurance limits, you will need to pay for the rest out of pocket. If you were at fault, neither your liability insurance nor the other driver's insurance would pay to repair or replace your vehicle.
Ultimately, it's always worth it to get more than the minimal level of coverage. You may be paying more each month, but you'll have the peace of mind of knowing that a car accident will not put you in painful debt.
Understanding Full Coverage
In many ways, full coverage insurance is the opposite of minimal coverage. This type of coverage is reserved for drivers who want maximum protection. Despite this, there is a lot of confusion over what this insurance is and how it can affect your monthly premium.
Part of the confusion comes from the fact that "full coverage" is not its own insurance type. Instead, this term refers to combining liability, collision, and comprehensive coverage.
This is called full coverage because it protects you in many scenarios.
Having three kinds of coverage will increase your monthly insurance premium, but it may be worth it. If you live in a high-crime area, comprehensive insurance can pay to replace your car if it is stolen.
Despite the term "full coverage," there are still other types of coverage you can get beyond liability, collision, and comprehensive. Medical Payments coverage is great if you are worried about medical bills or funeral costs after an accident. And Uninsured and Underinsured Motorist coverage helps protect you if the other driver either has insufficient liability insurance or no insurance at all.
How Credit Impacts Your Premium
Another thing that makes your monthly insurance premium so difficult to decode is that you don't always know what is affecting the cost. For example, your credit score can play a surprising role in how much you pay each month.
How much of a difference?
Let's imagine there are two drivers with similar backgrounds, jobs, cars, age, and marital status. What if one of them has very poor credit and one of them has very good credit? In that case, the driver with poor credit might pay as much as 75% more for the same insurance coverage as the driver with good credit.
This may not seem fair, but you can use it to your advantage. For example, if you work on improving your credit, you can let your insurance carrier know after it has improved. By letting them know about your improved credit or simply shopping for a different insurance carrier at that time, you can lower your monthly premium.
The Impact of Dangerous Driving Behaviors
While the impact of credit on your car insurance rate may be surprising, here is something less surprising: Dangerous driving behaviors inevitably lead to increases in your rate.
For example, your insurance will likely go up a little bit anytime you file a claim. But if you were at fault in a car accident, you may see a serious increase. In fact, the average cost of car insurance for those at fault in a car wreck is nearly $850 higher than the national average for car insurance.
Getting charged with a DUI has even harsher penalties, with the average cost of car insurance nearly twice as high as the national average.
In this situation, an ounce of prevention is better than a pound of cure. Try to avoid dangerous driving behaviors to keep your rates as low as possible. If your driving record is less than perfect, consider enrolling in a driving safety course that can ultimately lower your insurance premium.
Different Car Insurance Prices by State
Average car insurance prices can vary from state to state. In some cases, the changes are shocking. For example, you'll spend nearly three times as much for full coverage car insurance in Louisiana as you will in Maine.
Fortunately, we've compiled extensive research about car insurance by state. By reviewing this information, you can learn more about the information you need to drive your monthly premium down.
Age and Automobile Insurance Premiums
When it comes to factors that affect the average car insurance cost, there are some factors that you can control, at least partially. This includes things like where you live and what your credit score is.
However, there are certain factors you can't control. And the most obvious factor is your age.
While it may not seem fair that age impacts car insurance, this works in your favor over time. For example, car insurance is usually at its highest when you are a teenage driver, and the rates may continue to be high until you are about 25.
However, even within the 16-25 age range, you'll see these rates go down. At age 20, the average driver can expect to pay about $3300 for full coverage. At age 25, that same driver can expect to pay a little under $2800.
Prices generally taper off as you get older, though they will spike up slightly for the very elderly drivers. Speaking of older drivers, if you have recently retired, you should let your insurance company know. The fact that you are no longer commuting to work may lead to a lower insurance premium.
Car Type Affects Your Rate
Some vehicles are more costly than others. For example, fast sports cars are more expensive to insure because faster drivers are likelier to cause wrecks. And luxury cars are more expensive to insure because their expensive parts are harder and costlier to replace.
For that same reason, electric vehicles are more expensive to insure. Such vehicles may save you money on gas and be better for the environment, but the batteries and other parts are expensive to replace, resulting in a higher premium.
Finally, while this is rare, there are certain makes and models of cars that are likelier to be stolen. Such vehicles are more expensive to insure via comprehensive insurance.
Discover Special Discounts
Looking for ways to drive your insurance premium down? In some cases, you can make positive changes to your credit score and obtain a better rate. In other cases, changing the car you drive or the area you live in can lead to a lower monthly cost.
However, one of the better things you can do to lower your risk is to ask your insurance carrier about any discounts they offer. Every carrier offers special discounts for certain things, and you might not know what these discounts are until you ask.
For example, you can get discounts for a safe driving record or for completing a safe driving course. You can also get discounts for installing anti-theft devices and other safety equipment in your car. If you're a college student, you may even be able to get a discount for good grades!
Save Money by Comparing Rates
While car insurance discounts are great, the best way to save money on your monthly car insurance premium is usually to find a new automobile insurance company.
It's easier than ever to compare insurance rates online. And if you have any questions, you can always pick up the phone and call the carrier. With just an hour or two of research, you'll have all the information you need to find a better price on your car insurance.
Get Better Car Insurance Prices Today
Now you know everything you need to know about the average cost of car insurance. But do you know who can help provide you with a better rate as early as today?
Here at Freeway Insurance, we understand that you don't just want a better car insurance rate: You deserve it! To make things easy for you, Freeway can quickly and easily provide you with an online quote. Or feel free to give us a call at (800) 777-5620. Finally, you can also visit us at an office near you.