Located on the Atlantic Ocean where the Ashley, Cooper, and Wando rivers meet, is the beautiful antebellum town of Charleston. The largest city in the state of South Carolina, Charleston is home to over 138,000 people.
Take a walk to Waterfront Park to see the iconic Pineapple Fountain or stroll past the colorful Georgian-style historic homes along Rainbow Row, and you'll quickly discover why Travel + Leisure Magazine once ranked Charleston as the best city in the world.
Traffic in Charleston can be a nightmare, especially during rush hour when it seems like everyone is taking the only two routes from downtown Charleston to the suburbs of Ashleyville and Avondale. If you live and commute, you want to make sure you're protected with affordable car insurance in Charleston.
Quick Facts
The average cost of car insurance in Charleston is $2,231 per year.
South Carolina requires drivers to carry uninsured/underinsured insurance coverage.
How Much Does Car Insurance Cost in Charleston?
Drivers pay an average of $2,231 per year for car insurance in Charleston. That's 36% more than the state average of $1,414 and almost 31% more than the national average of $1,548.
| | |
| --- | --- |
| City | Average Annual Premium |
| Greenville | $1,999 |
| Columbia | $2,047 |
| Myrtle Beach | $2,082 |
| Savannah | $2,043 |
Charleston Car Insurance Rates by Zip Code
The zip code you live in can affect how much your car insurance will cost. There are nine zip codes in Charleston, including zip code 29404 for the Air Force Base. Each zip code can be subject to different auto insurance rates. Factors about the zip code area, such as the number of accidents or car thefts, also affect the car insurance rates.
Charleston Car Insurance Rates by Age
Like it or not, you may also have to pay more for car insurance in Charleston because of your age. Car insurance companies consider age when determining premium rates because some age brackets have a higher likelihood of getting in an accident. For example, drivers in their teens and 20s will pay more than those in their 30s, 40s, and 50s. Older adults over 70 are also charged higher car insurance rates.
| | |
| --- | --- |
| Teenagers | $5,005 |
| 20s | $1,943 |
| 30s | $1,442 |
| 40s | $1,386 |
| 50s | $1,313 |
| 60s | $1,353 |
| 70s | $1,636 |
Unless otherwise specified, we use the following methodology to arrive at our average cost: male, age 30, lowest possible legal coverage allowed by South Carolina. Your rates will be determined by several factors, including your age, your gender and the amount of coverage you want to purchase. 
Driving Conditions in Charleston
How Many Fatal Accidents Happen in Charleston?
In 2020, there were 72 fatalities on the roadways in Charleston County in South Carolina. Pedestrians were involved in 22 of those fatal accidents, and six were involving bicycles. There also were 10 fatalities because of motorcycles.
How Are the Road Infrastructure and Bridges in Charleston?
South Carolina faces some challenges when it comes to the state's infrastructure. According to the American Society of Civil Engineers (ASCE) 2021 Infrastructure Report Card, 18% of roads in South Carolina are in poor condition, costing motorists $564 per year to drive on roads that need repair.
About 745 bridges in South Carolina were structurally deficient, according to a 2021 report by the American Road and Transportation Builders Association. Two of those bridges were in Charleston County.
In 2020, the city of Charleston and Charleston County received over $62 million for two main road projects: the completion of the Spring/Fishburne drainage improvements downtown and the construction of bridges, extra lanes, and roundabouts to ease traffic on Johns Island and West Ashley.
Minimum Car Insurance Requirements in Charleston
As an "at-fault" state, drivers in South Carolina who cause an accident or are at fault are responsible for any costs caused by damage or injury in the accident. Drivers in Charleston are required to carry liability insurance to pay for damage or injuries in an accident where they are at fault.
The state minimums for car insurance coverage in South Carolina are:
$25,000 for Bodily Injury Liability per person
$50,000 for Total Bodily Injury Liability
$25,000 for Property Damage Liability
Drivers in Charleston and the rest of South Carolina are also required to carry uninsured/underinsured motorist coverage to help pay for damages and injuries if the accident is caused by a driver without the proper insurance coverage. The minimum coverage for uninsured/underinsured insurance is:
$25,000 uninsured motorist coverage per person
$50,000 uninsured motorist coverage per accident
$25,000 uninsured motorist property damage coverage
Factors Allowed in Charleston Car Insurance Rates
Car insurance rates in Charleston can fluctuate depending on a number of factors. On top of the most significant factors impacting insurance rates is your driving record. Insurance companies look at tickets you've gotten for speeding or fender benders you've been in to determine your premiums. Other factors include:
Age
Gender
Marital status
Credit score
Vehicle make, model, and year
Education
Occupation
Drivers in Charleston who are denied car insurance because of a poor driving record, low credit score, or other reasons may qualify for coverage under the Associated Auto Insurers Plan of South Carolina (AAIPSC). The AAIPSC helps high-risk drivers get car insurance when other providers have denied them.
Discounts for Car Insurance in Charleston
Taking advantage of the different discounts available can help you get the cheapest car insurance premiums. For example, Good Driver Discounts are given to drivers who haven't had any moving violations or at-fault accidents within the last three years.
Senior drivers in Charleston can get discounts on their car insurance by taking a driver improvement course like one offered through the national program I Drive Safely.
Other discounts that could be available to Charleston residents include:
Vehicle Safety Discount: You could be eligible for a discount if your car has certain vehicle safety equipment such as anti-lock brakes, airbags, and anti-theft devices.
Good Student Discounts: These discounts are given to young drivers who maintain a "B" average or higher in school.
Continuously Insured Discount: If you've been insured for six months or more and haven't let your policy lapse, then you may be eligible for this discount.
What Are the Penalties for Driving Without Insurance in Charleston?
All South Carolina residents must show proof they carry at least the minimum insurance required by the state when they apply for or renew their driver's license. Your insurance company will notify the DMV if you cancel your policy, and you will have 20 days to provide proof of new insurance coverage, or the DMV will suspend your driver's license, registration, and license plates.
Proof of your car insurance must be carried in your car at all times. You could get a ticket if you're pulled over and don't have it. If you do get a ticket, you'll have 30 days to show proof of insurance or your driver's license, registration, and license plates will be suspended. To get them back, you'll have to show proof of insurance and be charged a $550 fee plus $5 per day for every day your car is uninsured (the maximum amount is $200).
Get a Quote for Car Insurance in Charleston Today!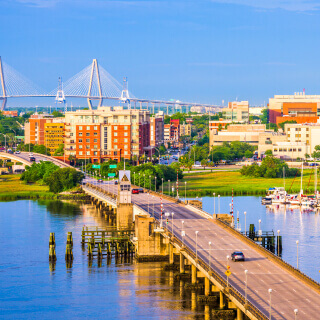 Fines and penalties for not carrying car insurance can add up to more than what you'll pay for insurance coverage. Plus, you could face additional costs and legal fees if you or someone else is injured in an accident.
Contact Freeway Insurance today. Get started with a quote online, visit us at a Charleston office near you, or call us at (800) 777-5620 for a quote.