Savannah is one of the most charming cities in the South. One of America's first cities and integral to the Civil Rights movement, Savannah, Georgia is home to national treasures such as the Treasure Island-inspired Pirates House, the iconic Broughton Street, and the 30-acre Forsyth Park with its legendary center fountain seen in pictures the world over.
Another key highlight Savannah offers is the Savannah River on historic River Street, lined with beautiful cobblestone streets that snake their way through antique-looking buildings and shops. Do not forget the three-mile Tybee Island, Savannah's only beach, boasting some of the finest seafood in the nation.
Quick Facts
The average cost of car insurance in Savannah is $62 per month*.
In 2019, there were 13 record fatal accidents in Savannah.
*We use the following methodology to arrive at our average cost: male, age 30, lowest possible legal coverage allowed by state. Your rates will be determined by several factors, including your age, your gender and the amount of coverage you want to purchase.
How Much Is Car Insurance in Savannah?
On average, car insurance in Savannah costs $62 per month for minimum coverage, which is higher than the national average of $39. costs depend on several factors, with some of the more important ones being your age, gender, zip code, and claims history.
Other factors that can affect your auto insurance premiums include your make/model vehicle, credit score, and whether you've enhanced your vehicle's safety features with anti-theft devices, anti-lock brakes, and other safety/restraint mechanisms.
In general, the more active your claims history, the higher your Georgia auto insurance premiums.
Choosing a comprehensive auto insurance policy will be the best protection for yourself and your property in the event of an accident. Additionally, there are many ways to reduce your premiums to keep your finances manageable.
Savannah Car Insurance Rates by Zip Code
Your zip code is one of the factors in determining rates. The higher the number of claims and vehicle thefts in any area, the higher the auto premiums paid by all residents in the area. Insurance companies keep real-time databases of incidences in each zip code, adjusting rates accordingly.
Savannah has 10 zip codes. Each zip code has a different average monthly rate based on demographics and claims history. Here's what those rates would look like for a 30-year-old male seeking the state-required minimum insurance in Savannah.
| Zip Code | Average Monthly Car Insurance Rate |
| --- | --- |
| 31401 | $68 |
| 31404 | $67 |
| 31405 | $69 |
| 31406 | $66 |
| 31408 | $62 |
| 31409 | $69 |
| 31410 | $62 |
| 31411 | $61 |
| 31415 | $69 |
| 31419 | $62 |
Savannah Car Insurance Rates by Age
Some age ranges pay higher auto insurance premiums than others due to collective driving history and the number of claims. Younger, more inexperienced motorists tend to file more claims against their insurance policy. But it all comes around – as you age, your premium will slowly start inching back up once you hit the late 60s and early 70s.
Remember, the better your driving record, the lower your auto insurance premiums.
| Age | Average Monthly Car Insurance Rate |
| --- | --- |
| Teenagers | $309 |
| 20s | $141 |
| 30s | $62 |
| 40s | $61 |
| 50s | $54 |
| 60s | $54 |
| 70s | $62 |
Driving Conditions in Savannah
How Many Fatal Accidents Happen in Savannah?
In 2019, there were 13 reported fatal accidents in Savannah. Of these accidents, 18 vehicles were involved, with two of the accidents involving drunk persons.
How Are the Road Infrastructure and Bridges in Savannah?
Savannah is highly focused on improving all aspects of its roads and infrastructure. As of this writing, there are many restructuring projects aimed at adding sidewalks on at least one side of the road for 60% of its roadways.
Other infrastructure and neighborhood revitalization projects focus on reducing structure flooding due to rain, upgrading city facilities, ensuring playing fields are near most residents, and making certain all neighborhoods are less than half a mile away from a transit stop.
Get a Quote for Car Insurance in Georgia Today!
Minimum Car Insurance Requirements in Savannah
Savannah drivers are required to pay the state minimums for auto insurance liability which include:
Bodily Injury Coverage per Person: $25,000
Bodily Injury Coverage per Accident: $50,000
Property Damage per Accident: $25,000
If you are financing a vehicle, your finance company may also request that you obtain full coverage. This includes comprehensive and collision coverage. To save money, opt for a higher deductible, and lower coverage limits.
Factors Allowed in Savannah Car Insurance Rates
State laws dictate what factors insurance companies can consider when setting a policy premium. In Savannah, that includes:
Driving record and claims history
Physical location
Gender
Age
Marital status
Type of vehicle
Credit score
Remember, keeping a safe driving record is the best possible way to keep your premiums low.
Discounts for Car Insurance in Savannah
Fortunately, there are several ways to save money on car insurance in Savannah. One of the most popular methods is to obtain a multi-policy discount, which combines multiple insurance coverages (e.g., home and boat) into a single plan. You can also take advantage of defensive driving courses and install anti-theft devices in your vehicle.
Other discounts available include but are not limited to:
Good student discount

Anti-theft discount

Good driver discount

Military discount
Be sure to call your insurance company regularly to see what discounts you may be eligible for, especially in the event your circumstances change.
What Are the Penalties for Driving Without Insurance in Savannah?
Driving without insurance in Georgia will have stiff penalties. It starts with having your license suspended with no option to renew registration before paying a reinstatement fee.
First-time offenders can see fines as high as $1,000 with a 90-day license suspension and up to 12 months of jail time if compounded with other offenses. All drivers who have suspended licenses due to being uninsured can also expect to carry SR-22 insurance, which shows proof of financial responsibility.
Note, there are many legal costs and expenses that could result. Be sure to at least purchase the minimum state requirements for insurance coverage to keep you well protected on the roads.
Get a Savannah Car Insurance Quote Today!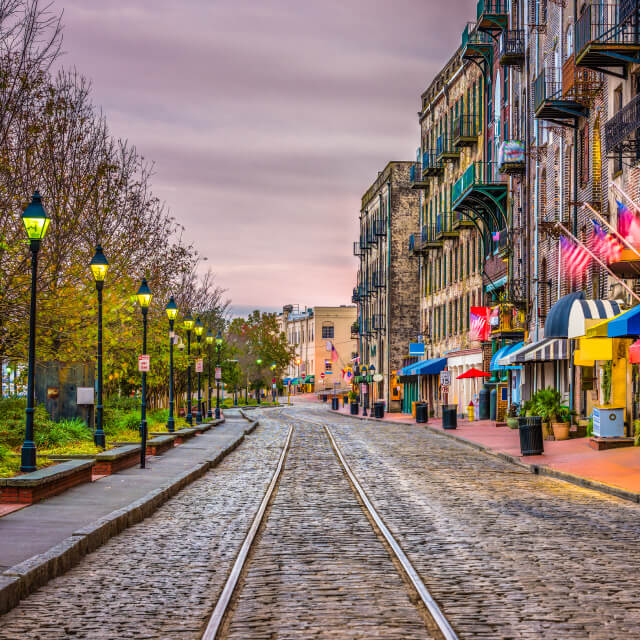 Georgia law requires that you carry insurance. Luckily, you may be eligible for lots of discounts, which could make your monthly auto premium payments more manageable.
Freeway Insurance is ready to assist by offering a free quote online. Alternatively, you may visit us at a Savannah office near you or call us at (800) 777-5620 for a quote.