Everything You Need to Know About Auto Insurance in Oregon
Located in Central Oregon, Bend is one of the leading outdoors destinations in the state. It is home to world-class ski resorts like Mountain Bachelor, which boasts more than 10 ski lifts and 100+ trails. Another popular skiing destination is the Hoodoo Ski Area, a smaller ski resort with five ski lifts and 800 acres of sprawling snow.
Bend is also known as a thriving craft beer region, boasting dozens of award-winning breweries serving everything from pale ales to mouthwatering lagers. The city is located 3,623 feet above sea level and it's original name was "Farewell Bend."
To drive legally in Bend, you must have an active auto insurance policy. Keep reading to learn more about car insurance in Oregon, including the average rates paid by age and zip code. You will also learn ways to save on your next bill through popular discount programs.
How Much Does Car Insurance Cost in Bend, Oregon?
Drivers in Bend pay an average monthly premium of $115 a month for full coverage, higher than the state average of $100 and lower than the national average of $148.
Drivers who choose to find the cheapest car insurance in Bend will be looking at the state-required minimum liability, which averages $51 monthly. That's higher than the state average at $39.50 and slightly higher than the national average at $47.
Get a Quote for Car Insurance in Oregon Today!
What Does Full vs Minimum Mean?
These two types of insurance are choices available to motorists in Oregon. There are other optional types of coverage that may be helpful in your situation.  You also have the option of increasing the limits that your insurance company will pay out in after a covered event. Those who finance or lease their vehicles may be required to carry full coverage.
Minimum Liability
Minimum liability is the lowest amount of coverage the state of Oregon will allow drivers to carry and still drive legally on the road. All Oregon drivers are required to carry the following state-required minimums for bodily injury and property damage liability:
Bodily Injury Liability: $25,000 per person/$50,000 two or more people
Property Damage Liability: $20,000
Personal Injury Protection (PIP): $15,000
Uninsured Motorist Coverage: $25,000 per person/$50,000 per accident
PIP is considered a medical coverage that helps pay for your injuries and other expenses, including lost wages and in-home help, regardless of who causes an accident. Uninsured motorist coverage helps pay for repairs to your vehicle if you are in a wreck caused by an uninsured driver or a hit and run.
Full Coverage
This type of package generally includes liability insurance, plus collision and comprehensive. Collision helps pay for repairs to your vehicle after a covered event, regardless of who is at fault. Comprehensive typically covers things that happen when you aren't behind the wheel, such as damage from a storm or theft.
Full is recommended for those who want a complete insurance package to handle most events.
Affordable Car Insurance Rates by Cities in Oregon
For the average monthly premium paid in other cities in Oregon, check out our breakdown below.
| City | Full Coverage Insurance | Liability Insurance Coverage |
| --- | --- | --- |
| Eugene | $107 | $53 |
| Portland | $137 | $70 |
| Medford | $114 | $52 |
| Gresham | $134 | $65 |
| Salem | $137 | $70 |
Affordable Car Insurance Rates by Zip Code in Bend
Different zip codes pay varying premiums due to many factors such as crime rate, theft/ vandalism rate, demographic distribution (larger skew of younger to older drivers), and the average number of claims in the region.
For the average monthly premium paid by Bend residents by zip code, see our breakdown below.
| Zip Code | Full Coverage Insurance | Liability Insurance Coverage |
| --- | --- | --- |
| 97701 | $111 | $50 |
| 97702 | $112 | $51 |
| 97707 | $119 | $52 |
Low-Cost Car Insurance Rates by Age in Bend, OR
Older drivers generally pay lower premiums than younger drivers, due to having a more established driving record and lower claims rate. Expect to pay the lowest rates in your 30s, 40s, and 50s before eventually seeing an uptick in your 60s and 70s.
For the average monthly premium paid by Bend residents by age, see our breakdown below.
| Age | Full Coverage Insurance | Liability Insurance Coverage |
| --- | --- | --- |
| Teenagers | $579 | $253 |
| 20s | $134 | $57 |
| 30s | $116 | $51 |
| 40s | $115 | $53 |
| 50s | $108 | $51 |
| 60s | $108 | $52 |
| 70s | $127 | $63 |
Unless otherwise specified, we use the following methodology to arrive at our average cost: male, age 30, lowest possible legal coverage allowed by Oregon. Your rates will be determined by several factors, including your age, your gender and the amount of coverage you want to purchase.
Driving Conditions in Bend, OR
How Many Fatal Accidents Happen in Bend?
In 2019, there were three fatal road traffic accidents in Bend involving five vehicles and eight people, including one pedestrian.
How Are the Road Infrastructure and Bridges in Bend, OR?
The city of Bend has an active Public Works department that works on all aspects of roads, bridges, and infrastructure. In addition, a dedicated Transportation and Mobility Department also focuses on pothole repair, pavement repair, installing/upgrading traffic signals, and ice management. Its Traffic Engineering Department also works on neighborhood streets safety initiatives, such as speed radar programs and traffic striping.
Visit City of Bend- Department of Public Works for more information on Bend's Public Works programs.
Find an office near you to help with your auto insurance
What Are the Penalties for Driving Without Insurance in Bend, OR?
Even a single-day lapse in insurance coverage could cause plenty of aggravation to all Bend drivers.
First-time offenders can expect to have their license and registration suspended with a $265 fine and up to $1,000 in court fines, depending on the offense. You will also be required to pay a $75 reinstatement fee and file for an SR-22, a proof of insurance compliance for a minimum of three years.
The state of Oregon also requires that you submit proof of insurance with a receipt. From there, they will verify insurance to ensure you stay compliant. Expect random requests to submit evidence of insurance to the Oregon Department of Transportation within 30 days of receiving the request.
One of the worst things about driving without insurance is that you are sure of higher premiums if you get caught. Therefore, we recommend you shop around to see if lower rates are available.
Car Insurance Factors Allowed in Bend, OR
Insurance companies have underwriting criteria that use several factors to determine how high or how low your premiums are based on specific information.
These factors include but are not limited to the following:
Age
Gender
Driving record
Claims history
Zip code
Marital status
Make/model of vehicle
Insurance That Helps You Prepare for the Future
Many drivers don't take into consideration that paying for the proper insurance can actually help you save money down the road. With auto coverage, you won't be left holding the bag and paying out of pocket for damages you cause in an accident. Even the most careful drivers cannot know for a fact that they won't hydroplane on a wet road and slide into someone else's car.
If you have coverage, it will help pay for the repairs so you won't have to go into debt and pay out of pocket. A bad wreck could put you in financial straits for some time – and you could even get sued, maybe losing assets such as your home in the process.
Keep in mind that even if you don't cause an accident, if you get pulled over without insurance, you'll be paying much higher premiums going forward than you would if you just chose to carry insurance. Premiums for a driving without insurance conviction can be double the amount you would have paid.
What are the Best Discounts for Car Insurance in Bend, OR
Bend drivers can benefit from all types of auto insurance discounts. One of the most popular discounts available to Bend drivers is a "Good Driver" discount, which is awarded to drivers who have maintained a clean driving record for the past three to five years. Another popular discount is multi-policy. Also referred to as bundling, you must purchase two or more policies under the same insurer to qualify.
Some of these discounts include but are not limited to the following:
Remember to call your insurance provider every six months to a year (or as your life circumstances change) to see if you can qualify for any new discounts. For example, enrolling in a defensive driving course or switching to an older make and model vehicle can easily cut several dollars off your monthly premium.
Get a Quote for Low-Cost Car Insurance in Bend, OR Today!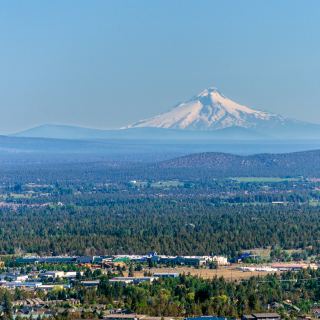 Freeway Insurance is ready to help you go through all your coverage options if you are a Bend driver looking for an affordable auto policy.
Getting started with Freeway Insurance is easy. Visit us online to request a quote, trek to a Bend office near you, or call 800-777-5620 for a free no-obligation consultation with one of our friendly representatives. A great policy is only a phone call away.
Select a Product or Service to request a quote
Ready to Get a Quick Quote?