Sitting on the banks of the quaint Willamette River, Eugene, Oregon, is a city deeply entrenched in arts and culture. Ranked by many leading publications as one of the best places to live in America, it is home to a thriving cultural scene. Residents can enjoy its hipster Whiteaker neighborhood, the One Flew Over the Cuckoo's Nest-inspired Kesey Square, and Springfield, Eugene's family-friendly sister city.
On the nature side, Eugene is home to many attractions, including the Ruth Bascom Riverbank Path System with miles of walking paths and bicycle routes. Spencer Butte and Skinner Butte are two of Eugene's top hiking trails and offer panoramic views of Eugene's downtown area.
Quick Facts
The average cost of car insurance in Eugene is $1,320 per year for full coverage.*
In 2019, there were 6 reported fatal vehicle accidents in Eugene, out of 1,667 total accidents.
How Much Does Car Insurance Cost in Eugene?
On average, the cost of car insurance in Eugene is $1,320 per year for full coverage. This is lower than the U.S. national average of $1,674 and slightly less than Oregon's average car insurance cost, which is $1,346 per year for full coverage.
The average cost of car insurance in Oregon is lower than the national average. There are many factors that help determine the cost of auto premiums, including but not limited to driving history, age, gender, and make/model of your vehicle. Remember, the safer your driving habits and the cleaner your driving record, the lower your Oregon car insurance rate.
Searching for a comprehensive auto insurance policy is critical. Without one, any infraction, single, or multi-vehicle accident can put you on the hook for thousands of dollars' worth of injury or properly related damages. If you do not have an active auto insurance policy, then you may be liable for all costs incurred in the event of an accident. Luckily, drivers with clean driving records may be eligible for safe driver discounts.
Eugene Low-Cost Car Insurance Rates by Zip Code
In Eugene, Oregon, auto policy premiums are lower or higher depending on the zip code in which you reside. Each auto insurance policy is subject to change based on various factors, including the zip code in which you reside. Some zip codes carry higher auto insurance premiums than others, depending on the driving records of its residents. Keep in mind, the lower the number of accidents per zip code, the lower the premiums.
Eugene, Oregon, has six zip codes. Each of them carries different insurance rates. Here are the average rates for each zip code:
| Zip Code | Average Monthly Car Insurance Rate for Full Coverage |
| --- | --- |
| 97401 | $107 |
| 97402 | $110 |
| 97403 | $108 |
| 97404 | $109 |
| 97405 | $110 |
| 97408 | $109 |
Eugene Car Affordable Insurance Rates by Age
Age is critical in determining the cost of auto premiums. Some age ranges are required to pay higher premiums than others. For example, Eugene residents in their 20s pay a considerably higher auto insurance premium than people in their 40s and 50s due to riskier driving behaviors as a group.
Regardless of age, it is very important to maintain a safe driving record to keep premiums low for the long haul.
Here is a breakdown of the average car insurance rate by age in Eugene, Oregon:
| Age | Average Monthly Car Insurance Rate for Full Coverage |
| --- | --- |
| 18 | $434 |
| 20s | $247 |
| 30s | $110 |
| 40s | $107 |
| 50s | $105 |
| 60s | $102 |
| 70s | $109 |
*Unless otherwise specified, we use the following methodology to arrive at our average cost: male, age 30, lowest possible legal coverage allowed by state. Your rates will be determined by several factors, including your age, your gender and the amount of coverage you want to purchase.
Driving Conditions in Eugene
How Many Fatal Accidents Happen in Eugene?
In 2019, there were 11 people involved in fatal car crash and road traffic accidents. Of these, there were 6 fatalities and 3 accidents involved drunk drivers.
How Are the Road Infrastructure and Bridges in Eugene?
In Eugene, Oregon, many public work engineering projects are underway to improve overall road safety and infrastructure. For example, local gas taxes work to upgrade local streets with pavement preservation, the addition of sidewalks/bike lanes, and others. Multimodal projects also improve accessibility for walkers, bikers, and wheelchair-bound users. Other projects may also include updating major crossings, installing speed cushions, and traffic signal enhancements.
Get a Quote for Car Insurance in Oregon Today!
Minimum Car Insurance Requirements in Eugene
With more than 90% of Eugene households owning one or more vehicles, owning a comprehensive auto insurance policy is very important. Oregon is an "at-fault" state, which means your insurance policy will cover damages depending on the fault determined for each involved party. In a nutshell, the motorist at fault for causing the accident is responsible for all damages, including bodily injury and property damage. This is paid through the responsible motorist's own insurance coverage or out-of-pocket if there is inadequate auto insurance coverage.
In Oregon, the state minimums are as follows:
$25,000 bodily injury per person
$50,000 bodily injury for all persons per accident
$20,000 for property damage to others' per accident
$15,000 per person for personal injury protection
$25,000/$50,000 uninsured motorist coverage bodily injury per person/accident
If you lease a vehicle, you may be entitled to full coverage by your leasing company. This includes comprehensive and collision coverage. For exact coverage requirements, please contact your leasing company. To save money on car insurance, we recommend going for a higher deductible, opting for exclusions (e.g., car rental), and reducing limits on other types of coverages.
Factors Allowed in Eugene Car Insurance Rates
There are many factors that help to determine the cost of your auto insurance policy, including but not limited to:
Driving record
Age
Gender
Zip code
Marital status
Type of vehicle
Credit rating
Discounts for Car Insurance in Eugene
Your insurance company cannot change your rates since those are set by the state, but they can help you lower your premium with discounts, so be sure to ask if you qualify for any discounts. In Eugene, Oregon, drivers possible discounts include:
Military discount

Good driver discount

Anti-theft discount

Good student discount

Bundling

Improved credit score
As a best practice, it is a good idea to call your auto insurance company every six months to go over your driving records and any changed circumstances. Note, many insurance carriers require a minimum tenure before being considered for any discount.
What Are the Penalties for Driving Without Insurance in Eugene?
Penalties for driving without insurance in Eugene, Oregon, are extensive. A Class B violation, punishment varies. First offenses can incur fines as low as $130 to as high as $1,000, depending on the situation and number of offenses. A single offense can also revoke your driving privileges with an automatic driver's license suspension and forfeiting registration with the possibility of vehicle impoundment. Monthly insurance verifications can apply as well.
In many cases, your insurance company will be responsible for helping you reinstate driving privileges by offering an SR-22 letter, which states you are able to meet future financial requirements and have the minimum required auto insurance. Keep in mind – not all insurance companies will insure you if you are required to present an SR-22 and the ones that do will charge a hefty price.
Do not forget — driving without auto insurance can force your auto premiums to skyrocket. In many cases, your auto insurance premiums could rise by as much as 50%.
Get a Quote for Cheap Car Insurance in Eugene Today!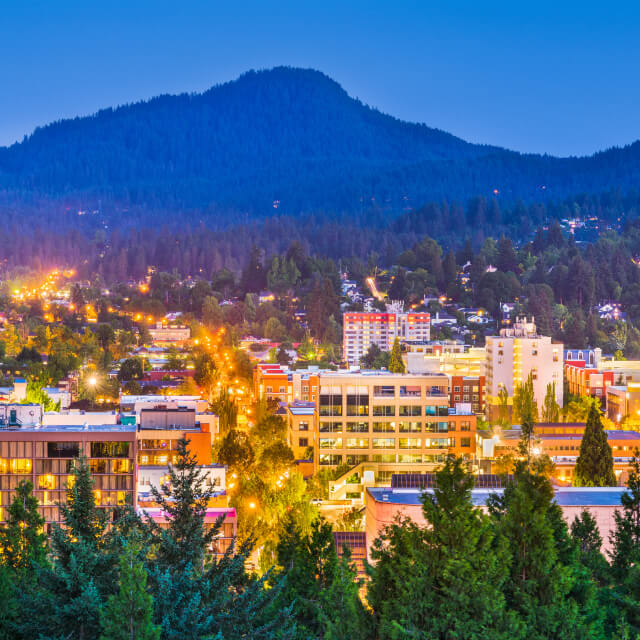 Fortunately, Freeway Insurance is here to help you find the best car insurance for you in Eugene, Oregon.
Get started with a quote online, visit us at a Eugene office near you, or call us at (800) 777-5620 for a quote.
Select a Product or Service to request a quote
Ready to Get a Quick Quote?