Everything You Need to Know About Auto Insurance in Louisiana
Lake Charles is steeped in southern tradition and known for its active blues and Cajun cuisine. It is home to popular events like the Louisiana Pirate Festival — an annual 12-day affair with more than 200,000 attendees. The quaint Downtown Lake Charles area is also home to iconic sites like the Mardi Gras Museum and the Imperial Calcasieu Museum.
Nature lovers will also appreciate the Creole nature trail — a 180-mile stretch of back roads with plenty of alligator, bird, and turtle sightings. Lake Charles is one of the most humid cities in the country and is named after Charles Sallier, one of its first settlers.
Auto insurance in Louisiana is mandatory. Driving without it will result in a driver's license/registration suspension, fines, and reinstatement fees. Keep reading to learn more about Lake Charles auto insurance, including average premiums paid by age/zip code, ways to save on your following policy, and penalties for driving without insurance in the region.
How Much Does Car Insurance Cost in Lake Charles, LA?
Drivers in Lake Charles pay an average monthly premium of $200 per month for full coverage, which is well above the national average of $140. For some perspective, Baton Rouge drivers pay an average monthly premium of $230.
The state-required minimum liability insurance averages $92 per month for drivers in Lake Charles. This is substantially higher than the national average of $47.
Why Car Insurance Rates are so High in Louisiana
Unfortunately, insurance rates in Louisiana are the third highest in the nation and there are two reasons why, including:
Lawsuits – Louisiana drivers are all too ready to head to court and sue each other, which may result in a larger settlement. This claim action raises the rates for everybody.
Weather – Remember Katrina? People in Louisiana are living in an area that is prone to devastating storms, which has insurers anticipating plenty of claims.
Since you cannot change how other people behave or the weather, you can find lower rates by driving as safely and defensively as possible.
Get a Quote for Car Insurance in Louisiana Today!
Affordable Car Insurance Rates Comparison by Louisiana Cities
For a comparison of average monthly premium paid in Louisiana cities, check out our breakdown below.
| City | Full Coverage Insurance | Liability Insurance Coverage |
| --- | --- | --- |
| Baton Rouge | $280 | $93 |
| Lafayette | $234 | $79 |
| Monroe | $235 | $75 |
| New Orleans | $314 | $96 |
| Shreveport | $202 | $60 |
Affordable Car Insurance Rates by Zip Code in Lake Charles, LA
Residents of one Lake Charles zip code could pay significantly higher premiums than a neighboring zip code due to a higher claims rate, a larger skew of younger to older drivers, theft/vandalism rate, and similar factors.
See our breakdown below to see the average premiums paid by zip code in Lake Charles.
| Zip Code | Full Coverage Insurance | Liability Insurance Coverage |
| --- | --- | --- |
| 70065 | $281 | $92 |
| 70067 | $287 | $91 |
| 70601 | $224 | $70 |
| 70602 | $224 | $70 |
| 70605 | $218 | $68 |
| 70607 | $216 | $68 |
| 70609 | $210 | $65 |
| 70611 | $206 | $64 |
| 70615 | $219 | $68 |
Low-Cost Car Insurance Rates by Age in Lake Charles, LA
Younger drivers generally pay higher premiums than older drivers, thanks to a limited driving record and a higher claims rate.
See our breakdown below to see the average premiums paid by age in Lake Charles.
| Age | Full Coverage Insurance | Liability Insurance Coverage |
| --- | --- | --- |
| Teenagers | $720 | $246 |
| 20s | $247 | $79 |
| 30s | $215 | $66 |
| 40s | $204 | $61 |
| 50s | $191 | $58 |
| 60s | $209 | $66 |
| 70s | $206 | $66 |
Unless otherwise specified, we use the following methodology to arrive at our average cost: male, age 30, lowest possible legal coverage allowed by Louisiana. Your rates will be determined by several factors, including your age, your gender and the amount of coverage you want to purchase.
Driving Conditions in Lake Charles, LA
How Many Fatal Accidents Happen in Lake Charles?
In 2019, there were nine fatal accidents in Lake Charles involving 13 vehicles and 17 people, including two pedestrians.
How Are the Road Infrastructure and Bridges in Lake Charles, LA?
Lake Charles' Department of Public Works is responsible for maintaining the city's street, road, and bridge infrastructure. These projects include maintaining traffic signals, patching up potholes, maintaining road traffic signs, repainting street markers, and repairing damaged sidewalks.
One of its key responsibilities is maintaining the city's drainage system, which addresses underground, surface, and open ditches. The city is divided into ten zones, with dedicated maintenance teams responsible for each zone. In addition, a Public Works Helpline (337) 491-1220 allows residents to report infrastructure-related issues and voice concerns.
For more information on Lake Charles' Public Works programs, visit Lake Charles – Public Works.
Find an office near you to help with your auto insurance
Minimum Car Insurance Requirements in Lake Charles, Louisiana
All Lake Charles drivers must adhere to the following liability minimums:
Bodily injury liability coverage: $15,000 per person
Bodily injury liability coverage: $30,000 per accident
Property damage liability coverage: $25,000
The state minimum policy consists of bodily injury liability and property damage liability. Full coverage includes liability and adds first-party benefits like collision coverage, which relates to the cost of damages to your vehicle due to vehicle-to-vehicle, vehicle-to-object, and rollover collisions.
Another key aspect of full coverage policies is comprehensive coverage, which pays for damages caused by non-collision-related incidents like falling tree limbs, theft, vandalism, and natural disasters.
What Other Insurance is Available in Louisiana?
Even though the state only requires liability, drivers have the choice of adding other optional, but important, coverages for peace of mind while on the road. We've talked about full coverage, which is optional unless you are financing your vehicle. Some other optional coverages include:
Uninsured Motorist Coverage/Underinsured Motorist Coverage – This important and

well-priced

add-on

protects you if you are hit by a driver who has no insurance or not enough insurance. Surprisingly, if you are carrying the state minimum, you may be an underinsured driver.
Medical Payments (MedPay) – This helps pay for injuries suffered by you and your passengers in a car accident, regardless of who is at fault. This medical costs insurance even helps you pay your regular health insurance deductibles, plus it kicks in immediately so you don't have to wait for lengthy claims processes to work their way through the insurance company.
Roadside Assistance – This helpful partner on the road may come with your full coverage if you have it, but if not, it's worth adding. It offers 24/7/365 help for many circumstances, including being locked out of your car, mechanical problems, flat tire and more.
These are just a few of the optional car coverages you can purchase in Louisiana, so be sure and ask your agent if any of them are right for you.
What Are the Penalties for Driving Without Insurance in Lake Charles, LA?
Expect plenty of aggravation if caught driving without insurance in Lake Charles.
First-time offenders can expect fines between $500 and $1,000, a driver's license/registration suspension, and possible vehicle impoundment. You will also be expected to pay reinstatement fees, starting at $100 for the first offense, $250 for the second offense, and $500 for the third and subsequent offenses.
Each offense will also come with a $10 reinstatement administration fee.
Worst of all, expect your premiums to rise, even tripling in some cases, depending on the severity of the offense since you may be required to file an SR-22 certificate. We highly recommend maintaining a clean driving record for a minimum of three years before eventually seeing your premiums drop over time (assuming no new claim or moving violation).
Car Insurance Factors Allowed in Lake Charles, LA
There are many factors auto insurance underwriters use to determine premiums Lake Charles drivers pay, including but not limited to age, gender, and zip code of residence.
Here are other factors:
Credit score
Liability limits
Driving record
Amount of deductible
Vehicle make and model
Annual number of miles driven
Discounts for Car Insurance in Lake Charles, Louisiana
There are many ways Lake Charles drivers can save on auto insurance. One of the best ways is via discounts, which generally fall into policy, usage, driver safety, and vehicle-based categories.
Insurers in the state of Louisiana may offer discounts for:
Other discounts your insurer might offer include:
One of the best things you can do is to stay in touch with your auto insurance provider. Call them every six months to a year to learn if you qualify for any new discounts.
For example, switching to another make and model vehicle, beginning a work from home gig (less mileage) or paying your bill upfront may pay immediate dividends.
Get an Online Quote for Low-Cost Car Insurance in Lake Charles, LA Today!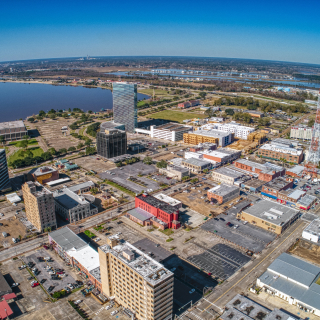 All Lake Charles drivers can benefit from an affordable auto insurance policy from Freeway Insurance. We have multiple auto insurance options available, including state minimum liability and full coverage.
If you are ready to explore all of your options with Freeway Insurance, request a quote by visiting us online, going to a Lake Charles office near you, or receiving a free no-obligation consultation by calling 800-777-5620. Contact us today!
Select a Product or Service to request a quote
Ready to Get a Quick Quote?