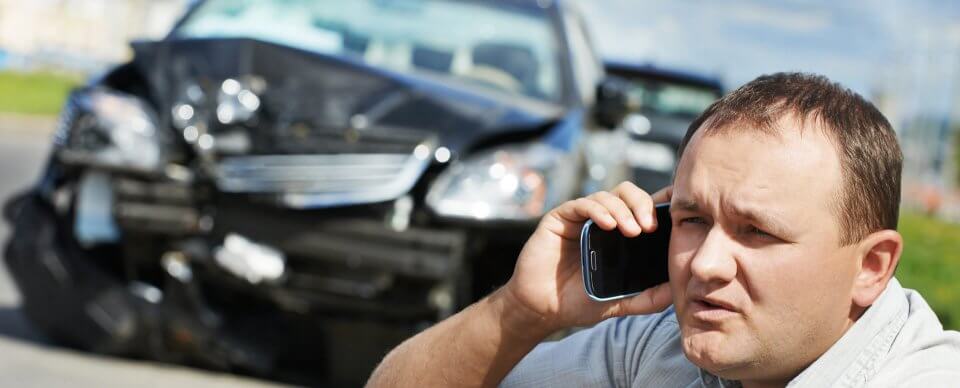 It can be frustrating to hear that your car is a total loss for many sentimental and personal reasons, as well as financial ones. So, what do you do when you have a totaled car?
Though total loss accidents can be very stressful, the most important thing in the aftermath of every accident is making sure that you're okay. Then, you can work with your insurance agent to determine your vehicle's salvage value and next steps.
Although it can be discouraging news, if you've gotten into a car accident and your auto insurance company tells you you have a totaled vehicle, there is always a good reason.
Why is My Vehicle A Total Loss?
The damaged car can't be guaranteed safe for repairs. Despite replacing external and internal parts affected by the incident, there might be further issues with the vehicle that would make it unsafe to operate even with the parts repaired. Sometimes, the damage is too severe to safely repair the vehicle even if it's newer and valuable with the accident situation removed. Your health and safety come first so if your car is deemed to be past the total loss threshold, it's better to accept the news than fight it.
This news can be more difficult. If the required repairs exceed a certain percentage of the car's actual cash value, it might not be worth it to proceed with repairs. Normal wear and tear on vehicles will lead to annual or bi-annual repairs. As your car depreciates in value, it's important to consider whether you're pouring money into a car that isn't going to be functional in the next few years.
By certain state regulations, severely damaged vehicles must be declared a total loss. At this point, it's out of your control. Many mechanics are under the jurisdiction of the Department of Motor Vehicles (DMV) in their respective state. If a vehicle cannot be repaired your local state law will make the final call, not you.
How is the Value of My Vehicle Calculated?
The actual cash value vs what your insurer will likely pay you is calculated against your deductible. For example, if your Dodge Neon is worth only $2,000 and your deductible is $450, you won't be receiving the full $2,000 compensation for your vehicle's actual value. If you're curious about the fair market value of your motor vehicle or need to have an estimate for yourself, looking at similar cars in the Kelley Blue Book can help approximate what you might expect. However, the number it returns is not a guarantee and is more of a range.
What Do Mechanics Factor In?
The point of a total loss insurance claim is to provide you, the owner, with the cost of replacing your current vehicle. Your car's ACV is approximated by your own insurance company by comparing other vehicles of the same make and model, and also the condition of the car before the auto accident.
The amount of damage to the car before accident

Alterations to car (made by the driver)

The number of miles on the car

Vehicle options
If you believe that the amount you're quoted for the value of your car is too low, you can dispute the settlement amount and try to negotiate a fairer price. However, be warned that this may delay the payout of the settlement and may incur other costs, such as arbitration or legal representation.
Once your insurance company generates that estimate, the funds will either go directly to you, if you own the vehicle, or to the leasing or finance company (listed on your policy or title). If the funds exceed that amount that is owed to those companies, then the remaining balance refunds to you, however, if you still owe money on the car even after the total loss funds post to the account, then you will be responsible for the difference.
Steps to Take After A Total Loss Decision
In terms of the actual steps, once you receive a total loss decision from your car insurance company, you'll need to take some additional steps before car shopping.
First, you'll need to collect any personal items from the vehicle. Be sure to look thoroughly through the glove compartment, center console, trunk, backseat pockets, and sun visors. You never know if there is a receipt, photo, or other valuables stashed away. Next, you'll want to remove license plates. This is yours to keep. If you are planning to use it for your new vehicle this is especially important because you don't want to have to purchase a new one.
Once you've thoroughly checked the vehicle and removed the plate, you'll need to leave your keys with your insurance representative. Make sure you've contacted the leasing or financing company if you do not own the vehicle. These individuals should have your contact information should they be missing any pertinent information. You should also verify that the damaged vehicle is removed from your policy after it is no longer in your possession.
Important Paperwork to Handle
These events can mean a lot of paperwork and frustration, but making a checklist will keep you from having to backtrack. There will likely be a settlement, claim, title transfer, and financial implications.
If you'd like to keep your car, then you may be able to negotiate that with your insurance company, depending on state regulations. However, out of your payoff from the total loss settlement, the fees for Salvage Title and your premium fee may be deducted.
Even if your car is declared a total loss the situation doesn't have to be a complete loss. Make sure that you are following up with your insurance company and providing them all the documentation that they need to deliver a smooth and quick total loss settlement fee.
Insurance Coverages for Total Loss Situations
One type of gap insurance coverage that you should consider carrying is total loss car insurance. This means that you'll be presented with some help covering the cost of purchasing a new vehicle should yours be deemed unsafe to repair or a total loss.
The first type you should carry is collision coverage. This will help you cover the cost of repairs or in this case, a replacement in the event of an accident. Accidents can be from a moving collision or when someone hits your parked car.
The second type of coverage you should carry is comprehensive coverage. This helps protect you against total losses that aren't related to an accident. Comprehensive coverage claims are made when your car is severely damaged in a hurricane, tornado, flood, fire, or other catastrophic event that is out of your control. While it's impossible to prevent such happenings, it's important that you carry the coverage should you live in an area prone to severe weather events or wildfires.
You'll need transportation between the accident and getting a new vehicle. Some auto insurance policies will cover a rental. Verify with your insurance adjuster if this is part of your policy. It can save you a lot of time, money, and frustration when you're car-less.
Getting a total loss claim could affect your car insurance rates. Make sure you are getting the best deal by contacting Freeway Insurance. Get a free car insurance quote online or give us a call at (800) 777-5620 to speak with an experienced agent.
Ready to Get a Quick Quote?