Consider Knoxville the quieter sister city of Nashville. Despite its lower profile, it remains one of the more interesting places to visit in the South. Home to almost 200,000 people, the third-largest city in Tennessee boasts the Great Smoky Mountains as its backdrop, and the University of Tennessee, known for having one of the largest college football stadiums in the country with a total capacity of over 100,000 people.
For a can't-miss spot in Knoxville, visit Great Smoky Mountains National Park with its dazzling array of hiking trails, coves, and breathtaking views of Mount Le Conte. Visitors will also enjoy nearby Gatlinburg and Pigeon Forge, favorites among tourists who want to rent a mountain cabin.
Quick Facts
The average cost of car insurance in Knoxville is $876 per year.
In 2020, there were 32 reported fatal car accidents in Knoxville.
How Much Is Car Insurance in Knoxville, Tennessee?
On average, full coverage car insurance in Knoxville costs $1,404 per year, which is slightly lower than its nearest major city of Nashville at $1,476, higher than the state average of $1,338 and much lower than the national average of $1,674. Calculating your exact Tennessee car insurance takes into account several factors, including your age, gender, credit history, marital status, and the make and model of the vehicle you drive.
Other factors that affect how much premiums you pay in Knoxville include participating in customer loyalty programs, applying for multi-line discounts, driving a hybrid or electric vehicle, and installing safety/restraint devices in your vehicles such as anti-lock brakes and anti-theft devices.
In case of a car accident, it is very important to be covered by a comprehensive insurance policy with high coverage limits. The higher the coverage limits for comprehensive, collision, and property damage, the greater your peace of mind. Luckily, Knoxville drivers may be eligible for several benefits, provided their account is in good standing.
Knoxville Affordable Car Insurance Rates by Zip Code
Zip code is one of the determining factors in how much you will pay for insurance. People who live in zip codes with high theft and high claims will pay higher premiums than low theft and low claims zip codes. Note, drivers in densely-populated areas like Nashville and Knoxville are more likely to see higher premiums than drivers living out in the sparsely-populated countryside.
Knoxville has 20 zip codes, with most averaging $116 per month. There are a few zip codes that are slightly above or below that rate:
| Zip Code | Average Monthly Car Insurance Rate for Full Coverage |
| --- | --- |
| 37902 | $118 |
| 37915 | $117 |
| 37916 | $119 |
| 37917 | $120 |
| 37921 | $119 |
| 37924 | $121 |
| 37931 | $115 |
| 37932 | $115 |
| 37938 | $122 |
| 37996 | $117 |
Low-Cost Car Insurance Rates by Age in Knoxville
Another major deciding factor with insurance rates is age group. Some age groups pay higher premiums than others due to higher risk. For example, Knoxville teenage drivers can expect to pay more than three times the premium of Knoxville drivers in their 40s and 50s.
No matter how old you are, it is very important to maintain a safe driving record. If you don't file a claim for several years, expect lower rates over time.
| Age | Average Monthly Car Insurance Rate for Full Coverage |
| --- | --- |
| 18 | $503 |
| 20s | $271 |
| 30s | $116 |
| 40s | $112 |
| 50s | $101 |
| 60s | $98 |
| 70s | $119 |
*Unless otherwise specified, we use the following methodology to arrive at our average cost: male, age 30, lowest possible legal coverage allowed by state. Your rates will be determined by several factors, including your age, your gender and the amount of coverage you want to purchase.
Driving Conditions in Knoxville
How Many Fatal Accidents Happen in Knoxville?
In 2020, there were 32 reported fatal car accidents in Knoxville. There were 288 total fatal and serious injury crashes in 2020. Of the fatal accidents, there were eight drivers who had been drinking and 11 drivers who had used drugs. Six involved pedestrians.
How Are the Road Infrastructure and Bridges in Knoxville?
Knoxville has continual capital improvement projects with the goal of updating roads, bridges, and infrastructure. For example, 2021 saw the Amherst Road Slope Stabilization Project and the Citywide Facilities Paving Project, two projects focused on resurfacing asphalt and pavement and repairing bridge joints throughout the city.
Other programs have focused on constructing new sidewalks with curb and drainage systems, in addition to updating existing sidewalks with curb cuts for wheelchair accessibility.
Get a Quote for Car Insurance in Tennessee Today!
Minimum Car Insurance Requirements in Knoxville
Tennessee is an at-fault state. This means that at-fault drivers are expected to be on the hook for damages and injuries incurred by everyone involved.
Here is the minimum required coverage in Tennessee:
Bodily Injury Coverage per Person: $25,000
Bodily Injury Coverage per Accident: $50,000
Property Damage per Accident: $25,000
If you are thinking of leasing a vehicle, be sure to consult with your finance company to determine what insurance minimums they require. Often, finance companies will demand the vehicle be covered by higher limits than the minimums set forth by the state.
Factors Allowed in Knoxville Car Insurance Rates
Many factors determine auto insurance rates. In general, the longer you go without a claim on your record, the greater the likelihood of seeing your rates drop over time — a nice reward for excellent driving behavior.
Here are some of the factors used to calculate auto premiums for Knoxville residents:
Driving record and claims history
Physical location
Gender
Age
Marital status
Credit score
Discounts for Car Insurance in Knoxville
Fortunately, there are many ways to save money on car insurance in Knoxville. One of these ways is to apply for a multi-policy discount, which combines homeowners, auto, boat, RV, or other insurance policies to pay less for each line of coverage.
You may also participate in defensive driving courses or install anti-lock brakes/anti-theft devices in your vehicle. Be sure to report any of these measures to your insurance company.
Other discounts include:
Good student discount

Anti-theft discount

Good driver discount

Military discount

Lower mileage

Full premium payment up front
One of our best recommendations is to keep an open dialogue with your insurance company to see what discounts you may be eligible for.
What Are the Penalties for Driving Without Insurance in Knoxville?
Driving without insurance in Knoxville is a serious offense. Expect to be served with a Class C misdemeanor, pay up to $300 in fines, and have your license and registration suspended. You will also be required to provide proof of insurance or financial responsibility by filing for SR-22 insurance, which will remain on file for three years.
Any subsequent offenses will be subject to even harsher penalties, including the possibility of jail time for up to 12 months.
Remember, you may save money on insurance by applying for the state's minimums, which is $25,000 in bodily injury coverage per person, $50,000 bodily injury coverage per accident, and $25,000 in property damage per accident.
Your insurance company is required by law to report any lapses in your coverage.
Get a Knoxville Cheap Car Insurance Quote Today!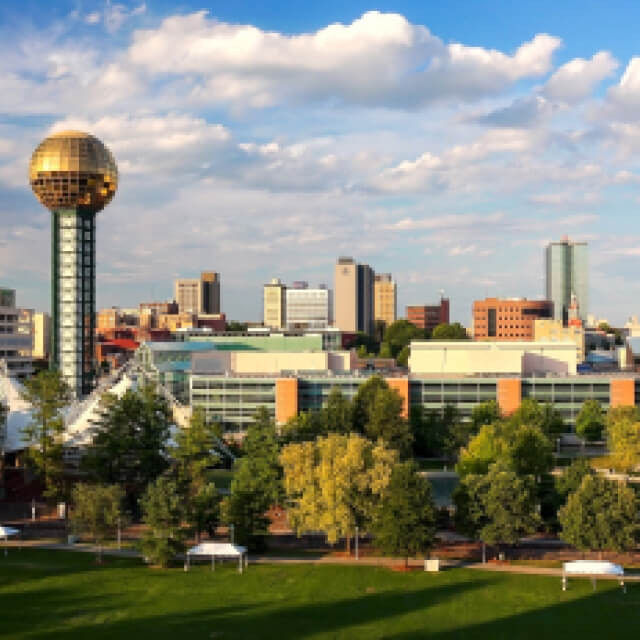 Obtaining good, affordable car insurance results in greater peace of mind. Choose to stay covered with a policy that includes high coverage limits for comprehensive, collision, and property damage or just the basic coverage required by Tennessee.
Freeway Insurance offers excellent car insurance choices in Knoxville. Get started with a quote online, visit us at a Knoxville office near you, or call us at (800) 777-5620 for a quote.
Select a Product or Service to request a quote
Ready to Get a Quick Quote?