Without question, the Nashville metropolitan statistical area is one of the most iconic places in the country. Nashville is affectionately known as "Music City," and it plays host to countless attractions, such as the Historic RCA Studio B, the Music Hall of Fame & Museum, Ray Stevens Cabaret Showroom, and the National Museum of African American Music. All these museums celebrate all genres of music, from country to blues.
As for non-musical-related activities, Nashville has plenty to offer. Opryland and Music Valley offer a variety of entertainment, shopping, and nightlife options, along with breathtaking sites from Capitol View. Downtown Nashville is also a hubbub of interesting all-around spots, known for its pool bars, bachelorette parties, and busy Broadway nightlife.
All in all, there is something for everyone to enjoy in Nashville and its surrounding areas of Davidson and Murfreesboro. Just make sure you have your auto insurance ready if you plan to drive.
Quick Facts
The average annual cost of car insurance in Nashville is $1,476 for full coverage.
In 2020, there were 100 reported fatal accidents in Nashville.
How Much Is Car Insurance in Nashville, Tennessee?
On average, car insurance in Nashville costs $1,476 per year for full coverage, which is much lower than the national average of $1,674 and higher than the state average of $1,338 per year. Your exact Tennessee car insurance cost depends on several factors, most notably your age, gender, zip code of residence, and previous claims history.
Other factors that could determine your auto insurance rates in Nashville-Davidson-Murfreesboro, TN, include your participation in customer loyalty programs, installation of anti-theft devices/anti-lock brakes, and the make and model of the vehicle you drive.
Obtaining a full car insurance policy with low deductibles and high coverage comprehensive, collision, and property damage limits is one of the best ways you can protect yourself on the road. Without a full coverage insurance policy, you may be on the hook for thousands and thousands of dollars of damages if it is determined you are at fault for any accident, from simple fender benders to more serious collisions.
Thankfully, there are many steps you can take to lower your premiums.
Nashville Low-Cost Car Insurance Rates by Zip Code
Your zip code is one of the first things insurers look at when assessing rates. Every zip code has tons of data supporting the number of thefts, claims, and other driver behavioral data to make determinations on how much in premiums each of its residents should pay.
Nashville-Davidson-Murfreesboro has 27 zip codes. Here are the average monthly rates for each zip code:
| Zip Code | Average Monthly Car Insurance Rate for Full Coverage |
| --- | --- |
| 37127 | $116 |
| 37128 | $116 |
| 37129 | $117 |
| 37130 | $115 |
| 37132 | $116 |
| 37201 | $124 |
| 37203 | $122 |
| 37204 | $123 |
| 37205 | $117 |
| 37206 | $126 |
| 37207 | $122 |
| 37208 | $126 |
| 37209 | $119 |
| 37210 | $123 |
| 37211 | $123 |
| 37212 | $121 |
| 37213 | $122 |
| 37214 | $124 |
| 37215 | $120 |
| 37216 | $119 |
| 37217 | $128 |
| 37218 | $115 |
| 37219 | $123 |
| 37220 | $124 |
| 37221 | $116 |
| 37228 | $123 |
| 37240 | $123 |
Affordable Car Insurance Rates by Age in Nashville, TN
As you might expect, drivers in varying age groups pay quite different insurance premiums. It all has to do with how insurance companies rate the collective risk of drivers within that group. You'll notice that young, inexperienced drivers tend to pay a lot more in premiums than older, more settled drivers. Here is the average monthly car insurance rate for each age group in Nashville:
| Age | Average Monthly Car Insurance Rate Full Coverage/Minimum |
| --- | --- |
| 18 | $528/$196 |
| 20s | $292/$96 |
| 30s | $123/$41 |
| 40s | $118/$40 |
| 50s | $106/$37 |
| 60s | $103/$36 |
| 70s | $124/$44 |
*Unless otherwise specified, we use the following methodology to arrive at our average cost: male, age 30, lowest possible legal coverage allowed by Tennessee. Your rates will be determined by several factors, including your age, your gender and the amount of coverage you want to purchase.
Driving Conditions in Nashville, Tenn
How Many Fatal Accidents Happen in Nashville-Davidson-Murfreesboro?
In 2020, out of a total of 437 accidents, there were 100 reported fatal accidents in Nashville. Of these accidents, nine of the people killed were teens and 10 were seniors. Twenty-six drivers were drinking and 24 had used drugs.
How Are the Road Infrastructure and Bridges in Nashville-Davidson-Murfreesboro?
Nashville is a key hub, with 50% of the U.S. population living within 700 miles of Nashville. It is also one of only six cities in the country where three major interstate highways meet. That said, infrastructure is critically important with many key projects in the pipeline or underway, such as $1.6 billion in critical projects as part of the Metro Transportation Plan with key investments in transit, neighborhood infrastructure, and traffic operations.
Another key initiative is its Livable Nashville sustainability plan with the goal of planting 500,000 trees throughout the city by 2050.
Get a Quote for Car Insurance in Tennessee Today!
Minimum Car Insurance Requirements in Nashville, TN
Tennessee is an at-fault state. This means any driver responsible for an accident is expected to cover all damages, including those of opposing parties, partially or fully within the scope of his/her responsibility. That is why it is very important to carry appropriate coverage.
The state minimum requirements for Tennessee are:
Bodily Injury Coverage per Person: $25,000
Bodily Injury Coverage per Accident: $50,000
Property Damage per Accident: $25,000
Do not forget leasing vehicles. Your leased vehicle finance company may require limits above the state's minimums. Please consult with your finance company before leasing a vehicle.
Factors Allowed in Nashville, TN Car Insurance Rates
There are many factors that determine your auto insurance rate. Remember, those with zero claims on their record plus an account in good standing enjoy lower rates and higher discounts than those with active or past claims and spotty payment records.
Keep a safe driving record and watch your rates decrease over time.
Discounts for Car Insurance in Nashville, Tennessee
Fortunately, there are many ways to save money on car insurance in Nashville. One of these ways is to enroll in paperless/auto-pay billing and install anti-theft devices in your vehicle. Other discounts include:
Bundling

Military

Full premium payment up front

Defensive driving course

Improve credit score

Lower mileage (WFH)
Ask your insurance company if you are eligible for any discounts, and you may be surprised at what you find.
What Are the Penalties for Driving Without Insurance in Nashville, TN?
Driving without insurance in Tennessee is a serious offense. Your insurance company is required to provide insurance information on all its customers to the state. Drivers can expect a Class C misdemeanor, up to $300 in fines, and have their license and registration suspended before filing for SR-22 insurance, which remains on file for three years.
Subsequent offenses increase the likelihood of a possible jail term for up to 12 months.
Get a Nashville-Davidson-Murfreesboro Car Insurance Quote Today!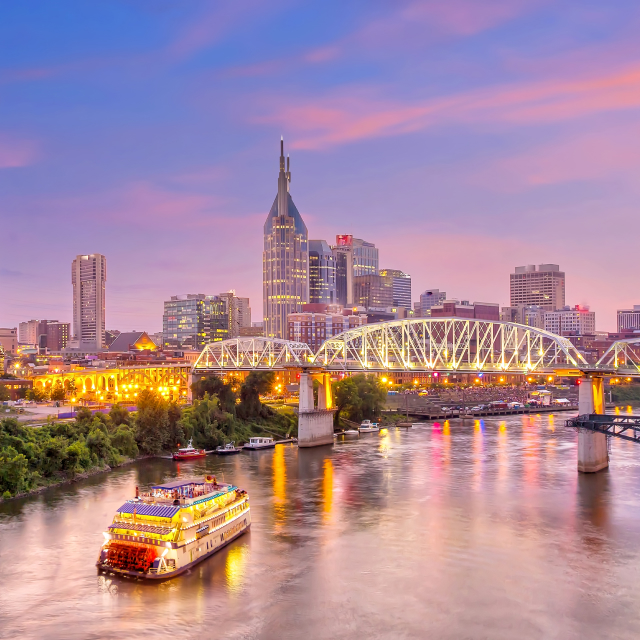 Getting car insurance is the best way to protect yourself on Nashville-Davidson-Murfreesboro's roads. Freeway Insurance can help you find the best car insurance in Nashville-Davidson-Murfreesboro, Tennessee. Get started with a quote online, visit us at a Nashville-Davidson-Murfreesboro office, or call (800) 777-5620 for a free, no-obligation quote.
Select a Product or Service to request a quote
Ready to Get a Quick Quote?