Wichita, Kansas offers an eclectic mix of Heartland living and urban fare. It is known as the "Air Capital of the World" for being a thriving airplane manufacturing hub, and it contains more than 140 parks and greenways. There are over 220 days of sunshine and more than 30 festivals a year that make Wichita a family- and tourist-friendly destination.
Other attractions not to miss on your next trip to Wichita include the Wichita Zoo (the seventh largest in the country), the nine-day annual Riverfest celebration, and the revered Chisholm Trail.
Visit Wichita, KS and enjoy some of the best the Heartland has to offer. Read on to find out about affordable car insurance options for drivers in Wichita, Kansas.
Quick Facts
For full car insurance coverage, Wichita residents pay an average of $1,776 per year.
In 2019, Wichita saw 38 reported fatal vehicle accidents.
How Much Does Car Insurance Cost in Wichita, KS?
Wichita residents pay an average of $1,776 for full coverage car insurance per year. It is higher than the U.S. national average of $1,674 and the average cost of car insurance in Kansas, which is $1,698 per year for full coverage.
In Kansas, the state-required minimum, or liability, car insurance coverage costs an average of $410 annually. In Wichita, that rises to $600 annually. Nationally, the average minimum is $564 annually.
Many factors determine how much you pay for insurance in Wichita, Kansas. Some of these factors include but are not limited to your age, gender, vehicle make/model, and the zip code where you reside in. Some zip codes pay a higher average cost of car insurance than others due to the number of claims in those zip codes.
Fortunately, Wichita drivers with accounts in good standing can take advantage of discounts, provided they have no claims, infractions, or accidents over a year or more.
Wichita Low Cost Car Insurance Rates by Zip Code
Some zip codes pay higher auto insurance rates than others based on collective driving history and claims record.
Wichita, Kansas, has 27 zip codes, and here are the averages of each:
Zip Code
Average Monthly Car Insurance Rate for
Full Coverage/State Minimum
67202
$148/$49
67203
$148/$50
67204
$146/$49
67205
$141/$47
67206
$138/$48
67207
$138/$48
67208
$143/$49
67209
$141/$48
67210
$141/$47
67211
$147/$48
67212
$138/$47
67213
$146/$48
67214
$147/$49
67215
$140/$47
67216
$144/$49
67217
$145/$48
67218
$146/$49
67219
$145/$48
67220
$138/$47
67223
$137/$45
67226
$138/$47
67228
$139/$47
67230
$137/$47
67235
$136/$45
67260
$146/$49
Wichita Affordable Car Insurance Rates by Age
In determining auto insurance premiums, age is one of the most important factors. Some age groups pay more than others depending on their collective driving record. For example, Wichita teenagers pay more than triple the amount of auto insurance premiums as that of Wichita residents in their 50s.
Here is a breakdown of the average car insurance rate by age in Wichita, Kansas:
Age
Average Monthly Car Insurance Rate for
Full Coverage/State Minimum
18
$499/$191
20
$301/$110
30
$138/$48
40
$132/$47
50
$124/$46
60
$118/$45
70
$127/$49
*Unless otherwise specified, we use the following methodology to arrive at our average cost: male, age 30, lowest possible legal coverage allowed by state. Your rates will be determined by several factors, including your age, your gender and the amount of coverage you want to purchase.
Driving Conditions in Wichita
How Many Fatal Accidents Happen in Wichita?
In 2019, there were 38 fatal accidents involving 61 total vehicles. Of these, there were 39 fatalities, and four accidents involved drunk drivers.
How Are the Road Infrastructure and Bridges in Wichita?
Wichita is constantly undergoing improvements to road infrastructure and bridges. As of this writing, a recent development by Governor Laura Kelly sees $86 million earmarked toward road construction projects, which include congestion upgrades along the I-235 interchanges and 19 bridge updates. The K-96 to I-135's tight loop ramp will also be replaced.
Get a Quote for Car Insurance in Kansas Today!
Minimum Car Insurance Requirements in Wichita
Kansas is a modified "no-fault" state, which means your insurance policy's personal injury protection (PIP) coverage pays your medical bills and select out-of-pocket expenses up to your policy limits, regardless of who is at fault for the accident. However, any medical injuries and vehicle damage done to the other party is covered by at-fault drivers.
In Kansas, the state minimums are as follows:
$25,000/$50,000 bodily injury per person/accident
$25,000 property damage
$25,000/$50,000 for uninsured/underinsured motorist coverage per person/accident
$4,500 for personal injury protection
Factors Allowed in Wichita Car Insurance Rates
Some factors affecting Wichita car insurance rates include but are not limited to:
Driving record
Age
Gender
Zip code
Marital status
Type of vehicle
Credit rating
There are many ways to save money on car insurance. Some tactics to lower auto insurance premiums include increasing deductibles, purchasing an older make and model vehicle, and excluding miscellaneous coverage items such as car rentals.
Discounts for Car Insurance in Wichita
With clean driving records, many Wichita drivers may be eligible for being a loyal long-term customer, good driver, anti-theft, and good student discounts. With certain restrictions, discounts may also be available for drivers of hybrid and electric vehicles. Some common car insurance discounts include:
Bundling

Military

Full premium payment up front

Defensive driving course

Improve credit score

Lower mileage (WFH)
What Are the Penalties for Driving Without Insurance in Wichita?
Driving without insurance in Wichita is a bad decision. Expect to be served a Class B misdemeanor with fines as high as $2,500, depending on the reason you are stopped. At a minimum, expect your driver's license to be suspended with the possibility of imprisonment up to a year or more with second and third offenses. One of the biggest factors in determining penalties is the number of previous convictions.
To get driving privileges reinstated, it will require a $100 fee and a filed SR-22 certificate for three years.
Get a Quote for Cheap Car Insurance in Wichita Today!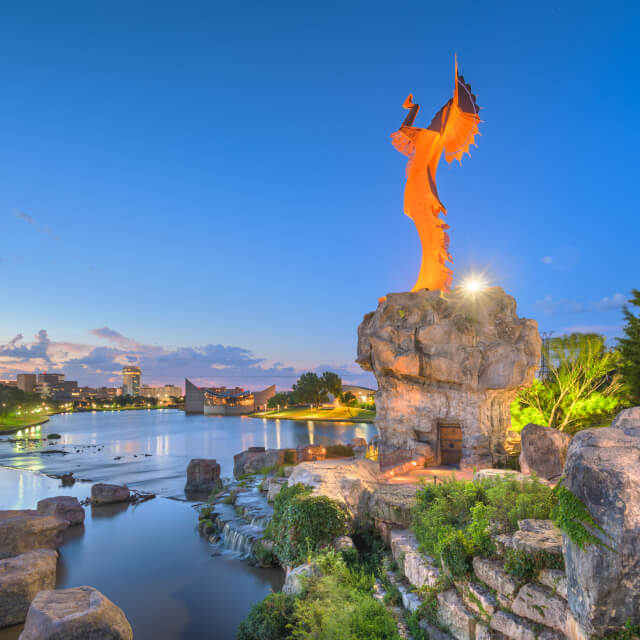 Fortunately, Freeway Insurance is here to help you find the best and cheapest car available in Wichita, Kansas.
Feel free to request a quote online, visit us at a Wichita office near you, or call (800) 777-5620 for a free quote.
Select a Product or Service to request a quote
Ready to Get a Quick Quote?