The capital city of Kansas, Topeka is steeped in history and modern-day amenities. Dating back to Topeka's critical role in housing Civil War abolitionists and desegregating public schools, the city has become one of Kansas' most revered. Residents can enjoy the North Topeka Arts District for shopping, entertainment, and nightlife. Gage Park offers a captivating refuge into nature and the Old Prairie Town at Ward-Meade Park offers one of the most beautiful historical town squares in the country.
A visit to Topeka is not complete without a visit to the Kansas Statehouse, beautiful Lake Shawnee, the Kansas River, and the Heartland Park of Topeka, one of the most prominent dirt track racing locales in the world.
Whether you are a resident or a visitor of Topeka, you'll enjoy a quaint but bustling city steeped in national history, arts, entertainment, and the great outdoors. Don't forget to protect yourself and others by carrying the proper car insurance.
Quick Facts
The average monthly cost of car insurance in Topeka is $43 for the state-required minimum and $131 for full coverage.*
In 2019, there were eight reported fatal vehicle accidents in Topeka.
How Much Does Car Insurance Cost in Topeka?
On average, the cost of full coverage car insurance in Topeka is $1,572 per year. This is lower than the U.S. national average of $1,674 and the average car insurance cost in Kansas, which is $1,698 per year for full coverage.
The average cost of car insurance in Topeka is lower than the national average.
The cost of car insurance in Topeka varies depending on several factors. These include, but are not limited to, driving history, age, gender, make/model of your vehicle, and home zip code. Residents in some zip codes pay higher premiums than residents in other zip codes due to collective driving records and higher incidents of crime, such as car theft.
Obtaining a full coverage auto insurance policy is important if you want to be protected as much as possible against out-of-pocket bills resulting from accidents and other events. Luckily, Topeka drivers can take advantage of safe driver discounts, provided their account remains in good standing with no claims, infractions, or accidents over a certain period. Note, zip codes are one factor in pricing, and underwriters look at statistics such as stolen vehicle claims, stolen property claims, vandalism claims, and others in an area.
Topeka Car Insurance Rates by Zip Code
Zip codes affect what one pays for coverage. Each zip code has an ever-changing number of stolen vehicle claims, stolen property claims, vandalism claims, and others that affect premiums. Insurers are tasked with reviewing the claims history for all drivers within a designated geographic area. The higher the number of claims in a geographic area, the higher the premiums.
Topeka, Kansas, has 16 zip codes. The average monthly rates for each zip code based on the state-required minimum coverage is $43.
Topeka Car Insurance Rates by Age
Age is a key consideration in determining auto insurance premiums. Some age groups have a higher number of reported claims than other age groups, driving the cost of premiums upward for that group. For example, Topeka residents in their teens pay more than quadruple the average monthly car insurance rate than Topeka residents in their 60s.
Regardless of age, maintaining a safe driving record is critical to obtaining low rates and keeping them low.
Here is a breakdown of the average car insurance rate by age for minimum coverage in Topeka, Kansas:
| Age | Average Car Insurance Rate |
| --- | --- |
| Teenagers | $232 |
| 20s | $99 |
| 30s | $43 |
| 40s | $42 |
| 50s | $41 |
| 60s | $40 |
| 70s | $44 |
*We use the following methodology to arrive at our average cost: male, age 30, lowest possible legal coverage allowed by state. Your rates will be determined by several factors, including your age, your gender and the amount of coverage you want to purchase.
Driving Conditions in Topeka
How Many Fatal Accidents Happen in Topeka?
In 2019, there were eight reported fatal accidents involving 12 total vehicles. Of these, there were nine fatalities, and one accident involved drunk drivers.
How Are the Road Infrastructure and Bridges in Topeka?
Topeka has a busy Public Works Department that oversees all aspects of public engineering, constantly making improvements to downtown parking systems, streetlights, and general street maintenance. One recent key initiative is the 12th Street project. One of the most important roadways in Topeka, this street reconstruction project used countywide sales tax funds to rework roadways by installing new through lanes for vehicles, upgraded curbs, relocated utilities, and other transit and pedestrian safety efforts.
Get a Quote for Car Insurance in Kansas Today!
Minimum Car Insurance Requirements in Topeka
Kansas is a "no-fault" state, which means your insurance policy's personal injury protection (PIP) coverage is responsible for paying your medical bills and select out-of-pocket expenses no matter who is determined to be at fault for the accident.
In Kansas, the state minimums are as follows:
$25,000/$50,000 bodily injury per person/accident
$25,000 per accident for vehicle damage and property loss belonging to other parties
$25,000/$50,000 for uninsured/underinsured motorist coverage per person/accident
$4,500 Personal Injury Protection (PIP)
Fortunately, there are many ways to save money on car insurance. This includes keeping only the state minimums as coverage, increasing deductibles, and excluding miscellaneous coverage items, such as car rentals to replace a damaged vehicle after an accident.
Factors Allowed in Topeka Car Insurance Rates
Typically, states set limits on what insurance companies can consider when setting their rates. In Topeka, insurers can consider many factors to determine your rate, including:
Driving record
Age
Gender
Zip code
Marital status
Type of vehicle
Credit rating
Discounts for Car Insurance in Topeka
Luckily, insurance companies offer discounts to reward their good drivers and loyal customers. Almost everybody is eligible for some kind of discount, but you may have to ask your agent. Many Topeka drivers may be eligible for reduced premiums with the following discounts:
Military discount

Good driver discount

Anti-theft discount

Student discount

Bundling policies

Paying entire annual premium upfront
What Are the Penalties for Driving Without Insurance in Topeka?
Driving without insurance in Topeka is classified as a Class B misdemeanor with fines starting as low as $300 and hitting as high as $2,500, depending on the reason you are stopped. At a minimum, expect your driver's license to be suspended with the possibility of imprisonment up to a year with a second offense. A third offense or habitual violations can result in imprisonment up to two years.
Reinstatement requirements are strict. With a first offense, expect to pay a $100 fee and file a SR-22 certificate for three years. Third offenses/habitual violations will revoke your driving privileges for three years.
Something to consider: drivers who are considered "high-risk" and who are required to file an SR-22 certificate will pay very high rates for their car insurance.
Get a Quote for Car Insurance in Topeka Today!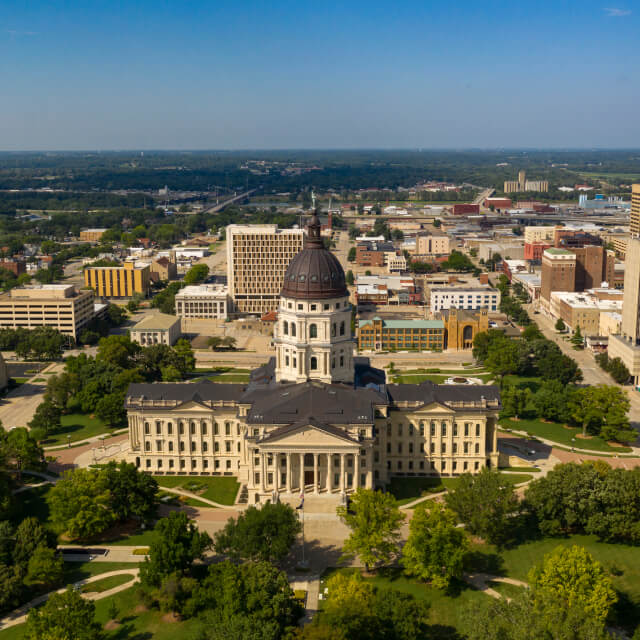 Fortunately, Freeway Insurance is here to help you find the best and most affordable car insurance available in Topeka, Kansas. We do the work comparing quotes so you don't have to, because we know your time is precious. Find peace of mind with Freeway Insurance.
Get started with a quote online, visit us at a Topeka office near you, or call us at (800) 777-5620 for a quote.
Select a Product or Service to request a quote
Ready to Get a Quick Quote?