Everything You Need to Know About Auto Insurance in Ohio
Renamed after the 18th-century speculator and road builder whose trails linked Ohio to neighboring states, Zanesville is just 52 miles east of Columbus, the Buckeye State's modern-day capital — a role that this small city of roughly 24,800 residents once held.
Formerly called Westbourne, the city was renamed Zanesville in 1801 after Ebenezer Zane — who had carved a pioneer trail called Zane's Trace, linking Ohio to West Virginia and Kentucky — remitted the land to his son. Because Zane's Trace blazed through this area, located off the banks of the Licking and Muskingum rivers, the Zanes platted it and renamed it Zanesville. Since then, Zanesville — dubbed the "City of Natural Advantages" that serves as the seat of Muskingum County — has made other marks in history, serving as an Underground Railroad stop during the Civil War and earning a notorious reputation during the Prohibition era of the 1920s for bootlegging.
Under Ohio state law, all Zanesville drivers need to have some form of auto coverage. If you're caught driving without insurance, you could face fines and fees and even have your license suspended. Keep reading to learn more about car insurance in Ohio, including the average monthly rates based on age and zip code.
How Much Does Car Insurance Cost in Zanesville, Ohio?
On average, Zanesville drivers pay a premium of around $23 per month for minimum liability auto insurance, which is required by the state. That's $5 more than the state average of $28 and $29 less than the national average of $52.
Zanesville drivers with full auto coverage typically pay monthly premiums of around $89 — $17 less than the state average of $106 and $79 less than the national average of $168.
Reasons Why Protection Is So Cheap in Ohio
Ohio state law's minimum liability requirements may be why auto insurance in the Buckeye State is so cheap. While some states mandate more coverage for bodily injury and property damage, Ohio only requires drivers to have $25,000 to $50,000 in coverage in case one or more people are hurt or die during a crash and $25,000 to take care of any property damage caused.
These basic requirements make Ohio rank among the top 15 cheapest states for full and minimum liability coverage.
Getting a Free Auto Insurance quote with Freeway is easy!
Affordable Car Insurance Rates Comparison by Cities in Ohio
This chart shows Zanesville drivers' average monthly auto policy premiums compared to drivers living in other Ohio cities.
| City | Full Coverage Insurance | Liability Insurance Coverage |
| --- | --- | --- |
| Zanesville | $89 | $23 |
| Columbus | $93 | $30 |
| Blue Rock | $95 | $22 |
| Cambridge | $92 | $22 |
| Akron | $101 | $30 |
Affordable Zanesville Car Coverage Rates by Zip Code
The streets, roads, and highways you normally drive down influence how much you'll pay for auto coverage. And so does the area where you live. Drivers living in denser urban areas that experience more traffic and risks of theft or vandalism typically pay a little more than those who live in less populated cities like Zanesville.
Here's a breakdown of how much Zanesville residents living in zip code area 43701 pay for full auto insurance coverage and state-required liability compared to drivers in neighboring zip code areas.
| Zip Code | Full Coverage Insurance | Liability Insurance Coverage |
| --- | --- | --- |
| 43701 | $89 | $23 |
| 43085 | $93 | $30 |
| 43720 | $95 | $22 |
| 43725 | $92 | $22 |
| 44320 | $101 | $30 |
| 43130 | $92 | $26 |
| 45786 | $94 | $23 |
| 43023 | $93 | $25 |
| 43302 | $87 | $24 |
Low-Cost Car Insurance Rates by Age in Zanesville
Age is more than just a number when it comes to car coverage. Insurance companies use this factor to determine how much you'll have to pay monthly for your auto policy. It costs a bit more to insure teen drivers, given that their lack of experience behind the wheel makes them a bit riskier on the road than adults.
This chart lists average monthly auto insurance premiums by age in Zanesville.
| Age | Full Coverage Insurance | Liability Insurance Coverage |
| --- | --- | --- |
| Teenagers | $314 | $94 |
| 20s | $103 | $26 |
| 30s | $85 | $22 |
| 40s | $79 | $21 |
| 50s | $74 | $20 |
| 60s | $76 | $22 |
| 70s | $92 | $28 |
Our city and zip code average rates are based on the following methodology: male, age 30, lowest possible legal coverage allowed by Ohio. In addition to age, your rates will be determined by several other factors, including your gender and the type of coverage you want to purchase.
Driving Conditions in Zanesville
How Many Fatal Accidents Happen in Zanesville?
According to the National Highway Traffic Safety Administration, Zanesville has one to two fatal accidents every year. While a larger number of fatal crashes were reported in 2012 and 2018 — three and four accidents, respectively — it's rare for this city to experience more than two per year.
How Are the Road Infrastructure and Bridges in Zanesville?
Zanesville is home to the historic Y-Bridge, which forks in two directions, spanning the confluence of the Licking and Muskingum rivers. The Ohio Department of Transportation oversees the infrastructure of this bridge, with Zanesville and Muskingum County overseeing the maintenance and upkeep of city streets and roads.
Minimum Car Insurance Requirements in Zanesville
Zanesville drivers must meet the minimum liability requirements for auto coverage mandated by Ohio state law. Under these requirements, a driver must have a policy that includes:
$25,000 for the bodily injury or death of a person involved in a crash caused by the driver
$50,000 for the bodily injury or death of two or more people involved in a crash the driver causes
$25,000 for property damage the driver causes in an accident
What Are the Penalties for Driving Without Insurance in Zanesville, Ohio?
If you're caught driving without insurance in Zanesville, you'll be subject to penalties under Ohio state law that may include fines and fees, a suspended license, and possibly arrest.
In Ohio, the legal repercussions for driving without coverage look like this:
First offense. The first time you're caught driving without insurance, your license will be suspended, and your vehicle's plates will be seized until you buy and provide proof of having at least the state-mandated minimum liability coverage. You'll also have to pay the state restoration fees to get your driver's license reinstated.
Second offense. Getting caught driving without coverage a second time carries the same consequences, only this time, your license will be suspended for a full year, and you'll have to pay higher state fees to get it back. You can ask the court to grant you limited driving privileges 15 days after your conviction — that doesn't mean your request will be approved, though.
Third and subsequent offenses. Repeat offenders face more stringent consequences, including a 3-year license suspension with restoration fees costing six times more than first-time offenders must pay. A court may (or may not) grant you limited driving privileges 30 days after your conviction.
Depending on the circumstances, you may also face criminal penalties involving jail time. No matter what happens, insurance companies frown upon this behavior, categorizing these drivers as high-risk. If that happens, once you buy a policy, it will likely cost you three times more than what other drivers pay, and you will be paying that higher rate for at least three years until your driving record clears.
Find an office near you to help with your auto insurance
Factors Allowed in Zanesville Car Insurance Rates
Living in Zanesville and your age play important roles in calculating your monthly auto policy premium, but so do other factors. Insurance companies determine your rate by also taking into account your:
Vehicle type
Driving history
Education
Deductible amount
Coverage amount
What Happens if You Damage Private or Public Property?
If you crash into another driver's car or SUV, knock down a neighbor's fence while backing out of your driveway, or cause a significant chip in a city-or county-owned cement planter while trying to parallel park, your auto policy will cover the repair costs, depending on the amount of damage caused.
In Ohio, your auto policy must include at least $25,000 in coverage for property damage resulting from a crash you cause. If the damage your crash caused exceeds the coverage limit noted on your policy, you will have to pay the remaining amount out of pocket.
What Are the Best Discounts for Car Insurance in Zanesville, OH?
If you live and drive in Zanesville, auto insurance discounts are a great way to save money. That's especially true if you're eligible for several discounts.
While many driving discounts are available, some are more popular among Zanesville drivers than others. They include:
Another way you can save money is by bundling your policies by buying more than one type of coverage from the same insurance company. Bundling your auto coverage and home insurance is one great way to do this.
Get an Online Quote for Car Insurance in Zanesville Today!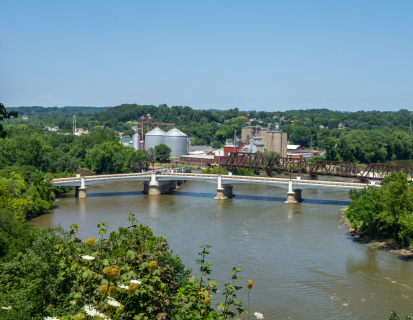 Zanesville drivers must follow Ohio state law and have auto coverage that meets the state's minimum liability requirements. Freeway Insurance can provide you with the best coverage available at an affordable price.
Get started with a quote online, visit us at an Ohio office near you, or call us at (800) 777-5620.
Select a Product or Service to request a quote
Ready to Get a Quick Quote?