Located in northeast Ohio, Canton is a city full of diverse neighborhoods and outdoor recreational opportunities. These include Clay's Resort Jellystone Park, Sluggers & Putters Family Fun Park, and Canal Fulton. One of our favorite attractions is downtown Canton's arts district, which places public art installations throughout the city. The installations give the area a festive feel. For a small town, Canton has plenty of charisma to offer.
Some of Canton's most popular attractions include the NFL Pro Football Hall of Fame, the National First Ladies Library, the William McKinley National Monument, and the Gervasi Vineyard.
If you drive in Canton, you must carry an active auto insurance policy in Ohio. Keep reading to learn more about Canton insurance, including penalties for driving without insurance and average rates paid by age and zip code in the region.
Quick Facts
Canton is the site of the NFL Pro Football Hall of Fame.
The Ohio State Highway Patrol reported 1,244 fatal car accidents in the state (2021).
Cuyahoga County saw the most fatal car crashes in 2021 (121), followed by Franklin County (118) and Hamilton County (65).
How Much Does Car Insurance Cost in Canton, OH?
Canton drivers pay an average monthly premium of $100 for full coverage, which is the same as Ohio overall and an excellent deal compared to the national average of $140.
The cheapest auto coverage in Canton is the state-required minimum, which comes in at an average of $38 monthly for Canton drivers with an excellent record. That's slightly higher than the Ohio average of $28 per month and lower than the national average of $47.
How does Canton compare with other cities in Ohio? See our breakdown below for average monthly car insurance costs in other Ohio cities.
| City | Full Coverage Insurance | Liability Insurance Coverage |
| --- | --- | --- |
| Canton | $100 | $38 |
| Cincinnati | $116 | $43 |
| Cleveland | $118 | $41 |
| Columbus | $105 | $40 |
| Toledo | $119 | $44 |
Affordable Auto Insurance Rates by Zip Code in Canton, OH
Zip codes in Canton may have different rates from each other, depending on that zip code's volume of claims and personal lawsuits. For example, zip codes with a high volume of thefts, acts of vandalism, accidents, and other mishaps generally see higher rates.
See below for average monthly car insurance prices by zip code in Canton.
| Zip Code | Full Coverage Insurance | Liability Insurance Coverage |
| --- | --- | --- |
| 44702 | $104 | $38 |
| 44703 | $107 | $38 |
| 44704 | $107 | $38 |
| 44705 | $106 | $38 |
| 44706 | $100 | $37 |
| 44707 | $103 | $37 |
| 44708 | $99 | $37 |
| 44709 | $101 | $38 |
| 44710 | $100 | $37 |
| 44714 | $103 | $37 |
| 44718 | $99 | $37 |
| 44720 | $95 | $36 |
| 44721 | $100 | $38 |
| 44730 | $100 | $35 |
Low-Cost Coverage Rates by Age in Canton, Ohio
Generally, younger drivers pay higher rates than older drivers, thanks to a being inexperienced and the higher claims submitted from this demographic group. Expect premiums to tail dive in your 30s, 40s, and 50s with a clean driving record before rising again as you hit your 60s.
See below for average monthly car insurance prices by age in Canton.
| Age | Full Coverage Insurance | Liability Insurance Coverage |
| --- | --- | --- |
| Teenagers | $412 | $168 |
| 20s | $147 | $56 |
| 30s | $97 | $37 |
| 40s | $94 | $36 |
| 50s | $88 | $34 |
| 60s | $90 | $36 |
| 70s | $108 | $44 |
Unless otherwise specified, we use the following methodology to arrive at our average cost: male, age 30, lowest possible legal coverage allowed by Ohio. Your rates will be determined by several factors, including your age, your gender and the amount of coverage you want to purchase. 
Driving Conditions in Canton, Ohio
How Many Fatal Accidents Happen in Canton?
In 2019, there were four fatal road traffic accidents in Canton. Eight vehicles and 12 people were involved.
How Are the Road Infrastructure and Bridges in Canton?
With more than 190 lane miles of roadways in Canton, Ohio, Canton's Road Department stays busy all year round, conducting repair and maintenance to its signage, drainage systems, highways, roads, and more.
Minimum Car Insurance Requirements in Canton, OH
If possible, opt for a full coverage policy with comprehensive and collision over the minimum. This type of policy covers damages to your vehicle, whereas the state minimum only covers damages to others (bodily injury and property damage).
What Are the Penalties for Driving Without Insurance in Canton, Ohio?
Driving without insurance in Ohio is a terrible idea.
First-time and subsequent offenders should expect to see their driver's license and registration suspension on top of fees as high as $660. Other applicable fines include a $160 restoration fee for first-time offenders, which gets higher for second-time offenders ($360) and third/subsequent offenders ($660). Vehicle and license plate confiscation periods also go up with more incidents.
You could be required to file for SR-22 insurance, which may double and even triple your rates.
Remember, all Ohio drivers must carry minimum liability coverage of $25,000 for bodily injury per person, $50,000 for bodily injury per accident, and $25,000 in property damage.
Factors Allowed in Canton Auto Insurance Rates
There are many factors auto insurers use to calculate the premiums you pay. These include, but are not limited to:
Education
Occupation
Claims record
Zip code
Number of annual miles driven
Make/model of vehicle
Remember to call your auto insurance provider as your life circumstances change. For example, purchasing a home or getting married could lead to a better rate.
Discounts for Car Insurance in Canton, Ohio
Luckily, many Canton drivers qualify for all types of car insurance discounts, from policy-based discounts like enrolling in autopay/paperless billing to rewards for maintaining a clean driving record.
Another popular type of discount is multi-line discounts, which bundle auto and homeowners insurance into one policy. Multi-line discounts allow policyholders to save on each insurance type.
Other discounts available to Canton drivers include but are not limited to:
If you want to be updated on your policy, give your auto insurer a call to see what discounts are available. Even one phone call requesting a discount could be enough to cut $30 off your monthly premium.
Get a Quote Online for Low-Cost Car Insurance in Canton, Ohio Today!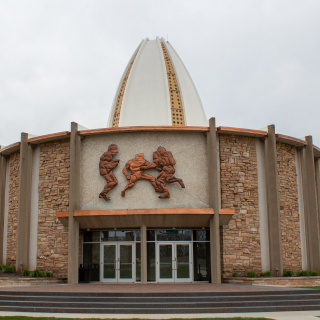 Are you a Canton resident looking for an affordable auto insurance policy? If so, Freeway Insurance is more than ready to help.
There are three ways to get started – requesting a car insurance quote online, visiting your nearby Canton office, or calling 800-777-5620 to speak with one of our friendly agents. Contact us today!
Select a Product or Service to request a quote
Ready to Get a Quick Quote?