Everything You Need to Know about Auto Insurance in South Dakota
The second largest city in South Dakota, Rapid City is steeped in historical tradition. Founded during the Black Hills Gold Rush (1876), it is also known for its sizeable, diverse population with a rich mix of Native American and Hispanic cultures weaved into its fabric. It is also home to some of the finest nature opportunities in the region (e.g., Badlands National Park) and Mount Rushmore National Memorial with its iconic 60-foot-tall sculptures of four U.S. presidents.
Rapid City's top attractions include Journey Museum, Performing Arts Center of Rapid City, Mount Rushmore National Memorial, Crazy Horse Memorial, and Dahl Arts Center.
If you want to drive in Rapid City, you must have an active auto insurance policy. If not, expect plenty of aggravation with a suspended driver's license/registration, fines, and reinstatement fees. Keep reading to learn more about car insurance in South Dakota, including average rates paid by age, zip code, and why full coverage is better than a liability-only policy.
How Much Does Car Insurance Cost in Rapid City, SD?
Residents of Rapid City pay an average monthly liability-only premium of $30 and an average monthly full coverage premium of $140. In comparison, the national monthly average premium for liability-only and full coverage is $50 and $140, respectively.
What Does Full vs. Minimum Mean?
Full and state minimum liability coverage are two types of auto insurance coverage.
State minimum liability coverage is the minimum amount of coverage required by South Dakota state law. It typically consists of two components: bodily injury liability and property damage liability. Bodily injury liability pays for lost income, medical bills, and related damages sustained by other parties in an accident where you are determined to be at fault. In turn, property damage liability pays for the repair and replacement of property belonging to others (e.g., vehicle or house),
On the flip side, full coverage includes liability (third party only) plus additional types of first-party benefits such as collision and comprehensive. Collision coverage pays for damages to your vehicle related to vehicle-to-vehicle, vehicle-to-object, and rollover collisions. Comprehensive pays for non-collision-related damages (e.g., theft and natural disasters).
A full coverage policy is recommended over state minimum liability coverage for all Rapid City residents, thanks to its additional protections.
Getting a Free Auto Insurance quote with Freeway is easy!
Affordable Car Insurance Rates Comparison by Cities in South Dakota
For the average monthly premium paid in other South Dakota cities, check out our breakdown below:
| City | Full Coverage Insurance | Liability Insurance Coverage |
| --- | --- | --- |
| Rapid City | $140 | $30 |
| Sioux Falls | $120 | $30 |
| Aberdeen | $120 | $20 |
| Watertown | $120 | $20 |
| Brookings | $120 | $20 |
Affordable Rapid City Car Insurance Rates by Zip Code
Zip codes in Rapid City pay different average monthly premiums, thanks to several factors, including demographic composition (age/gender), crime, theft, and vandalism rates.
For the average monthly premium paid by Rapid City residents by zip code, see our breakdown below:
| Zip Code | Full Coverage Insurance | Liability Insurance Coverage |
| --- | --- | --- |
| 57701 | $140 | $30 |
| 57702 | $150 | $30 |
| 57703 | $140 | 30 |
Low-Cost Car Insurance Rates by Age in Rapid City
Age is one of the biggest deciding factors auto insurance companies use to determine your rates. Those under age 25 generally pay the highest premiums thanks to a lack of driving experience and collective riskier driving behaviors like speeding.
For the average monthly premium paid by Rapid City residents by age, see our breakdown below:
| Age | Full Coverage Insurance | Liability Insurance Coverage |
| --- | --- | --- |
| Teenagers | $420 | $100 |
| 20s | $160 | $30 |
| 30s | $140 | $30 |
| 40s | $130 | $30 |
| 50s | $120 | $20 |
| 60s | $120 | $30 |
| 70s | $140 | $30 |
* Methodology: We use the following demographic profile to arrive at our average monthly premiums: 30-year-old males with the minimum liability limits required by South Dakota. Many factors determine how much you pay in premiums, such as age, driving record, deductible amount, and "Good Driver" discount eligibility.
Driving Conditions in Rapid City
How Many Fatal Accidents Happen in Rapid City?
In 2020, there were seven fatal road traffic accidents in Rapid City involving 12 vehicles and 16 people, including one pedestrian.
How Are the Road Infrastructure and Bridges in Rapid City?
Rapid City's Public Works Department works to maintain all road infrastructure and bridges in the region, responsible for more than 400 miles of transportation systems. It is divided into three divisions: Street Division, Engineering Services, and Rapid Transit.
Its Street Division is responsible for year-round street maintenance, performing critical repairs to potholes, vehicles, and equipment city departments use. In turn, its Engineering Division focuses more on traffic control systems, setting development plans, and capital improvement projects for various infrastructure systems like storm sewer and water distribution.
Lastly, its Rapid Transit division works on all aspects of public transportation, responsible for more than 400,000 passenger trips a year.
Minimum Car Insurance Requirements in Rapid City
All Rapid City drivers must carry the following liability requirements to drive legally in the state:
Bodily Injury or Death Coverage for One Person: $25,000

Bodily Injury or Death Coverage for Multiple People: $50,000

Property Damage Per Accident: $25,000

Uninsured Motorist Coverage

per Person: $25,000

Uninsured Motorist Coverage per Accident: $50,000
We highly recommend a full coverage policy with comprehensive and collision coverage over a state minimum liability policy if you can afford it. Full coverage offers significantly greater protections, including first-party benefits, which cover the cost of damages and injuries sustained by you, your passengers, or your vehicle.
What Are the Penalties for Driving Without Insurance in Rapid City, SD?
It is a crime to drive without liability-only insurance in Rapid City, punishable with the following penalties:
$100 to $500 fine

Driver's license suspension from 30 days to 1 year

$50 to $200 reinstatement fee

$28 reinstatement application fee

Up to 30 days in jail (depending on the severity of the offense)
Another penalty you can expect is the required filing of an for three years, a certificate that lets the state know you are carrying the minimum required liability requirements. As a result, you'll also be reclassified as a high-risk driver, subject to higher premiums.
Find an office near you to help with your auto insurance
Factors Allowed in Rapid City Car Insurance Rates
There are many factors insurance companies use to determine how much in premiums you pay, including:
Education level

Occupation

Driving record

Type of vehicle

Zip code

Credit score
Age is one of the most significant factors auto insurance companies use to determine your premiums. Older drivers are less likely to be involved in accidents, so expect premiums to reflect accordingly.
Remember that every insurance company weighs these factors differently, as each has its underwriting criteria with proprietary algorithms that assess risk for every policyholder.
What Happens if I Damage Property?
If you damage property in Rapid City, your insurance company will pay out claims up to specific limits. For example, if you carry a state minimum liability policy, your auto insurance company will be liable for up to $25,000 worth of property damage, minus your deductible. If you have $100,000 in property damage liability, you can expect up to $100,000 to be paid out.
If you are involved in an accident where you damage property without auto insurance, expect the following consequences:
Legal Penalties:

Suspended driver's license/registration, fines, and administrative fees

Personal Liability:

Paying for all property damages out of your pocket with opposing parties reserving the right to sue you for recovery
We highly advise that you adhere to South Dakota's minimum liability coverage to protect yourself and others in case you are determined to be at fault for property damage in the future.
What are the Best Car Insurance Discounts in Rapid City, SD?
We recommend you check out your discount eligibility to save a little on your next policy.
There's no shortage of Rapid City drivers can qualify for, such as:
Two highly-popular discounts are the safe driver and multi-policy discounts. Safe driver discounts usually go to drivers with a positive driving history (no claims, at-fault accidents, or moving violations) for the past three to five years.
In turn, multi-policy discounts are awarded for taking out two or more policies with the same insurer (e.g., auto and homeowners insurance). 
Keep in mind that discount availability and actual savings (%) vary depending on the insurance company. Therefore, when shopping for auto insurance, we highly recommend exploring all available discounts to find the best deal for you and your family.
Get an Online Quote for Car Insurance in Rapid City Today!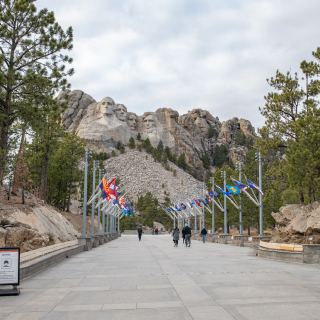 Freeway Insurance is ready to help you explore all of your options, including state minimum liability and full coverage.
If you are ready to get started, Freeway Insurance offers three ways to get in touch. Get started with a quote online, visit an office in your area, or call 800-777-5620 for a no-commitment consultation with one of our friendly service representatives. We look forward to hearing from you today!
Select a Product or Service to request a quote
Ready to Get a Quick Quote?