Everything You Need to Know About Auto Insurance in Oklahoma
Located in southwestern Oklahoma, Lawton boasts the Wichita Mountains as its backdrop, home to a thriving nature scene with top sites like the Wichita Mountains Wildlife Refuge and Medicine Creek Park with endless hiking and fishing opportunities. Some of Lawton's most popular attractions include the Great Plains Technology Center, Fort Sill National Historic Landmark and Museum, and the Comanche National Museum and Cultural Center.
To drive legally in Lawton, you must have auto insurance. Being pulled over at a traffic stop without proof of insurance will result in a suspended driver's license/registration and plenty of headaches. Keep reading to learn more about auto insurance in Oklahoma, including the average rates paid by age, gender, and zip code in the region.
How Much Does Car Insurance Cost in Lawton, OK?
Lawton drivers pay an average monthly rate of $110 a month for full coverage, which is lower than the state average ($120) and the national average ($140). The state minimum liability requirements average $35, roughly $13 cheaper than the national average ($47).
For perspective, larger Oklahoma cities such as Tulsa, Oklahoma City, and Norman pay an average monthly premium of $130, $140, and $130 for full coverage, respectively.
Get a Quote for Car Insurance in Oklahoma Today!
What is the Difference Between Full and Minimum Auto Coverage?
Full coverage offers more protection since it combines the required minimum liability (or more if you wish to increase it) and comprehensive insurance plus collision coverage. This type of policy provides financial help for repairs (or replacement costs) if your vehicle is damaged in a wreck (regardless of who is at fault), stolen, vandalized or otherwise harmed such as by a hail storm or fire.
This type of policy is more expensive than just purchasing the required minimum, however, it offers a lot more in the way of protection. If your vehicle is financed or leased, you may be required to carry full.
The state minimum for Oklahoma is basic bodily injury and property damage liability. It is designed to help pay for the injuries and damages of others when you cause an accident. Your liability won't pay anything for your damages or injuries and, if you don't have enough, you will be responsible for paying the remainder out of pocket.
For example, Oklahoma's property damage minimum is $25,000. Let's say you hydroplane during a rain storm and total someone's brand new car. Most new cars are worth $30,000 and up so after your insurance kicks in (minus your deductible), you'll have to come up with the rest – plus paying for your own damages.
So, even though liability is the cheapest car insurance in Lawton, many people choose to insure for more for better peace of mind.
How Much is Lawton Car Insurance Compared to Other Cities in Oklahoma?
For the average monthly premium paid in Oklahoma cities, check out our breakdown below.
| City | Full Coverage Insurance | Liability Insurance Coverage |
| --- | --- | --- |
| Lawton | $110 | $35 |
| Broken Arrow | $161 | $45 |
| Norman | $156 | $42 |
| Oklahoma City | $165 | $47 |
| Stillwater | $147 | $36 |
| Tulsa | $160 | $46 |
Affordable Car Insurance Rates by Zip Code in Lawton, OK
Different zip codes pay different average premiums due to a variety of factors. These include theft/vandalism rate, demographic distribution, and volume of claims. Urban areas also see higher premiums than sparsely populated rural areas.
For the average monthly premium paid by Lawton residents by zip code, see our breakdown below.
| Zip Code | Full Coverage Insurance | Liability Insurance Coverage |
| --- | --- | --- |
| 73501 | $141 | $35 |
| 73502 | $141 | $36 |
| 73503 | $141 | $35 |
| 73505 | $141 | $35 |
| 73507 | $140 | $36 |
Low-Cost Car Insurance Rates by Age in Lawton, OK
Generally, older drivers pay lower premiums than younger drivers, thanks to a longer driving record, established driving history, and fewer claims. Expect the lowest premiums in your thirties, forties, and fifties before an eventual uptick in your sixties and seventies (assuming a clean driving record).
For the average monthly premium paid by Lawton residents by age, see our breakdown below.
| Age | Full Coverage Insurance | Liability Insurance Coverage |
| --- | --- | --- |
| Teenagers | $502 | $156 |
| 20s | $161 | $42 |
| 30s | $138 | $35 |
| 40s | $137 | $35 |
| 50s | $127 | $33 |
| 60s | $127 | $35 |
| 70s | $144 | $44 |
Unless otherwise specified, we use the following methodology to arrive at our average cost: male, age 30, lowest possible legal coverage allowed by Oklahoma. Your rates will be determined by several factors, including your age, your gender and the amount of coverage you want to purchase.
Driving Conditions in Lawton, OK
How Many FataI Accidents Happen in Lawton?
In 2019, there were four fatal traffic accidents in Lawton. Of these accidents, eight vehicles and 13 pedestrians were involved.
How Are the Roads and Bridges in Lawton?
Lawton has a very active Department of Public Works responsible for all road infrastructure initiatives. In addition, its Streets & Traffic Control division is responsible for maintaining all city streets, including reconstructing surfaces, repairing utility lines, patching up potholes, and cleaning up during disaster operations.
It also plays a crucial role in installing and maintaining all traffic signals, pedestrian lane markings, and other critical infrastructure to keep foot and automobile traffic flowing.
For more information on Lawton's Department of Public Works, visit City of Lawton – Public Works.
Find an office near you to help with your auto insurance
Minimum Car Insurance Requirements in Lawton, Oklahoma
All Lawton drivers must carry the following minimum liability limits:
Bodily Injury Coverage per Person: $25,000
Bodily Injury Coverage per Accident: $50,000
Property Damage Per Accident: $25,000
If you can afford higher coverage limits, go for it. With the average cost of new vehicles above $30,000, a single accident can easily exceed Oklahoma's low $25,000 property damage liability limit, resulting in out-of-pocket expenses to cover the difference.
What Are the Penalties for Driving Without Insurance in Lawton, OK?
If you are caught driving without insurance in Lawton, expect to be served with a misdemeanor charge. Any first offenses will assess fines up to $250 on top of a suspended driver's license and registration for up to a year or until proof of insurance is provided.
Other fees you can expect include a $175 modified driver's license fee, a $275 reinstatement fee, and a $125 administrative fee.
Second and subsequent offenses will result in even stiffer fines, including the possibility of a 30-day jail sentence.
Remember, all Oklahoma drivers must carry $25,000 in bodily injury liability coverage per person, $50,000 in bodily injury liability coverage per accident, and $25,000 in property damage liability coverage.
Car Insurance Factors Allowed in Lawton, OK
Auto insurance providers have underwriting policies that calculate risk based on several criteria, including but not limited to the following:
Driving record and claims history
Physical location
Gender
Age
Marital status
Type of vehicle
Other factors are unrelated to your demographic or driving record, such as selected liability limits, amount of deductible, and participation in optional programs, such as autopay/ paperless billing and defensive driving courses.
Discounts for Car Insurance in Lawton, Oklahoma
To save on auto insurance, Lawton drivers can take advantage of the following discounts if they qualify (not an all-inclusive list):
One of the most popular discounts available for Lawton drivers is "Good Driver" discounts, awarded in exchange for a clean driving record for the past three to five years. This means no claims and moving violations. Some insurers offer a similar program for safe driving, which may include attaching a device that monitors your driving habits.
Other popular discounts include bundling (purchasing two or more insurance policies under the same insurer) and low mileage discounts given to drivers who drive less than 7,500 or 12,000 miles a year. The exact number of miles depends on the insurer.
Get a Quote Online for Low-Cost Car Insurance in Lawton, OK Today!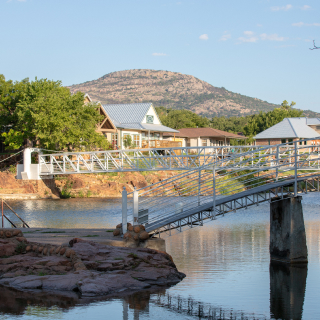 Under Oklahoma law, all drivers must carry an auto insurance policy. Even a single-vehicle accident for an uninsured driver can result in severe financial hardship. Drivers can benefit from one of several Freeway Insurance policies, including state minimum and full coverage.
To get started with Freeway Insurance, request a free quote online, visit a Lawton office near you or call us at 800-777-5620 for a free no-obligation quote with one of our friendly agents. Give us a call today!
Select a Product or Service to request a quote
Ready to Get a Quick Quote?