The safety of your loved ones is important in all areas of life, but when it comes to being behind the wheel, it becomes a priority.
Car insurance in NJ and in all other states is designed to provide you with some protection against property, liability and medical expenses if you are involved in an accident. Property insurance pays for damage to your car or its theft.
Young and old alike need to know the basic notions and benefits of having car insurance. Here we will share with you little by little the benefits, general information and advantages that Freeway Insurance provides you so that we can be your number 1 choice when contracting your new car insurance.
Best Cheap Car Insurance in Ocean City New Jersey
Driving Conditions in Ocean City
Ocean City, New Jersey, is one of the more underrated vacation destinations in the country. Home to roughly 12,000 people, its fine white sand beaches complement endless entertainment options, such as watersports, miniature golf, water parks, and parasailing.
Arguably, Ocean City's finest attraction is its 2.5-mile-long boardwalk, complete with Gillian's Wonderland Pier, a kid-friendly theme party complete with indoor rides, and adventure rides for people of all ages.
How Many Fatal Accidents Happen in Ocean City?
In 2020, there were nine fatal vehicle accidents in Ocean City. Of these, 3 pedestrians, 5 drivers and one pedalcyclist were killed.
How Are the Road Infrastructure and Bridges in Ocean City?
The road infrastructure and bridges in Ocean City are constantly undergoing maintenance. Its 2021-2025 Capital Plan calls for pavement, drainage, and concentrate works projects to the 26th to 34th West Avenue corridor and 36th-39th St (Asbury Avenue).
Other projects have focused on flood mitigation and updated storm pipes, made possible by a $5 million FEMA grant.
To learn more about capital works projects in Ocean City, visit the official site of the state and obtain more relevant information.
How Much Does Car Insurance Cost in Ocean City, N.J.?
On average, full coverage car insurance in Ocean City costs $149 per month, while the state-required minimum liability car insurance averages $66 per month. That's a tad bit higher than the state average for full coverage car insurance at $146 a month and slightly lower than the state average for the required minimum at $70. Nationally, the average monthly cost for full coverage car insurance is $161 and the minimum is $47 monthly.
We highly recommend seeking a comprehensive auto insurance policy for you and your family. Since New Jersey is a no-fault state, motorists who get into a car crash will be covered up to their policy limits by their own insurance company, regardless of who caused the accident. In many cases, injuries and damages far exceed the minimum coverage amounts. For maximum protection, many drivers choose to upgrade their car insurance.
To have an idea of what New Jersey drivers in other regions pay in average monthly premiums, see our breakdown below.
| City | Full Coverage Insurance | Liability Insurance Coverage |
| --- | --- | --- |
| Ocean City | $149 | $66 |
| Jersey City | $218 | $93 |
| New Brunswick | $178 | $80 |
| Newark | $254 | $107 |
| Trenton | $207 | $93 |
Ocean City, N.J. Affordable Car Insurance Rates by Zip Code
Your zip code will have an impact on your car insurance rates. During the underwriting process, insurers review claims history by geographic area. Some zip codes have a higher incidence of vehicles stolen, fraudulent injury claims, acts of vandalism, and other crimes driving premium costs upward for everyone who lives there.
Our list below breaks down the average monthly car insurance rate by zip code in Ocean City, New Jersey.
| Zip Code | Full Coverage Insurance | Liability Insurance Coverage |
| --- | --- | --- |
| 08223 | $149 | $66 |
| 08226 | $149 | $66 |
| 08244 | $172 | $81 |
Low-Cost Ocean City Car Insurance Rates by Age
Auto insurance premiums are greatly affected by your age. Some age groups, like teenagers, pay higher premiums than others due to the collective number of claims filed by that age group.
Our list below breaks down the average monthly car insurance rate by age in Ocean City, New Jersey.
| Age | Full Coverage Insurance | Liability Insurance Coverage |
| --- | --- | --- |
| Teenagers | $480 | $190 |
| 20s | $170 | $73 |
| 30s | $149 | $66 |
| 40s | $138 | $65 |
| 50s | $131 | $63 |
| 60s | $138 | $66 |
| 70s | $151 | $71 |
Unless otherwise specified, we use the following methodology to arrive at our average cost: male, age 30, lowest possible legal coverage allowed by state. Your rates will be determined by several factors, including your age, your gender and the amount of coverage you want to purchase.
Get a Quote for Car Insurance in New Jersey Today!
Minimum Car Insurance Requirements in Ocean City, N.J.
New Jersey is a no-fault state. In a no-fault insurance state, insurance providers are expected to cover the cost of damages their policyholders sustain in an accident, regardless of who is at fault, up to their coverage limits.
In New Jersey, drivers have the opportunity of choosing the Basic Plan:
$15,000 Personal Injury Protection (PIP)
$5,000 Property Damage Liability
Or drivers can choose the Standard Plan:
$15,000 in personal injury protection (PIP)
$15,000 for bodily injury liability per person
$30,000 for bodily injury liability per accident
$5,000 for property damage coverage per accident
The Basic Plan is geared toward young, single drivers who don't have as much to lose financially in a wreck. Most people choose the Standard Plan because it affords greater financial protection.
We highly recommend policies with higher limits than state-required minimum car insurance. With today's costs for medical bills and vehicle damage, the state minimums may not be enough. Anything over that policy limit will come out of your pocket. You don't want a single car accident to wreck your finances due to lack of coverage.
Fortunately, there are many ways to save money on car insurance. Increasing deductibles, driving an older make and model vehicle, and zero traffic violations or at-fault accidents within the last three years are just a few.
What Are the Penalties for Driving Without Insurance in Ocean City?
Expect to pay heavy fines if you get caught driving without insurance in Ocean City. First-time offenders pay a fine of anywhere from $300 to $1,000, perform community service and may lose their license for up to one year. Upon subsequent convictions, offenders pay up to $5,000 in fines, a 2-year licensed suspension, 14-day mandatory jail sentence, and 30 days of community service. After serving the two-year suspended license stretch, the offender must apply to get his/her license back – it's not a foregone conclusion.
On top of all the fees, drivers are expected to pay a $750 surcharge ($250 per year for three years).
The only bright side is that no points are added to your license for your first offense. However, nine insurance eligibility points are assessed for second or repeat offenders.
Remember, police officers can run your license plate number to determine if you are covered by insurance. They even rely on technology using automatic license plate recognition (ALPR) cameras to scan vehicles without forcing them to stop.
Factors Allowed in Ocean City Car Insurance Rates
Insurance companies determine the cost of premiums you pay using lots of criteria. Some factors used include, but are not limited to, the following:
Age

Gender

Credit score

Occupation

Zip code

Vehicle make and model

Claims history
Discounts for Car Insurance in Ocean City, New Jersey
There are many ways Ocean City drivers can save on car insurance, including discounts such as:
Military discount

Good driver discount

Anti-theft discount

Student discount

Autopay discount

Bundling discount
To find out what car insurance discounts you may be eligible for, call your insurance company every six months to a year, especially if your circumstances change. Even a single phone call could encourage you to take a long-overdue defensive driving course good up to 10% of your monthly premium (depending on the insurer).
Auto Insurance Rates for Young Drivers vs Older People in Ocean City NJ
Auto insurance rates for young drivers and older people in Ocean City, NJ can vary greatly. Young drivers, who are typically under the age of 25, are considered higher risk by insurance companies due to their inexperience on the road and higher likelihood of accidents. This results in higher insurance rates for them. On the other hand, older drivers, who are typically over the age of 55, have a longer driving history and are generally considered more experienced, resulting in lower insurance rates. However, individual factors such as driving history, type of vehicle, and location can also impact insurance rates, regardless of age. Full coverage policy is recommended for both sectors as both may be at risk more frequently than other sectors or public sectors.
Best Auto Insurance Companies in New Jersey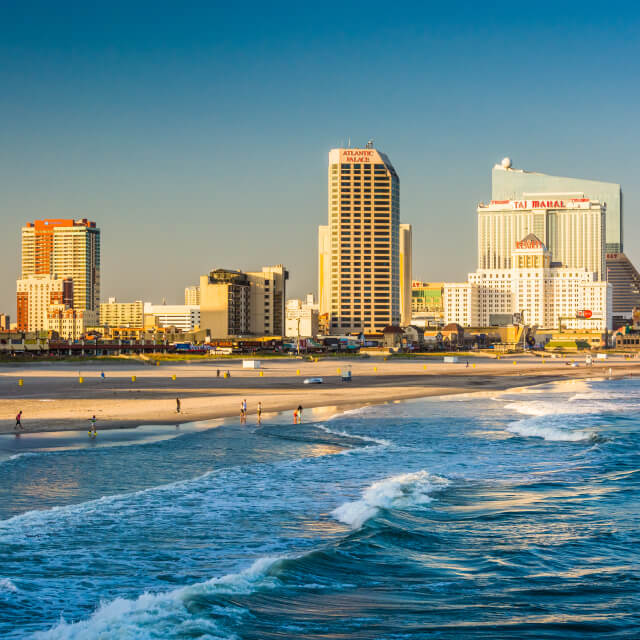 Freeway Insurance can provide cheap, affordable car insurance options for all Ocean City, New Jersey residents. At Freeway Insurance, we do the research so you don't have to spend your valuable time scrolling through websites.
For a quick and free quote, visit us online, or at an Ocean City NJ office near you, or call (800) 777-5620 to speak with one of our friendly insurance agents.
Select a Product or Service to request a quote
Ready to Get a Quick Quote?