Located between Tampa and Orlando, the Lakeland area is a big contributor to Florida's citrus industry. This city of 121,380 residents got its name from the plethora of lakes that dot the area. There are at least 38 primary lakes in this Polk County city, as well as several other small bodies of water, many that are left over phosphate mining pits that have filled with water.
If you are driving in Lakeland, you'll want to make sure that you have affordable car insurance.
Quick Facts
The average cost of car insurance in Lakeland is $2,154 per year.
Lakeland is one of the most affordable cities in Florida for car insurance.
How Much Does Car Insurance Cost in Lakeland?
In Lakeland, car insurance premiums are pretty high compared to the national average. Drivers in Lakeland pay an average of $2,154 per year for car insurance, which is higher than the national average cost of car insurance of $1,780. However, Lakeland car insurance premiums are 9 percent less than the Florida state average rate of $2,361. In fact, Lakeland has one of the cheapest average car insurance costs of most Florida cities.  
| City | Average Car Insurance Cost |
| --- | --- |
| Tampa | $3,063 |
| Miami | $3,267 |
| Fort Lauderdale | $2,695 |
| Orlando | $2,429 |
Factors Allowed in Lakeland Car Insurance Rates
Many factors go into how much you pay for car insurance in Lakeland. Those factors could include things you can't control, like your gender and age and things, you can control, such as your credit score and your driving record.
In Lakeland, car insurance companies can look at these factors when determining your premiums:
Location 

Age 

Gender

Marital status

Credit score

Coverage needed 

Driving record
Lakeland Car Insurance Rates by Location
Lakeland is made up of 13 different zip codes, and the cost you'll pay for car insurance can differ depending on which zip code you live in. For example, zip codes with a history of accidents or auto thefts will have higher insurance rates.
The average annual rates for car insurance in the different Lakeland zip codes are:
| Zip Code | Average Annual Premium |
| --- | --- |
| 33810 | $2,915 |
| 33801 | $2,938 |
| 33803 | $2,918 |
| 33809 | $2,899 |
| 33813 | $2,928 |
| 33811 | $2,929 |
| 33805 | $2,910 |
| 33815 | $2,928 |
Lakeland Car Insurance Rates by Age
Your age heavily impacts the price you're charged for car insurance premiums in Lakeland because of the risk factors in different age brackets. Lakeland drivers in their 50s will pay the lowest rates of about $2,009 per year. Meanwhile, teenagers who are often higher-risk drivers will pay almost three times as much for car insurance as drivers in their 20s.
| Age | Average Annual Premium |
| --- | --- |
| Teenagers | $6,249 |
| 20s | $2,810 |
| 30s | $2,190 |
| 40s | $2,146 |
| 50s | $2,009 |
| 60s | $2,054 |
| 70s | $2,511 |
Lackland Car Insurance Rates by Coverage
Minimum Car Insurance Requirements in Lakeland
When it comes to car insurance, Florida has the least minimum requirements of any state in the country. Florida is a no-fault state, which means each driver is responsible for covering their own injuries in an accident. As a no-fault state, there is a limited ability for you to be sued due to an accident you caused so, you aren't required to carry bodily injury liability coverage on your car insurance policy in Lakeland. Instead, drivers are required to carry personal injury protection (PIP) coverage.
All drivers in Lakeland are required to have the following minimum insurance coverage:
$10,000 personal injury protection (PIP)
$10,000 property damage liability per accident
You won't be able to register your car in Lakeland if you can't show proof that you have this coverage.
Full Car Insurance Coverage in Lakeland
Full car insurance coverage in Lakeland offers comprehensive protection for drivers. Unlike the minimum car insurance required by the state of Florida, full coverage goes beyond the basics. It typically includes not only the mandated personal injury protection (PIP) and property damage coverage but also additional options like collision and comprehensive coverage.
Collision coverage helps pay for repairs to your vehicle after an accident, regardless of fault, while comprehensive coverage covers damages from non-collision incidents like theft, vandalism, or natural disasters. 
This type of coverage is suitable for individuals who want to be better prepared for a wider range of potential risks. The average cost of full coverage insurance in Lakeland can vary depending on factors such as your driving record, the make and model of your vehicle, your age, and other personal details.  However,  full-coverage car insurance rates remain at approximately $2,900 per year for most neighborhoods in Lakeland. 
On average, drivers in Lakeland might expect to pay higher rates for full coverage compared to the minimum required insurance, but the added protection and peace of mind can be well worth the investment.  You can always consult an insurance agent to explore options for the best rates based on your specific needs.   
Lakeland Car Insurance Rates by Driving Record
Understanding how your driving record influences Lakeland car insurance rates is crucial for informed decision-making. Your driving history significantly impacts your auto insurance rates. 
 Maintaining a clean driving record is not only a smart safety choice but also a wise financial one. Insurance providers often reward responsible driving by offering lower rates. Conversely, certain situations like DUI convictions, history of accidents, and lapses in coverage can lead to higher rates. Here are four common driving record types that play a role:
Driving Conditions in Lakeland
How Many Fatal Accidents Happen in Lakeland?
In 2021, 23 people were killed in 21 fatal accidents in Lakeland, Florida, according to the City-Data.com website. 
How Are the Road Infrastructure and Bridges in Lakeland?
Lakeland's booming status is underscored by its ranking as the third top "boomtown" in the U.S., according to Lending Tree's analysis of U.S. Census data and other factors. The city's robust business and population growth contribute to this recognition. The city's road infrastructure and bridges play a crucial role in supporting this expansion. 
With a 118% surge in new business applications, a 7.7% rise in housing growth, and an 8.9% increase in GDP, Lakeland's commitment to growth is evident. However, this expansion has also highlighted the need for ongoing infrastructure development, including roads, to accommodate the influx of residents and businesses.
Get a Quote for Car Insurance in Florida Today!
What Are the Penalties for Driving Without Insurance in Lakeland?
Suppose you get pulled over by law enforcement without having the required minimum car insurance coverage in Lakeland. In that case, you could face the suspension of your driver's license and vehicle registration for up to three years. Reinstating your driver's license can cost up to $500.
The Florida Highway Safety and Motor Vehicles department encourage drivers who plan to cancel their insurance to first turn in their license plates to avoid possible suspension and reinstatement fees.
Discounts for Car Insurance in Lakeland
Car insurance premiums in Florida are among the highest in the country. To ensure that you get the cheapest car insurance rates available, you should look into different discounts offered by your insurance carrier to help bring the cost of your premiums down. For example, a Good Driver Discount rewards drivers with lower premiums if they haven't had any moving violations or accidents within the last three years.
Other discounts that could be available to Lakeland residents include:
Vehicle Safety Discount – You could be eligible for a discount if your car has certain vehicle safety equipment such as anti-lock brakes, airbags, and anti-theft devices.
Bundling Discount – Many insurance companies offer discounts when you purchase multiple policies with them, such as your car and homeowners' insurance.
Good Student Discounts – These discounts are given to young drivers who maintain a "B" average or higher in school
Defensive Driver Discount – Drivers may qualify for a discount on their car insurance if they complete a defensive driving course.
Get an Online Quote for Car Insurance in Lakeland Today!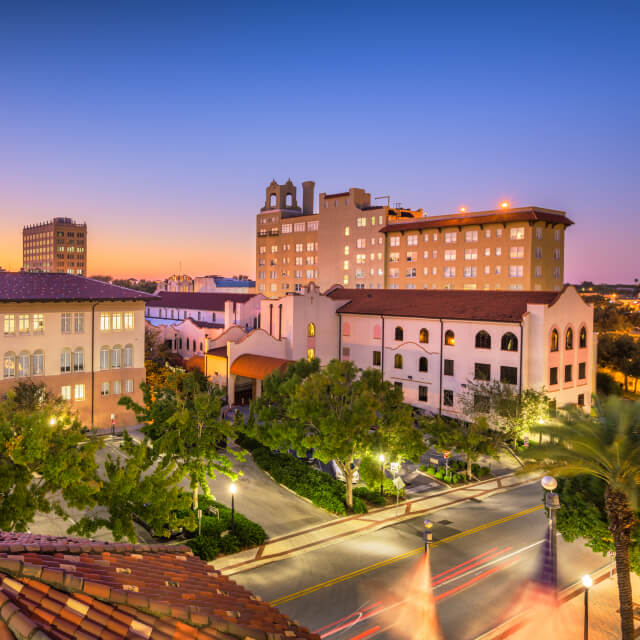 Don't get caught driving without the required car insurance coverage. Freedom Insurance can help find you the cheapest car insurance in Lakeland, Florida.
Get started with a quote online, visit us at a Lakeland office near you, or call us at (800) 777-5620 for a quote.