Home to the University of Florida, Gainesville offers a bustling college town atmosphere with tons of cultural attractions, and natural ones to boot. Our favorite attractions include the Florida Museum of Natural History, the Curtis M. Phillips Center for the Performing Arts, Santa Fe College Teaching Zoo, and the lush Kanapaha Botanical Gardens. All Gainesville drivers must carry auto insurance.
Fortunately, there are many ways to save. Keep reading to learn more about Florida car insurance, including ways to save, average monthly premiums by age/zip code, and the types of discounts available to Gainesville drivers.
Driving Conditions in Gainesville, Florida
The driving conditions in this area can be challenging. The general weather or climate is subtropical which means mild winters and hot, humid summers. This climate can have heavy rainfall, especially during summer months which can make the roads slippery. In the meantime, Gainesville experiences heavy rain and tropical storms, which can reduce visibility and cause flooding in some areas. The city in general has a well-maintained road network making it easy to navigate. Keeping in mind that the university is home to around 44,000 students, it's not uncommon to have heavy traffic when classes are in session. 
How Many Fatal Accidents Happen in Gainesville?
In 2021, Gainesville saw a total of 25 fatal crashes involving 40 vehicles and 60 people. None were alcohol-related, but there were 13 pedestrian deaths. In 2022, Gainesville saw 47 crashes with 153 involving pedestrians.
How Are the Road Infrastructure and Bridges in Gainesville, Florida?
The Alachua County Road & Bridge Office maintains Gainesville's roads and bridges. These include correcting potholes, defective traffic signs, and other faults that impede a driver's ability to navigate the road.
Gainesville's Public Works department also focuses on other areas to preserve city and property values, consisting of seven divisions: Development Review & Emergency Management, Survey & Real Property, Transportation Engineering Critical Facilities, Fleet Management, Road & Bridge, and Construction Inspection.
How Much Does Auto Insurance Cost in Gainesville, FL?
Gainesville drivers pay an average monthly rate of $150 per month for full coverage auto insurance, higher than the national average ($138) and lower than the state average of $197. For the state-required minimum liability car insurance, Gainesville drivers average $54 per month, which is higher than the national average of $40 and lower than the state average of $92.
Florida is a no-fault state, which means that, in an accident, each driver's insurance covers his or her own property damages, up to $10,000 with the minimum required amount. Each driver is required to carry Personal Injury Protection (PIP) in the amount of $10,000 that is supposed to help pay for any injuries they – and their passengers – sustain in an accident.
Many drivers feel that $10,000 in liability insurance for property damages and $10,000 in medical costs is not enough – and rightfully so. With today's repair costs and medical bills, that won't get you very far. You always have the option of adding more protection to the required amounts, for example by increasing your property damage and PIP amounts or by choosing to go with full coverage, which includes liability, collision and comprehensive insurance.
Our breakdown below depicts the average monthly premiums paid by other Florida cities:
| City | Full Coverage Insurance | Liability Insurance Coverage |
| --- | --- | --- |
| Gainesville | $150 | $54 |
| Fort Lauderdale | $240 | $83 |
| Jacksonville | $180 | $67 |
| Miami | $280 | $97 |
| Orlando | $180 | $70 |
| Tampa | $260 | $99 |
| West Palm Beach | $250 | $97 |
Gainesville Affordable Car Insurance Rates by Zip Code
Heavily populated zip codes with a higher number of traffic accidents and claims might expect to see larger premiums. Do not be surprised if a simple move down the street cuts your monthly premium by 30%.
Our breakdown below depicts Gainesville's average monthly premiums paid by zip code:
| Zip Code | Full Coverage Insurance | Liability Insurance Coverage |
| --- | --- | --- |
| 32601 | $141 | $54 |
| 32603 | $141 | $54 |
| 32605 | $141 | $54 |
| 32606 | $140 | $54 |
| 32607 | $140 | $54 |
| 32608 | $140 | $54 |
| 32609 | $140 | $54 |
| 32610 | $139 | $53 |
| 32611 | $141 | $54 |
| 32612 | $138 | $53 |
| 32641 | $140 | $54 |
| 32653 | $141 | $54 |
Low-Cost Gainesville, FL Car Insurance Rates by Age
Insurance costs vary depending on the age group. For example, some age groups, such as young and inexperienced drivers, have a higher likelihood for moving violations and traffic accidents, resulting in higher collective premiums. You cannot change your age, but you can make sure your driving record stays clean so when you do move into a lower-premium age bracket, you can enjoy the fruits of your effort with much lower insurance rates.
Our breakdown below depicts Gainesville's average monthly premiums paid by age bracket:
| Age | Full Coverage Insurance | Liability Insurance Coverage |
| --- | --- | --- |
| Teenagers | $462 | $157 |
| 20s | $159 | $59 |
| 30s | $141 | $54 |
| 40s | $133 | $52 |
| 50s | $125 | $50 |
| 60s | $127 | $50 |
| 70s | $134 | $53 |
Unless otherwise specified, we use the following methodology to arrive at our average cost: male, age 30, lowest possible legal coverage allowed by Florida. Your rates will be determined by several factors, including your age, your gender and the amount of coverage you want to purchase.
Get a Quote for Car Insurance in Florida Today!
Tips for Lowering Auto Insurance Rates in Gainesville FL
Lowering car insurance rates in Gainesville, FL can help you save money and time if your car is protected as it should be. Here are some tips to keep your rates low:
Maintain a clean driving record, obey traffic rules and avoid accidents–insurance companies offer discounts to responsible drivers.

Combine your car insurance with other policies. For example, bundling with home or renters insurance can help lower your costs. 

Drive and purchase a safer and less expensive vehicle.  The type of car you drive affects insurance rates. 

Find out about discounts for items such as anti-theft devices and defensive driving courses.
Minimum Car Insurance Requirements in Gainesville, FL
All Florida drivers must carry minimum liability coverage to pay for personal injury and property damage. Additional coverage types include comprehensive insurance and collision insurance to protect your vehicle.
The state of Florida requires the following liability limits:
$10,000 for personal injury protection
$10,000 for property damage liability
Unlike most states, Florida does not require bodily injury coverage. PIP – or no-fault insurance – pays for medical expenses by the policyholder and all affected passengers, good for up to $10,000 towards medical expenses no matter who is at fault. Many people feel that this coverage is not enough protection, given today's costs. You can always choose to add more coverage to your policy.
The higher your liability limits and the lower your deductible, the better your peace of mind in the event of an accident. Be sure to call us to learn ways to save on your next policy.
What Are the Penalties for Driving Without Insurance in Gainesville, Florida?
Driving in Florida without the minimum required auto insurance will result in fines, reinstatement fees, a suspended license/registration, and plenty of headaches.
First-time offenders can expect to pay a $150 reinstatement fee and have their license/registration suspended for up to three years or until proof of insurance is shared. Second-time and subsequent offenders will see higher reinstatement fees.
All insurance companies are required to notify the Department of Highway Safety and Motor Vehicles if your insurance lapses. If your insurance lapses, expect a letter asking for proof of insurance with a deadline.
Factors Allowed in Gainesville Car Insurance Rates
To determine the cost of your car insurance, many auto insurers rely on the following factors:
Age
Gender
Zip code
Make/model of vehicle
Driving record
Marital status
Claims history
As your life circumstances change from one day to the next (e.g., purchasing an older vehicle or getting married), always call your insurance provider. A simple adjustment change could knock out as much as 10% off your next bill.
Get an Online Quote for Low-Cost Auto Insurance in Gainesville Today!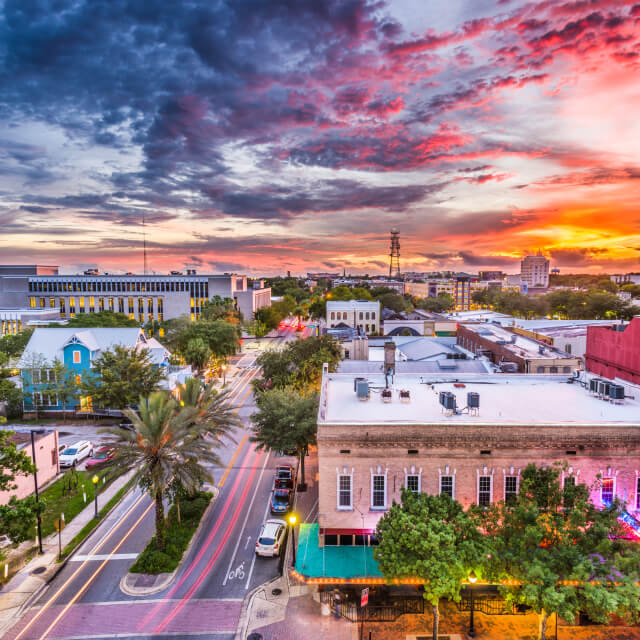 Freeway insurance is ready to help you find affordable protection with the state minimum required coverage or a safer plan with higher coverage limits.
To learn all of your options, request an online car insurance quote, visit a Gainesville office near you, or call 800-777-5620 for a hassle-free, no-obligation quote.
Select a Product or Service to request a quote
Ready to Get a Quick Quote?