Fort Lauderdale conjures up images of sunny surf sides, tall palm trees, and warm breezes sweeping in from the Atlantic. Just 25 minutes north of Miami, Florida, Fort Lauderdale is home to more than 165,500 Floridians who hit its roadways and highways to commute to work or hit the beach. While Miami traffic tends to be much worse, Fort Lauderdale has its own share of daily congestion, crashes, and traffic woes that make driving here anything but a paradise. It's important for drivers in Fort Lauderdale to have auto insurance to protect themselves in case of an accident or collision.
Quick Facts
In 2023, Fort Lauderdale's average annual car insurance premium for full coverage is $2,786, compared to the national average of which stands at $2,088.

Fort Lauderdale

reported

44 fatal crashes in 2021 that resulted in 48 fatalities.
Get Low-Cost Florida Auto Insurance
How Much Does Car Insurance Cost in Fort Lauderdale?
You will pay an average of $2,786 for full coverage car insurance in the Fort Lauderdale area. When compared with other major cities in Florida, Fort Lauderdale is fairly expensive, surpassing premium costs of other areas in the state by more than $485. Due to the amount of time drivers spend on the highways and consumer protection laws, Florida car insurance is some of the most expensive coverage in the U.S.
| City | Average Annual Premium |
| --- | --- |
| Fort Lauderdale | $2,786 |
| Miami | $3,075 |
| West Palm Beach | $3,187 |
| Orlando | $2,301 |
| Gainesville | $1,839 |
Your zip code and your age are two factors insurers use to determine your car insurance rates. Statistics from the zip code area, which may include the average number of accidents, average income, population, and crime rates, are also typically considered. Because younger drivers have not had much time on the road, they are considered high risk and will typically pay more for coverage than more experienced drivers.
Fort Lauderdale Car Insurance Rates by Zip Code
Fort Lauderdale has 29 zip codes. Zip code 33323, the Sawgrass Mills Mall area, has one of the highest average premiums in the city at $2,954, while 33306 includes the Coral Shores neighborhood, nearly $1,113 less than that at $1,841.
Average rates are based on zip code statistics. While population density between the zip codes 33301 and 33323 is within a fairly wide range — with 5,815 and 2,869 people per square mile, respectively — other statistics also play a significant role. For instance, the median home value in 33323 is roughly $14,436 higher than 33301, indicating that residents in the pricier zip code might purchase more expensive vehicles, including luxury cars, which contribute to higher premiums.
The table below lists several zip codes in the Fort Lauderdale area and the average insurance rates drivers will pay:
| Zip Code | Average Premium |
| --- | --- |
| 33301 | $2,428 |
| 33304 | $2,643 |
| 33305 | $2,148 |
| 33306 | $1,841 |
| 33308 | $2,157 |
| 33309 | $2,771 |
| 33323 | $2,517 |
| 33332 | $2,954 |
Fort Lauderdale Car Insurance Rates by Age
While marital status and gender can be factored in to determine a driver's insurance rate, this information generally has a minimal influence on premium costs. As stated earlier, zip code and age tend to play a larger role in calculating premium rates.
Younger drivers will pay more for car insurance until they have spent more time on the road and have gained experience. Once a young adult is in their 20s, insurance rates will begin to drop.
| Age | Average Annual Premium |
| --- | --- |
| Teenagers | $5,313 |
| 20s | $3,300 |
| 30s | $2,550 |
| 40s | $2,484 |
| 50s | $2,137 |
| 60s | $2,022 |
| 70s | $2,525 |
A driving record with no accidents or tickets will keep your rates low.
Driving Conditions in Fort Lauderdale
When it comes to assessing the driving conditions in Fort Lauderdale, Florida, understanding factors like safety and accident rates is crucial for both residents and visitors. 
How Many Fatal Accidents Happen in Fort Lauderdale?
In 2021, Fort Lauderdale experienced a total of 44 fatal crashes, tragically resulting in the loss of 48 lives. These figures, while distressing, indicate a noteworthy aspect of the city's driving conditions. Compared to the larger context of Florida, Fort Lauderdale's relatively lower number of fatal accidents demonstrates the city's commitment to road safety. 
Understanding these statistics is essential, not only for residents but also for those seeking auto insurance in the area, as it can impact policy rates and underline the significance of responsible driving practices in Fort Lauderdale.
How Are the Road Infrastructure and Bridges in Fort Lauderdale?
Fort Lauderdale's road infrastructure and bridges are integral components of the city's transportation network. The city consistently invests in maintaining and improving its roadways and bridges to ensure safety and accessibility. 
With a growing population and increasing traffic, Fort Lauderdale prioritizes infrastructure enhancements to meet the demands of its residents and visitors. Stringent safety standards are upheld to guarantee that roadways and bridges remain in optimal condition, with periodic inspections and maintenance work conducted regularly. 
Fort Lauderdale's commitment to robust road infrastructure aligns with its goal of providing a safe and efficient travel experience for all motorists.
Minimum Car Insurance Requirements in Fort Lauderdale
Because Florida is a no-fault state, drivers are required to cover their own bodily injury payments regardless of who caused the crash. Per Florida State Statute §324.021, drivers must carry the minimum liability insurance. Under Florida's Financial Responsibility and No-Fault laws, vehicle owners must meet the following minimum limits:
Property damage liability (PDL) – $10,000
Personal injury protection (PIP) – $10,000
Factors Allowed in Fort Lauderdale Car Insurance Rates
Across the country, there are criteria insurers use to determine your car insurance rates. In Fort Lauderdale, Florida, the criteria used are:
Age

Zip Code

Driving history

Marital status

Gender

Clean driving record
How Can I Find the Best Car Insurance Rates in Fort Lauderdale?
To find the cheapest car insurance rates in Fort Lauderdale, it's essential to navigate the options carefully:
Compare Car Insurance Quotes

: Begin your search by collecting car insurance quotes from various insurance companies and agents. These professionals can provide insights into the average cost of car insurance, guiding you toward the best company for your specific needs.

Explore Discounts

: Look for discounts offered by insurance companies. Discounts for young drivers and specific age groups can lead to lower rates. These discounts often make it a good idea for customers to secure more affordable and customized car insurance policies.

Consider Minimum Coverage

: While exploring different rates for your motor vehicle, take into account the minimum coverage requirements. Opting for only what's necessary can lead to cheaper car insurance rates, especially if you're looking for the cheapest car insurance available. 
By actively comparing car insurance quotes and collaborating with insurance agents to identify the best deals, you can secure the most affordable coverage from the cheapest car insurance companies while maintaining the required policy standards.
Discounts for Car Insurance in Fort Lauderdale
Taking advantage of discounts available through your auto insurance carrier can save Fort Lauderdale drivers money. Discounts might include:
Good driver discount
Multi-car discount
Anti-theft discount
Student discount
Military discount
Multi-policy discount
Mature, retired, or senior discount
What Are the Penalties for Driving Without Insurance in Fort Lauderdale?
Auto insurance is not an option in Fort Lauderdale, let alone the state of Florida. Drivers must carry the minimum amount of coverage or face having their license, license plate, and vehicle registration suspended for up to three years. They must then provide the state with proof of insurance coverage and pay a $150 fee to have their license, license plate, and vehicle registration reinstated.
If your insurance lapses a second time within three years of the first instance, you must pay a $250 reinstatement fee. If it happens a third time within the three years that follow, the fee increases to $500.
Get a Quote for Car Insurance in Fort Lauderdale Today!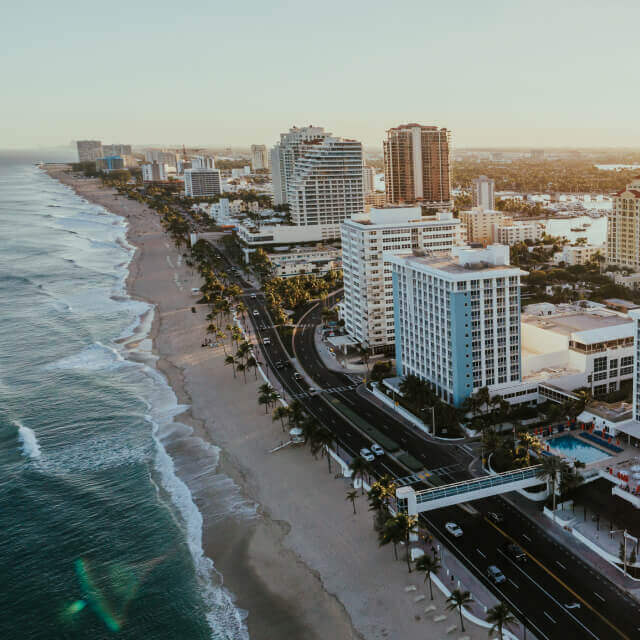 It's more than just a legal requirement. Insurance is an inexpensive way to protect yourself from the tremendous risks of daily driving in Fort Lauderdale. Don't let yourself be bogged down with substantial medical expenses and car repair bills that often result from collisions. Get started with a quote online, visit us at a Fort Lauderdale office near you, or call us at (800) 777-5620 for a quote.
Select a Product or Service to request a quote
Ready to Get a Quick Quote?