As the home of Walt Disney World, Orlando, Florida, can genuinely say its city is the home of the "happiest place on Earth." And because of Disney World and other major attractions, this city has a jaw-dropping 35.3 million visitors each year.
While all these tourists help keep Orlando's economy afloat, they also make the road a pretty dangerous place to drive. So if you live in Orlando, it's important to get the right level of car insurance coverage!
Quick Facts
The average cost of car insurance in Orlando is $1,862
In 2019, there were a total of 44 traffic-related deaths in Orlando, FL
How Much Is Car Insurance in Orlando?
The average cost of car insurance in Orlando, Florida is $1,862. That's better than the state average of $2,309. However, it is an increase over the national average of $1,548.
It's common for drivers to wonder, "am I paying too much for car insurance?" However, "too much" is relative. The table below will help you compare the cost of full coverage car insurance in Orlando to other major Florida cities. Remember, if you don't get full coverage, your car insurance costs will certainly be lower.
| City | Average Annual Premium for Full Coverage |
| --- | --- |
| Orlando | $2,405 |
| Miami | $3,314 |
| Jacksonville | $2,230 |
| Tampa | $3,027 |
Whether or not to get full coverage insurance is a question only you can answer. But when it comes to coverage, we like to remind drivers that it's better to have it and not need it than need it and not have it!
Orlando Car Insurance Rates by Zip Code
It's very common for the average cost of insurance to change across different cities and states. And the cost also varies by zip code, especially in a town as large as Orlando.
Below, we have a breakdown of the average car insurance costs you can expect to pay in different zip codes.
| Zip Code | Average Cost |
| --- | --- |
| 32789 | $3,120 |
| 32805 | $3,607 |
| 32806 | $3,149 |
| 32808 | $3,661 |
Orlando Car Insurance Rates by Age
One consistent thing about the cost of car insurance is that it varies by age. As in other cities, you can expect to pay different amounts for your car insurance in Orlando based on how old you are.
But what prices can you actually expect to pay? Our guide below walks you through the different average car insurance rates by age in Orlando.
| Age | Average Car Insurance Rate |
| --- | --- |
| Teenagers | $6,631 |
| 20s | $2,946 |
| 30s | $2,292 |
| 40s | $2,245 |
| 50s | $2,112 |
| 60s | $2,158 |
| 70s | $2,642 |
Driving Conditions in Orlando
How Many Fatal Accidents Happen in Orlando?
In 2019, there were a total of 44 traffic-related deaths in Orlando. This was a mild increase compared to 2018, in which there were 38 traffic-related deaths.
How Are the Road Infrastructure and Bridges in Orlando?
When people ask how safe it is to drive in an area, they are really asking two things: "how safe are the other drivers" and "what are the roads and bridges like?"
In a tourist-heavy town like Orlando, you never know what you can expect from other drivers. But as for the roads, the city has taken several important measures in recent years to fix the crumbling infrastructure.
For example, part of the $15 billion in infrastructure improvements that started a few years ago involved overhauling Interstate 4. The city also invested billions of dollars in adding an express train to Miami (which further reduces traffic on the road) and expanding the Orlando International Airport (great for when you need to get away from it all).
Minimum Car Insurance Requirements in Orlando
As a general rule, we recommend getting more than the minimum so you can get the right level of insurance coverage. However, you may not know how much insurance you really need until you fully understand the minimum car insurance requirements.
Florida car insurance minimum requirements are as follows:
Property damage liability coverage:

$10,000

Personal Injury Protection:

$10,000
Factors Allowed in Orlando Car Insurance Rates
What is the one thing that every driver has in common? They want to pay less on their car insurance, of course!
To understand and potentially reduce your bill, it's important to know what factors insurance carriers in the city can use when calculating your premium. And we have that list of factors below:
Driving record
Credit score
Marital status
Age
Gender
Education
Discounts for Car Insurance in Orlando
As in other states, insurance carriers in Florida offer special discounts. However, you won't find out about them until you ask! The list below includes some of the most common driver discounts offered by carriers throughout the state:
Good driver
Anti-theft systems
Safety features
Customer loyalty
Graduating from a defensive driving course
Bundled policy
What Are the Penalties for Driving Without Insurance in Orlando?
Look, we know that you'd never get caught driving without car insurance in Orlando, Florida. But it's only natural for you to wonder what would happen if you did such a thing.
If the state finds out you are uninsured (either due to your previous carrier reporting it or a police officer pulling you over), you will have three days to obtain insurance and provide proof that you are sufficiently covered. Without that proof, your license, plates, and registration will be promptly suspended for three years. Once you are insured again, reinstatement will cost $150.
If you don't have another offense until three years have passed, the penalty is the same. But a second violation within a three-year period means the same penalties and a reinstatement fee of $250. Commit a third offense within that same three-year period, and your reinstatement fee balloons to $500.
Get an Orlando Car Insurance Quote Today!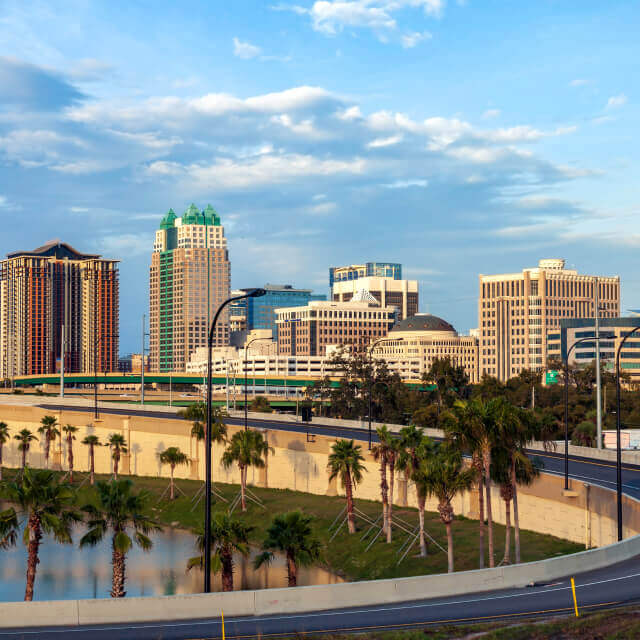 Freeway is here to help you find the best car insurance in Orlando, Florida, for your needs and budget. Get started with a quote online, or visit us at an Orlando office near you. You can also call us at (800) 777-5620 for a quote.