Since the year 2000, the population of West Palm Beach has increased by 36%, according to recent city-data. That means a lot more drivers are on the road now than there ever were in the area. And, with more drivers comes more risks. Having car insurance in West Palm Beach is the best way to make sure that you don't go broke because of an accident that results in excessive vehicle damage, hospital bills, or both.
Quick Facts
The average annual car insurance premium in West Palm Beach is $3,187, which is higher than the cost in most other Florida cities.
With an average of 27 natural disasters per year, Palm Beach County experiences almost twice as many as the rest of the country, which experiences an average of 15 per year.
How Much Does Car Insurance Cost in West Palm Beach?
Having car insurance in West Palm Beach is a legal requirement. Unfortunately, living in Florida means paying more for car insurance than residents of most other states. Full coverage costs an average of $1,548 per year for the average American. But living in Florida means you pay an average of $2,309 per year for full coverage. However, keep in mind that full coverage is not a legal requirement, but it can certainly save you money in the long run. The chart below illustrates how much residents of West Palm Beach pay in relation to other Florida cities.
| City | Average Annual Premium |
| --- | --- |
| West Palm Beach | $3,187 |
| Miami | $3,075 |
| Orlando | $2,302 |
| Tallahassee | $2,072 |
| Naples | $1,947 |
It may be shocking to see that car insurance in West Palm Beach is more expensive than in many other areas of Florida, but keep in mind that doesn't mean everyone in West Palm Beach will pay that price. Your marital status, driving history, age, and even good grades can influence what you'll pay if you're a student.
Additionally, the company you choose for your car insurance in West Palm Beach will determine what you pay, as some cost more than others. In fact, one competitor charges more than $1,000 per year than another popular competitor. So don't be discouraged when you get your first quote, and it's higher than you expected.
West Palm Beach Car Insurance Rates by Zip Code
Drivers who live in West Palm Beach pay more than the average Florida driver. Looking at Palm Beach County altogether, drivers spend an average of $2,507 per year for car insurance, which is over $400 more than the statewide average of $2,059.
One of the reasons for the higher premiums in West Palm Beach is the fact that the area gets so much traffic. Increased traffic amounts to increased insurance rates. There is a lot in West Palm Beach that attracts commuters: its nightlife, proximity to the airport and beach, numerous office buildings and apartments, and more. Downtown West Palm Beach has the highest insurance premiums, with Zip Code 33409 reaching an average of $2,784 per year.
Take a look at the table below for an idea of what drivers in West Palm Beach pay for car insurance depending on which zip code they live in, from statistics offered by USA Today Network News.
| ZIP Code | Average Premium |
| --- | --- |
| 33401 | $2,782 |
| 33403 | $2,430 |
| 33404 | $2,468 |
| 33405 | $2,782 |
| 33406 | $2,545 |
| 33407 | $2,490 |
| 33408 | $2,205 |
| 33409 | $2,784 |
West Palm Beach Car Insurance Rates by Age
The cost of car insurance by age in West Palm Beach changes quite a bit compared to the cost of car insurance by Zip code. And the difference between what an average teenager pays and what someone in their 50s pays is close to $5,000. Age plays a huge part in determining risk in car insurance.
| Age | Average Annual Premium |
| --- | --- |
| Teenagers | $8,956 |
| 20s | $4,020 |
| 30s | $3,180 |
| 40s | $3,128 |
| 50s | $2,974 |
| 60s | $3,011 |
| 70s | $3,681 |
While the figures in the chart above indicate what an average person in that age group pays, that doesn't mean you'll have to pay the same. For example, suppose you're worried about the steep price of insuring a teenager. In that case, you could purchase a used vehicle for them instead of a new one, as you won't be as concerned about buying collision or comprehensive insurance that protects the car if it is involved in a crash. It may be cheaper to either leave the vehicle damaged (providing it is just a fender bender and is still drivable) or to pay for the costs to fix it yourself if they're involved in an accident in an older vehicle. Purchasing the minimum required amount of insurance in West Palm Beach will ensure your teenager is driving legally while also being more affordable in the long run.
Driving Conditions in West Palm Beach
How Many Fatal Accidents Happen in West Palm Beach?
Like any city in America, fatal accidents occur in West Palm Beach. The most recent city data from 2019 indicated that there were 25 fatal accidents. Of those accidents, 27 people were killed. Ten of those people were pedestrians.
How Are the Road Infrastructure and Bridges in West Palm Beach?
West Palm Beach has 121 bridges. The West Palm Beach Department of Public Works maintains them, along with over 500 "lane miles" of city streets. West Palm Beach has walkable areas, such as downtown, but overall, the city has a walk score of 43, which makes it a "car-dependent" city.
In August of 2020, the mayor of West Palm Beach announced the completion of over $44 million in infrastructure improvements that included streetscaping, repaving, adding bike lanes, fixing lighting, and addressing congestion and safety issues at certain intersections. Although these improvements will make driving conditions better, drivers still need insurance in Florida.
Minimum Car Insurance Requirements in West Palm Beach
Florida is a no-fault state, meaning that if you get into an accident, you do not have to pay for the other driver's injuries or repairs, even if it is your fault. You do, however, need coverage for your own damage and injuries. This is considered PIP insurance (personal injury protection).
As a resident of West Palm Beach, you must meet Florida's minimum coverage requirements, meaning you must have $10,000 worth of PIP insurance. That doesn't mean you can't purchase more coverage than the minimum. In fact, you should invest in more protection considering how expensive car repairs and medical costs are today.
In addition, optional comprehensive insurance can pay for damages to a vehicle caused by events unrelated to collisions. And with the risk of hurricanes and tornadoes in Florida, this type of insurance is ideal.
Factors Allowed in West Palm Beach Car Insurance Rates
Many factors go into determining how much you will pay for car insurance in West Palm Beach. Those include age, gender, Zip code, and past citations and accidents, among other things. Additionally, if you live in Florida, car insurance companies can consider your credit history as a factor in determining your premium. Paying your bills on time and keeping your credit in good standing will help keep your premiums low. In fact, West Palm Beach, drivers with "very poor" credit (of between 300 and 579) can expect to pay 60% more for car insurance than drivers with "exceptional" credit (of 800 or higher).
Discounts for Car Insurance in West Palm Beach
Even though drivers who live in West Palm Beach— and Florida in general—pay more than drivers in other states, there are ways you can ensure you pay less for car insurance than you have to. Consider the following ways to get a discount on your car insurance in West Palm Beach:
Make a price comparison. Car insurance companies are not all the same. Some specialize in insuring drivers who are considered to be "risky," and they may be able to get you a much lower rate than you realize.
Ask! Don't assume your quote is final. You may find out that they will offer you a discount if you all your bill to be emailed to you instead of mailed by the post office, for example. Also, you may be able to get a discount if you park your car in a garage or you have an anti-theft device. Just ask, and they will be able to see which discounts you qualify for.
Keep your record clean. Driving safely and avoiding risky behavior reduces your risk of an accident. The more accidents and citations you have, the higher your premiums will be.
Bundle your other policies with your car insurance. If you have renters' insurance or home insurance, you may get a discount if you keep all your policies with the same insurance company.
Discounts for Car Insurance
While certain factors could increase your premiums, there are also discounts that could lower your premiums. These discounts are one of the best ways to lower your car insurance costs. Some of the most popular discounts available include:
What Are the Penalties for Driving Without Insurance in West Palm Beach?
When you buy a car in Florida and legally register it, you are required to show proof that you have at least $10,000 in PIP coverage. If you're caught driving without coverage in West Palm Beach, you will risk financial penalties as well as having your license revoked. Additionally, if your car insurance lapses because you failed to make payments, your insurance company will contact the Department of Highway Safety and Motor Vehicles to let them know that you don't have insurance. They can then suspend your license until you reinstate your insurance. In addition, they can charge you a reinstatement fee of $150 for your first offense.
Get a Quote for Car Insurance in West Palm Beach Today!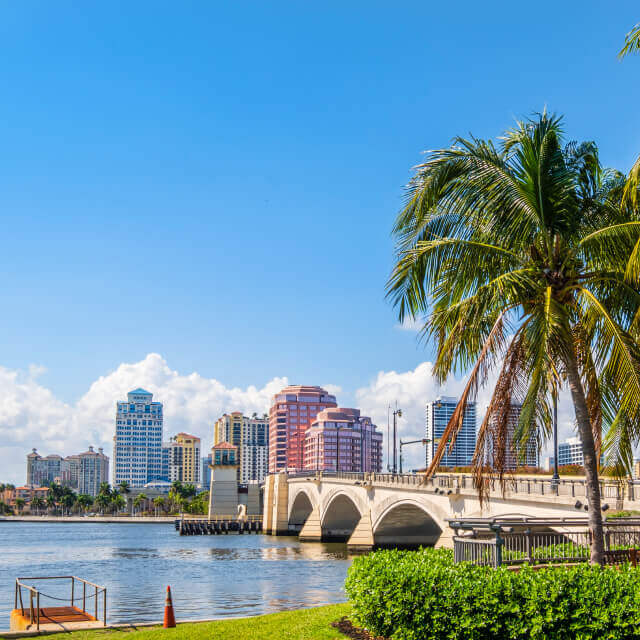 Whether you're looking for car insurance for the first time, or you're simply shopping around for better rates, you can easily and quickly get a quote online. If you prefer to speak with someone, you can visit a West Palm Beach office near you or call (800) 777-5620 for a quote.