Everything You Need to Know about Auto Insurance in Alaska
Fairbanks offers one of the more natural beauty spots in the country. It is located amid Alaska's wilderness and is close to revered nature preserves like Denali National Park. It is also a prime viewing spot for the Northern Lights. This natural phenomenon creates colorful green streaks throughout the night sky thanks to a unique energy-producing interaction between the Sun and Earth's magnetic fields.
Some of Fairbanks's most well-known attractions include the Museum of the North, Chena Hot Springs, Pioneer Park, Alaska Native Heritage Center, and the Morris Thompson Cultural Center.
If you want to drive legally in Alaska, you must have an auto insurance policy. For more information on car insurance in Alaska, including average premiums paid by zip code and available discounts, continue reading below.
How Much Does Car Insurance Cost in Fairbanks, AK?
The average monthly premium paid by Fairbanks residents for liability-only coverage is $30 versus $120 for full coverage. For perspective, the average monthly full coverage premium paid in the nation is $148, while the minimum liability is $47.
Getting a Free Auto Insurance quote with Freeway is easy!
Reasons Why Insurance is Expensive in Alaska
Auto insurance tends to be on the higher side in Alaska due to several reasons:
Sparse Population:

Alaska's large land area and low population density mean that auto accidents may take longer to be responded to and serviced. With towns spread out, critical resources such as repair shops and hospitals may be limited, leading to higher car insurance premiums.

High Cost of Living:

The overall high cost of living in Alaska contributes to higher auto insurance premiums. The increased expenses for repairs, medical bills, and other services required after an auto accident are reflected in the insurance premiums.

Limited Insurance Competition:

Compared to more densely populated states, Alaska has a smaller number of auto insurance providers. This lack of competition within the region can result in higher rates as insurers have less incentive to offer competitive prices.
Drivers in Alaska need to be aware of these factors and take steps to mitigate the costs. Shopping around for different insurance providers, maintaining a good driving record, and considering options for discounts and bundling policies can help drivers find more affordable auto insurance rates.
Remember, auto insurance premiums can also be influenced by individual factors such as driving history, age, type of vehicle, and coverage options. It's always recommended to compare quotes from multiple insurance companies to find the best coverage at the most competitive price for your specific circumstances.
Affordable Car Insurance Rates Comparison by Cities in Alaska
Check out our breakdown below for the average monthly premium paid in other Alaska cities:
| City | Full Coverage Insurance | Liability Insurance Coverage |
| --- | --- | --- |
| Fairbanks | $130 | $30 |
| Anchorage | $140 | $50 |
| Juneau | $100 | $30 |
| Sitka | $100 | $30 |
| Ketchikan | $100 | $30 |
Low-Cost Car Insurance Rates by Age in Fairbanks
Some zip codes have a higher risk associated with them than others. This is due to the number of accidents, claims, vandalism incidents, thefts, and other higher-risk behaviors in the region. But, again, remember population density and crime rates.
For the average monthly premium paid by Fairbanks residents by zip code, see our breakdown below:
| Zip Code | Full Coverage Insurance | Liability Insurance Coverage |
| --- | --- | --- |
| 99701 | $130 | $30 |
| 99702 | $120 | $30 |
| 99703 | $130 | $30 |
| 99705 | $130 | $30 |
| 99706 | $130 | $30 |
| 99707 | $130 | $30 |
| 99708 | $130 | $30 |
| 99709 | $130 | $30 |
| 99710 | $130 | $30 |
| 99711 | $130 | $30 |
| 99712 | $130 | $30 |
| 99714 | $120 | $30 |
| 99716 | $130 | $30 |
| 99775 | $130 | $30 |
Low-Cost Car Insurance Rates by Age in Fairbanks, AK
Age is one of the heaviest deciding factors insurance companies use to determine auto insurance premiums. Younger drivers under 25 are generally classified as higher risk, thanks to a lack of driving experience.
For the average monthly premium paid by Fairbanks residents by age, see our breakdown below:
| Age | Full Coverage Insurance | Liability Insurance Coverage |
| --- | --- | --- |
| Teenagers | $370 | $100 |
| 20s | $150 | $30 |
| 30s | $130 | $30 |
| 40s | $120 | $30 |
| 50s | $110 | $30 |
| 60s | $110 | $30 |
| 70s | $140 | $40 |
* Methodology: To calculate our average monthly premiums, we use the state minimum liability carrying a 30-year-old male. Premiums paid change from person to person depending on their age, gender, driving record, and dozens of other variables insurance companies use to determine your risk level.
Driving Conditions in Fairbanks, Alaska
How Many Fatal Accidents Happen in Fairbanks?
In 2020, there were four fatal road traffic accidents in Fairbanks involving five people, including one pedestrian.
How Are the Road Infrastructure and Bridges in Fairbanks?
Fairbanks has an active public works department responsible for more than 340 road lane miles. In addition, it maintains all city streets and utilities, including storm drain systems, snow removal, garbage collection, and City Vehicle maintenance.
One of its most significant initiatives is snow removal during the winter months. Thanks to Fairbanks's extreme weather, there is a crucial focus on snow plowing and removal. These initiatives go well into the spring months' work when it continues to snow.
Find an office near you to help with your auto insurance
Minimum Car Insurance Requirements in Fairbanks, AK
The minimum auto insurance requirements for Fairbanks drivers are:
Referred to as 50/100/25 coverage, these liability limits may not be enough in a serious at-fault accident. Therefore, we highly recommend purchasing additional coverage beyond the minimum. With the average cost of a new vehicle exceeding $40,000, a multi-vehicle pileup could eclipse Alaska's $25,000 in property damage liability per accident requirement.
What Are the Penalties for Driving Without Insurance in Fairbanks, AK?
Thanks to Alaska's Mandatory Insurance and Financial Responsibility Laws, everyone in the state must have an active auto insurance policy to drive legally. Failure to do so will result in the following:
$500 fine

90-day driver's license suspension for first offenders

1-year driver's license suspension for second offenders

3-year driver's license suspension if determined to be at fault in an accident

Standard $20 license fee

$15 road test retake fee

$100 reinstatement fee for first-time offenders

$250 reinstatement fee for second-time offenders
To reinstate your driving privileges, expect a file for an SR-22, a certificate of financial responsibility that guarantees you carry the minimum required liability insurance.
Remember, all Alaska drivers must carry $50,000 per person for injury liability, $100,000 per accident for bodily injury liability, and $25,000 per accident for property damage liability.
Factors Allowed in Fairbanks Car Insurance Rates
There are many factors auto insurance companies use to determine the premiums Fairbanks drivers pay, including:
Age

Gender

Vehicle make and model

Amount of

deductible

Liability limits

Enrollment in any discount programs
Remember that your premiums are subject to change based on life events. For example, switching to another make and model vehicle could cut your monthly premium by 20%. It's always a good idea to check with auto insurance companies to see what factors they use to determine the rates.
What Happens if I Damage Property?
If you damage someone else's property, such as a vehicle or house, your policy should cover the cost of damages up to specific limits. For instance, if you have $25,000 in property damage coverage, your auto insurance will pay out claims worth up to $25,000 before you are responsible for the rest.
Once you damage someone else's property, the following steps typically occur:
Filing a Claim:

Immediately after damaging someone's property, contact your insurance company to initiate the claims process. Provide them with all the details of the accident, including the date, location, and a clear description of what happened. If possible, provide photos or videos as evidence.

I

nvestigation:

Once your insurance company receives the claim, they will conduct an investigation. An adjuster may be sent to inspect the damage and provide estimates for repairs.

Coverage Compensation:

Once the adjuster has calculated the estimated cost of repair, you can proceed with repairs or replacement of the damaged property. It's important to note that you may be responsible for paying a deductible out of pocket, which is typically around $500 or $1,000.
It's crucial to promptly report the incident to your insurance company and provide accurate information to ensure a smooth claims process. Keep in mind that the specifics of the process may vary depending on your insurance company and policy terms. Reviewing your policy and understanding the coverage limits and deductibles related to property damage will help you navigate the situation effectively.
What are the Best Car Insurance Discounts in Fairbanks, AK?
There are many auto insurance discounts Fairbanks drivers can take advantage of to lower their premiums by a few dollars every month, including:
One of the most popular auto insurance discounts is low mileage, offered to drivers who drive less than the average number of miles per year.
Another popular discount is a safety discount, awarded to drivers who install daytime running lights, GPS tracking systems, anti-lock brakes, anti-theft devices, car alarms, and similar technology to risk-proof their vehicles.
Get an Online Quote for Car Insurance in Fairbanks Today!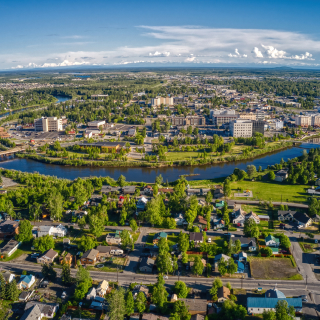 If you're looking for an affordable auto insurance policy, then Freeway Insurance has plenty of options for you to choose from.
It is effortless to get started with Freeway Insurance. You may visit us online, at a location near you, or call 800-777-5620 to receive a quote from one of our friendly agents. So get in touch with us today!
Select a Product or Service to request a quote
Ready to Get a Quick Quote?