Everything You Need to Know About Auto Insurance in Alaska
Just off the waters of the Gastineau Channel sits the city and borough of Juneau — the Frontier State capital, home to roughly 32,240 Alaskans. Located on the Alaskan panhandle, Juneau's been described as a mountain town and a coastal community. It's also considered the most scenic capital city in the United States.
Surrounded by natural wonders and wildlife that span roughly 3,255 square miles of land, Juneau can trace its rich cultural history back to 1881, when the area was named after a gold prospector called Joe Juneau. Nineteen years later, in 1900, it was incorporated as the city of Juneau, and in 1906, it became Alaska's capital. In addition to its rich history, this city is also steeped in art, music, and Native American heritage.
All Juneau drivers need auto insurance under Alaska state law. Keep reading to learn more about car insurance in Alaska, including the average monthly rates based on age, location, and other factors that influence this amount.
How Much Does Car Insurance Cost in Juneau, AK?
Drivers living in Juneau pay a monthly premium of around $27 for minimum liability, which the state requires. That's $8 less than the state average of $35 and $25 less than the national average of $52.
In Juneau, drivers with a full coverage policy typically pay around $103 in monthly premiums — $59 less than the state average of $162 and $65 less than the national average of $168.
What Does Full vs. Minimum Mean?
A full coverage policy consists of liability, collision, and comprehensive insurance. It covers policyholders if they cause a crash and others are injured or killed, if property damage results, or if someone else crashes into the driver. It will also help pay for damages to the driver's vehicle – even if they are at fault.
Minimum coverage is much more limited, offering the basic amount of coverage required Alaska. Juneau drivers need a minimum policy that includes $50,000 and $100,000 to cover any bodily injuries or deaths that occur in a crash and $25,000 in property damage.
Getting a Free Auto Insurance quote with Freeway is easy!
Affordable Car Insurance Rates Comparison by Cities in Alaska
This chart shows the average monthly auto coverage premiums drivers living in Juneau pay compared to those in other Alaskan cities.
| City | Full Coverage Insurance | Liability Insurance Coverage |
| --- | --- | --- |
| Juneau | $103 | $27 |
| Anchorage | $139 | $45 |
| Skagway | $104 | $26 |
| Wrangell | $103 | $26 |
| Ketchikan | $101 | $25 |
Affordable Juneau Car Insurance Rates by Zip Code
Where you live and drive regularly plays an important role in determining how much you'll pay in monthly premiums. Drivers who live and commute in congested urban areas often tend to pay a bit more for their policies than those who live in less populated areas, sticking to streets and roads that don't see a lot of traffic.
Here's a breakdown of how much Juneau residents who live in zip code area 99801 pay for full auto coverage and state-required liability compared to drivers in other Alaska zip codes.
| Zip Code | Full Coverage Insurance | Liability Insurance Coverage |
| --- | --- | --- |
| 99801 | $103 | $27 |
| 99502 | $139 | $45 |
| 99840 | $104 | $26 |
| 99929 | $103 | $26 |
| 99901 | $101 | $25 |
| 99709 | $128 | $31 |
| 99559 | $123 | $29 |
| 99835 | $103 | $26 |
| 99825 | $104 | $26 |
Low-Cost Car Insurance Rates by Age in Juneau
Age matters when it comes to auto coverage. Insurance companies use age as one factor to determine how much you'll have to pay monthly for your auto policy. Because teenagers have less experience on the road than adults, a policy that includes a 17-year-old driver will typically cost more.
The following chart lists average monthly auto coverage premiums by age in Juneau.
| Age | Full Coverage Insurance | Liability Insurance Coverage |
| --- | --- | --- |
| Teenagers | $339 | $93 |
| 20s | $115 | $30 |
| 30s | $99 | $26 |
| 40s | $96 | $25 |
| 50s | $87 | $24 |
| 60s | $94 | $26 |
| 70s | $109 | $33 |
Our city and zip code average rates are based on the following methodology: male, age 30, lowest possible legal coverage allowed by Alaska.
Driving Conditions in Juneau
How Many Fatal Accidents Happen in Juneau?
According to the National Highway Traffic Safety Administration, Juneau averages around one to two fatal crashes a year. In 2011, Juneau reported three crash-related fatalities, but NHTSA statistics show that more than two is a rare occurrence in this area.
How Are the Road Infrastructure and Bridges in Juneau?
While no roads connect Juneau to North America (ferries handle that), there are roads in and around the capital city and surrounding boroughs. These roads aren't just surrounded by Alaska's natural beauty; they also pose many risks, from avalanche hazards and steep slopes to freezing conditions that damage asphalt. These three factors, along with environmental protection initiatives, all factor into Juneau's road building and maintenance.
Built in 1981 to replace the original, the Juneau-Douglas Bridge spans the Gastineau Channel, connecting Juneau's eastern mainland side with the city's Douglas Island communities to the west. The Alaska Department of Transportation and Public Facilities oversees the maintenance and upkeep of this structure.
Minimum Car Insurance Requirements in Juneau
Juneau drivers must meet the minimum liability requirements for auto insurance that Alaska state law mandates. In Juneau and other Alaskan cities, drivers must have a policy that includes:
$50,000 to cover the injury or death of anyone involved in a crash caused by the driver, and $100,000 for two or more people.
$25,000 for property damage the driver causes.
What Are the Penalties for Driving Without Insurance in Alaska?
Alaska has mandatory insurance and financial responsibility laws that outline minimum coverage amounts and what happens to those caught driving without a policy in Juneau or any other area of the state.
By law, the Alaska Division of Motor Vehicles must suspend the license of any driver who fails to provide proof of liability auto insurance. The suspension can last anywhere between 90 days to one year, depending on other circumstances — like whether the person has been caught driving without proof of coverage in the past. If you're involved in a crash someone else caused and didn't have proof of insurance, your license will also be suspended.
Under Alaska law, the DMV must also revoke the person's privilege to drive or the privilege to obtain a driver's license if the person doesn't have one.
Aside from penalties, the driver will also face between $500 and $1,000 in fines. Their vehicle may be impounded, too, and they will need to file an SR-22 certificate, which will make their premium double or even triple.
Find an office near you to help with your auto insurance
Factors Allowed in Juneau Car Insurance Rates
Aside from your age and where you live, other factors are also considered when an agent calculates your monthly premium. These include:
Education
Vehicle type
Driving history
Deductible amount
Coverage amount
How the Benefits of Auto Insurance Help You Prepare for the Future
Beyond meeting state-mandated requirements, auto coverage has added benefits that most drivers don't understand until they need to tap into their policy. These benefits include:
Making small investments to avoid huge costs later. That monthly premium may not seem like much, but it adds up as months go by. And whether you cause it or someone else does, if you're ever involved in a serious crash, your coverage will help you address injury costs and property damage.
Protecting yourself and others. If you or a loved one included in your auto policy crashes, your policy will take care of any bodily injuries that everyone involved experiences. Ultimately, having auto coverage is an investment that ensures everyone's has protection.
Ensuring crash-related issues are resolved efficiently. Many drivers get bogged down negotiating claims after a crash happens. When you have coverage from a trusted insurance provider, you can address these issues efficiently, from covering injury and damage costs to towing your vehicle to a repair shop or replacing it.
Supplementing crash-related medical coverage. An auto policy can provide additional medical coverage that kicks in if you're hurt in a crash. It may also address medical expenses your health insurance doesn't cover.
What Are the Best Discounts for Car Insurance in Juneau, AK?
Auto insurance discounts help drivers save money. That's especially true if you're eligible for more than one.
Some discounts tend to be more popular than others in certain cities and towns. A few of the more popular ones in Juneau include:
Bundling your policies by buying more than one type of coverage from the same company is another great way to save money. By combining your auto coverage with home or renter's insurance, you get all the coverage you need at the best rate possible.
Get an Online Quote for Car Insurance in Juneau Today!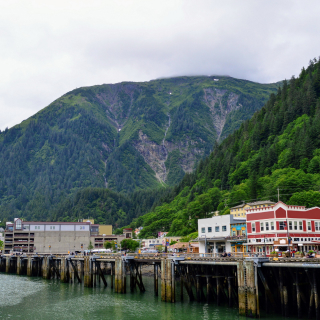 All Juneau drivers must have auto insurance coverage that meets Alaska's minimum liability requirements. Freeway Insurance can get you the best auto policy available at a reasonable price.
Get started with a quote online, visit us at an Alaska office near you, or call us at (800) 777-5620.
Select a Product or Service to request a quote
Ready to Get a Quick Quote?