Everything You Need to Know About Auto Insurance in Colorado
Located in Northern Colorado, Fort Collins is the fourth largest city in the state. It offers outstanding outdoor recreational opportunities and is home to more than 280 miles of trails (plus too many parks to count). Hikers will love Cache la Poudre Canyon and the nearby Rocky Mountain National Park with its rugged splendor, sprawling meadows, and mountainous scenery. Do you like beer? Well, close to 10% of the entire nation's craft beer is produced in Fort Collins.
All Fort Collins residents who drive must have auto insurance in Colorado. Failure to do so will result in fines and a suspension of your driver's license and registration until proof of insurance is provided. Keep reading to learn more about Fort Collins auto insurance, including the average rates paid by age/zip code and how you can save on your policy with Freeway Insurance.
How Much Does Car Insurance Cost in Fort Collins, CO?
In Fort Collins, drivers pay an average monthly premium of $110 for full coverage. It's a solid deal compared to larger cities like Denver ($140) and Colorado Springs ($140). For the state-required minimum liability, drivers pay an average of $46 per month, which is about the same as the national average of $47.
Get a Quote for Car Insurance in Colorado Today!
What Does Full vs Minimum Mean?
Full coverage is liability plus comprehensive and collision. Let's break that down. Liability insurance consists of bodily injury/death (BI) and property damage (PD). In most states, that's what your insurance will help you pay for if you cause an accident. But it won't pay anything for your damages and injuries.
Comprehensive helps pay for repairs to your vehicle after an incident such as hail, a tree falling on it, and theft. Collision helps you pay for repairs to your car (or to someone's fence) after an accident, no matter whose fault it is. Both of these protections help you pay for damage to your own vehicle.
Minimum is what your state requires you to carry. This is the cheapest insurance in Fort Collins. Here it consists of $25,000 BI for one person, $50,000 BI for all persons in one accident and $15,000 PD. This may sound like a good deal, but if you total someone's brand new Ferrari, $15,000 isn't going to go far. The rest will come out of your pocket (or if are successfully sued, seizure of your assets).
You can always increase the required minimum limits.
Car Insurance Rate Comparison for Colorado Cities
For the average monthly premium paid by Colorado cities, check out our breakdown below.
| City | Full Coverage Insurance | Liability Insurance Coverage |
| --- | --- | --- |
| Boulder | $146 | $48 |
| Broomfield | $152 | $51 |
| Colorado Springs | $176 | $53 |
| Denver | $189 | $63 |
| Westminster | $161 | $54 |
Affordable Car Insurance Rates by Zip Code in Fort Collins, CO
In Fort Collins, one zip code may pay a significantly higher average monthly premium than a neighboring zip code due to the area's theft rate, number of claims, demographic distribution, and other factors.
For the average monthly premium paid by Fort Collins residents by age, see our breakdown below.
| Zip Code | Full Coverage Insurance | Liability Insurance Coverage |
| --- | --- | --- |
| 80521 | $143 | $46 |
| 80524 | $146 | $46 |
| 80525 | $147 | $46 |
| 80526 | $146 | $47 |
| 80528 | $149 | $47 |
Low-Cost Car Insurance Rates by Age in Fort Collins, CO
Rates vary by age, as younger drivers will pay much higher premiums than older drivers due to a spottier driving record and lack of driving history.
For the average monthly premium paid by Fort Collins residents by age, see our breakdown below.
| Age | Full Coverage Insurance | Liability Insurance Coverage |
| --- | --- | --- |
| Teenagers | $553 | $192 |
| 20s | $168 | $53 |
| 30s | $145 | $46 |
| 40s | $149 | $46 |
| 50s | $139 | $44 |
| 60s | $141 | $46 |
| 70s | $159 | $57 |
Unless otherwise specified, we use the following methodology to arrive at our average cost: male, age 30, lowest possible legal coverage allowed by Colorado. Your rates will be determined by several factors, including your age, your gender and the amount of coverage you want to purchase.
Driving Conditions in Fort Collins, CO
How Many Fatal Accidents Happen in Fort Collins?
In 2019, there were eight fatal road traffic accidents in Fort Collins involving 11 vehicles and 17 people, including two pedestrians.
How Are the Road Infrastructure and Bridges in Fort Collins, CO?
The city of Fort Collins has an active Public Works department that works to maintain street, bridge and road infrastructure. Some of its responsibilities include installing and maintaining traffic lights, conducting road repairs, and making streets more bicycle-friendly.
For more information on Fort Collin's Public Works program, visit City of Fort Collins – Community Services.
Find an office near you to help with your auto insurance
Minimum Car Insurance Requirements in Fort Collins, Colorado
All Fort Collins, Colorado drivers are required to carry the following minimum liability limits:
$25,000 in bodily injury coverage per person
$50,000 in bodily injury coverage per accident
$15,000 in property damage liability car accident
It is recommended to go for full coverage over a state minimum policy if you can afford it. State minimum liability policies only provide third-party benefits, whereas full coverage extends benefits to first-party drivers for vehicle-to-vehicle, vehicle-to-object, rollover collisions, and damages caused by events outside of your control, like falling objects and hail.
Not to mention, Colorado's minimum liability for property damage is only $15,000, which is much less than the average cost of a new or used vehicle.
What Are the Penalties for Driving Without Insurance in Fort Collins, CO?
Driving without insurance in Fort Collins is not a good idea.
Off the bat, you will be assessed with a Class 1 misdemeanor if caught at a traffic stop without insurance. In addition, expect to pay a minimum $500 fine and a suspended driver's license and registration until you provide proof of insurance. On top of that, you will be required to file an SR-22 form for three years, proving to the state you are carrying the minimum necessary amount of insurance to drive legally.
Second and subsequent offenders will see even greater fines of up to $1,000 and possibly up to 40 hours of community service. You may also spend anywhere from 10 days to one year in jail, depending on the severity of the offense.
Regardless of the number of times you're caught driving without insurance, each offense will remove four points from your driving record.
Car Insurance Factors Allowed in Fort Collins, CO
There are many factors that auto insurance companies take into consideration when determining the premiums you pay.
Some of these factors include, but are not limited to, the following:
Age
Gender
Marital status
Zip code of residence
Driving record
Number of miles driven annually
Liability limits elections
Deductibles
What Happens if I Damage Property?
If you damage someone's property, such as a fence or a mailbox, while driving in Fort Collins, you'll be expected to pay for the repairs. This applies, as well, to property owned by the government, such as a public mailbox.
In most cases, your property damage liability will pay up to your policy limits to repair the damaged item. However, the repairs to your own vehicle will only be covered if you have collision insurance.
If the repair costs are greater than your policy limits, you'll be expected to cover the remainder out of pocket.
What are the Best Discounts for Car Insurance in Fort Collins, Colorado?
Fort Collins drivers can take advantage of discounts to save a few dollars each month on auto premiums.
Some of these discounts include but are not limited to
One of the most popular auto insurance discounts available to Fort Collins drivers is the "Good Driver" discount. This is typically awarded to drivers who have maintained a clean driving record for the past three to five years. Other popular discounts include enrolling in auto-pay/paperless billing, usage-based (low mileage), and policy-based discounts.
Policy-based discounts toward drivers on structuring their policy in a certain way, such as paying an annual premium upfront or enrolling in auto-pay and paperless billing.
Get a Quote for Low-Cost Car Insurance Online in Fort Collins, CO Today!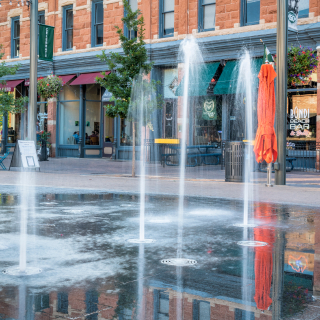 Now that you know everything there is to know about auto insurance in Fort Collins, allow Freeway Insurance to help you find the best policy for you and your fellow passengers.
For more information on Freeway insurance's auto insurance policies, you may contact us in three ways. Feel free to request a quote online, visit a Fort Collins office near you or call 800-777-5620 for one of our friendly representatives to go over your coverage options.
Select a Product or Service to request a quote
Ready to Get a Quick Quote?