Located just east of the Rocky Mountains, Denver is the capital city of Colorado. It has about 735,000 residents and was named one of the best places to live in the United States by U.S. News & World Report in 2019.
Quick Facts
The average cost of car insurance in Denver is $2,232.
Undocumented immigrants can get driver's licenses in Colorado.
How Much Does Car Insurance Cost in Denver?
In Denver, car insurance costs are considerably higher than the rest of Colorado. The average annual premium for car insurance in Denver is $2,232, while the Colorado state average is $1,757. Denver car insurance is above the U.S. national average of $1,548.
On average, you will pay about $186 per month for car insurance in Denver.
Car insurance premiums in Aurora are slightly higher than in Denver. Otherwise, most Colorado cities have lower car insurance premiums than Denver.
| City | Average Car Insurance Cost |
| --- | --- |
| Denver | $2,232 |
| Aurora | $2,281 |
| Colorado Springs | $2,178 |
| Boulder | $1,861 |
| Fort Collins | $1,773 |
Denver Car Insurance Rates by Zip Code
The zip code you live in can impact how much your car insurance will cost. There are 132 different zip codes in the Denver-Aurora-Lakewood metro area, and each one can be subject to different auto insurance rates. Other factors about the zip code area, such as the number of accidents or car thefts, also affect the car insurance rates.
Here are the average car insurance premiums annually for minimum coverage in Denver.
| Zip Code | Average Car Insurance Cost |
| --- | --- |
| 80247 | $1,205 |
| 80230 | $1,144 |
| 80224 | $1,111 |
| 80229 | $1,002 |
| 80219 | $1,174 |
| 80231 | $1,113 |
| 80123 | $967 |
Denver Car Insurance Rates by Age
Your age is a significant determining factor in how much you will pay for car insurance in Denver. For example, if you're a teenager who's just gotten your driver's license, you'll pay a whopping $7,010 per year on car insurance in Denver.
Your insurance rates will also be higher after you reach 70 than what you paid when you were in your 40s, 50s, and 60s.
| Age | Average Car Insurance Cost |
| --- | --- |
| Teens | $7,010 |
| 20 Years | $2,472 |
| 30 Years | $1,899 |
| 40 Years | $1,843 |
| 50 Years | $1,736 |
| 60 Years | $1,761 |
| 70 Years | $2,093 |
Driving Conditions in Denver
How Many Fatal Accidents Happen in Denver?
In 2020, there were 50 fatal car accidents in Denver, 17 of which were caused by an impaired driver under the influence of drugs or alcohol.
The Colorado Department of Transportation's Strategic Transportation Safety Plan aims to reduce accident fatalities by 15% between 2020 and 2023.
How Are the Road Infrastructure and Bridges in Denver?
Overall, the state of Colorado gets a C- on the highways and roads that make up its infrastructure, according to the American Society of Civil Engineers (ASCE). About 44 percent of roads are in good condition, which is better than the national average. But the state's growing population threatens to strain the existing infrastructure.
In 2017, Denver adopted the Mobility Action Plan with the goal to reduce single-occupant commuters to 50% and increase the number of people walking, biking, or taking public transit to get to work.
Minimum Car Insurance Requirements in Denver
Drivers in Colorado are required to have a minimum 25/50/15 liability coverage. That is:
$25,000 bodily injury liability per person
$50,000 bodily injury liability per accident
$15,000 property damage liability per accident
Without insurance, an accident can cost you fines for not having insurance. You may also face a lawsuit that could cost even more in court costs and attorneys fees.
Factors Allowed in Denver Car Insurance Rates
When looking for cheap car insurance in Denver, it's important to know what factors insurance companies look at to determine your pay rate. Things you don't have control over, such as your age and gender, can impact your car insurance rates just as much as things you can control, like your driving record and credit score.
In Colorado, the factors car insurance companies can look at when determining your rates are:
Age
Gender
Marital status
Credit score
Vehicle make, model, and year
Insurance history
Driving record
Location
Driving frequency
Colorado also allows insurers to determine whether you use your vehicle for business to figure out your premium.
Discounts for Car Insurance in Denver
Drivers in Denver could save up to 30% on their car insurance through a Good Driver Discount if they have a clean driving record with no speeding tickets or at-fault accidents for three years,
Other discount programs in Denver can help bring down the cost of your car insurance premiums. Some of these discounts include:
Good Student Discounts – Young drivers who maintain a "B" average or higher in school can receive up to a 20% discount.
Continuously Insured Discount – If you've been insured for six months or more and haven't let your policy lapse, then you may be eligible for this discount.
Driver Education – Drivers over age 50 qualify for a discount on their car insurance if they complete a defensive driving course.
Vehicle Safety Discount – You could be eligible for a discount if your car has certain vehicle safety equipment such as anti-lock brakes, airbags, and anti-theft devices.
Colorado is one of several states that prohibits insurance companies from offering customer loyalty discounts that reward customers for not switching companies.
What Are the Penalties for Driving Without Insurance in Denver?
Driving without the minimum liability coverage mandated by Colorado state law can result in some serious penalties in Denver. The offense is considered a Class 1 misdemeanor which could get you $1,000 or more in fines, a year in jail, a suspended driver's license for up to eight months, and up to 40 hours of community service.
Drivers without insurance in Denver will also get four points on their driver's license. Accumulating points on your driver's license can lead to the suspension of your license. To have your driving privileges reinstated after being suspended, you'll have to file an SR-22 or Certification of Financial Responsibility, which shows that you have obtained legal insurance coverage.
Get a Quote for Car Insurance in Denver Today!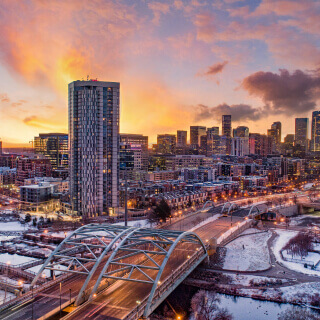 Colorado state law requires you to have a minimum amount of liability coverage. Finding a cheap car insurance plan that provides you with at least the minimum coverage required will end up costing you less down the road. Consequences of driving without insurance usually involve an increase in your insurance costs, as well as the possibility of losing your driver's license.
Contact Freeway Insurance today. Get started with a quote online, visit us at a Denver office near you, or call us at (800) 777-5620 for a quote.