Everything You Need to Know about Auto Insurance in Delaware
Located in central Delaware, Dover is one of the state's most underappreciated cities. It is best known as the site of the Dover International Speedway, one of NASCAR's most popular racing destinations.
Some of Dover's top attractions include the Air Mobility Command Museum, Delaware Agricultural Museum and Village, and John Dickinson Plantation.
All Dover drivers must have an active auto insurance policy to drive in the region. Failure to do so will result in a six-month license/registration suspension and fines of up to $4,000, along with plenty of aggravation and headaches. Keep reading to learn more about car insurance in Delaware, including average premiums paid by age/gender, the state's minimum required liability limits, and discounts.
How Much Does Car Insurance Cost in Dover, DE?
Dover residents pay an average monthly premium of $170 for full coverage and $70 for state-required minimum coverage.
For perspective, residents of comparatively sized cities such as Wilmington and Newark see average monthly rates of $130 and $140 for full coverage, respectively.
Get a Quote for Car Insurance in Delaware Today!
What Does Full vs. Minimum Mean?
There are many types of auto insurance coverage. Two of the most popular types include state minimum liability and full coverage.
State minimum liability coverage comprises the bare minimum amount of liability required by Delaware, consisting of bodily injury and property damage liability up to specified liability limits required by state law.
In turn, full coverage provides greater protection, packaging liability, collision, and comprehensive coverage together, which covers the cost of damages due to collision and non-collision events like falling tree limbs, theft, and vandalism.
Full coverage is preferred over a state minimum liability policy due to its increased protections (including first-party benefits, not solely third-party benefits), as well as protection for your vehicle. Remember, your liability-only policy will not pay out any claims to repair or replace your vehicle if it gets damaged in an accident.
Affordable Car Insurance Rates Comparison by Cities in Delaware
For the average monthly premium paid in other cities throughout Delaware, check out our breakdown below:
| City | Full Coverage Insurance | Liability Insurance Coverage |
| --- | --- | --- |
| Dover | $170 | $70 |
| Wilmington | $260 | $100 |
| Newark | $210 | $90 |
| Bear | $200 | $80 |
| Georgetown | $160 | $60 |
Affordable Car Insurance Rates by Zip Code in Dover, DE
One factor insurance companies use to determine the rates is location. ZIP codes with a higher theft and claims volume will see higher premiums than sparsely populated zip codes with little claims volume. Do not forget population density and crime rates. That's why Chicago and Philadelphia residents will typically see higher premiums than residents from rural areas.
For the average monthly premium paid by Dover residents by zip code, you can see our breakdown below:
| Zip Code | Full Coverage Insurance | Liability Insurance Coverage |
| --- | --- | --- |
| 19901 | $170 | $70 |
| 19902 | $160 | $60 |
| 19903 | $170 | $70 |
| 19904 | $170 | $70 |
| 19905 | $170 | $70 |
| 19906 | $170 | $70 |
Low-Cost Car Insurance Rates by Age in Dover, DE
One key factor that can affect auto insurance premiums is age. Generally, younger drivers pay higher insurance premiums than older drivers, thanks to the higher likelihood of being involved in accidents, non-existent driving records, and overall higher claims volume.
For the average monthly premium paid by Dover residents by age, see our breakdown below:
| Age | Full Coverage Insurance | Liability Insurance Coverage |
| --- | --- | --- |
| Teenagers | $720 | $300 |
| 20s | $200 | $80 |
| 30s | $170 | $70 |
| 40s | $160 | $70 |
| 50s | $150 | $60 |
| 60s | $150 | $60 |
| 70s | $180 | $80 |
Methodology: To arrive at the average monthly premiums paid by Dover drivers, we used a 30-year-old male with Delaware's minimum liability requirements. Many factors determine the premiums you pay, including but not limited to your age, gender, zip code, amount of deductible, and liability limits.
Driving Conditions in Dover, DE
How Many Fatal Accidents Happen in Dover?
In 2019, there were five traffic accidents in Dover involving ten vehicles and 11 people, resulting in five fatalities.
How Are the Road Infrastructure and Bridges in Dover, Delaware?
Dover has an active Public Works Department focusing on all aspects of road infrastructure and bridges. In addition, it is responsible for maintaining all city streets with pavement repair/maintenance, repainted street markings, traffic control, storm drain management, and sewer line repairs.
For more information on Dover's Public Works Department, visit the City of Dover, Delaware – Public Works.
Minimum Car Insurance Requirements in Dover, Delaware
All drivers in Dover must carry the following minimum liability coverage:
Bodily injury liability helps pay for the cost of lost wages, medical expenses, and other damages incurred by another person in an accident you cause. Property damage liability pays for damages caused to another person's vehicle or property.
We highly recommend carrying higher liability limits than required by Delaware law. Higher limits and additional coverage options, such as roadside assistance, and rental car reimbursement contribute to less out-of-pocket costs and better protection.
What Are the Penalties for Driving Without Insurance in Dover, DE?
Unfortunately, Delaware drivers caught driving without an active auto insurance policy will result in a driver's license/registration suspension, fines, and even steeper penalties for second and subsequent offenses.
First-time, second, and subsequent offenders will see:
Fines from $1,500 up to $4,000
Six-month driver's license suspension
$50 driver's license/registration reinstatement fee
Find an office near you to help with your auto insurance
Car Insurance Factors Allowed in Dover, DE
There are many factors auto insurance companies use to determine your "risk level," or likelihood of future claims payouts. Behind their proprietary underwriting criteria, several factors used include but are not limited to the following:
Age
Gender
Zip code
Occupation
Driving record
Type of vehicle
Credit score
Outside of demographics and driving record, other factors that affect your premiums include how your policy is structured. For example, state minimum liability policies cost much less than full coverage, as it only provides third-party, not first-party, benefits like collision and comprehensive coverage. In addition, raising your deductible from $500 to $1,000 can help lower your premiums, thanks to higher out-of-pocket costs passed on to the policyholder.
Here's What You Need to Know When Driving in Delaware
Unfortunately, Delaware has a high estimated percentage of uninsured motorists. According to the Insurance Information Institute (2019), roughly 8.5% of Delaware drivers are uninsured. As a result, we highly recommend carrying uninsured/underinsured motorist coverage, which pays for medical bills, lost wages, and other damages up to specified policy limits when in an accident with an at-fault uninsured driver.
Discounts for Car Insurance in Dover, Delaware
One of the best ways to save on auto insurance is via discounts.
Here are some of the more popular discounts available:
A Good Driver discount is also awarded to drivers who maintained a clean driving record for the past three to five years with no claims, traffic violations, or other high-risk behaviors insurers frown upon.
Another popular discount is a safety discount. In exchange for installing anti-lock brakes, daytime running lights, and other "risk-proofing" in-vehicle devices, drivers can save as much as 5% off their next premium.
Do not forget the telematics discounts. By allowing your auto insurance company to track your driving behavior (e.g., location, speed, heartbreaking, and mileage), expect savings of as much as 20% off your premium. Some insurers may even offer initial discounts simply for signing up with additional discounts based on program progress.
All in all, there is no shortage of discounts available to Dover drivers.
Get an Online Quote for Low-Cost Car Insurance in Dover, DE Today!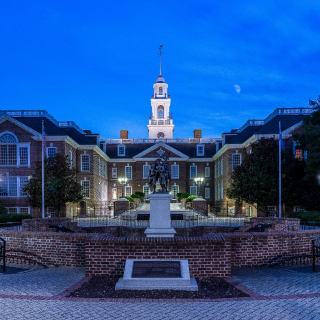 If you want to qualify for lower rates, give Freeway Insurance a chance.
Get started with a quote online, visit a Dover office near you, or call one of our friendly agents at 800-777-5620. We look forward to helping you navigate the complex world of auto insurance!
Select a Product or Service to request a quote
Ready to Get a Quick Quote?