LLocated just northeast of Phoenix, Scottsdale is often associated with upscale resorts and golf clubs, as well as the need for auto insurance. But the city is also an excellent destination for anyone looking for great restaurants, fine art and architecture, and proximity to outdoor adventures in the Sonoran Desert all year-round. As the fifth-largest city in Arizona, Scottsdale offers all the amenities you'd expect in a larger city while still having a "small-town" feel.
Quick Facts
Scottsdale aims to completely update its transportation network by 2030 with a master plan that includes upgrading existing roads and providing more options for public transit riders, cyclists, and pedestrians.
Drivers in Scottsdale pay less for car insurance compared to other large cities in Arizona.
How Much Does Car Insurance Cost in Scottsdale
Car insurance in Arizona is among the cheapest in the U.S., but with an average annual cost of $4,188, car insurance rates in Scottsdale are among the highest in Arizona. However, compared to the average annual car insurance rate in other major cities in Arizona, car insurance rates in Scottsdale are on the low end. Below are average car insurance rates in a few of Arizona's largest cities:
| City | Average Annual Premium |
| --- | --- |
| Scottsdale | $4,188 |
| Glendale | $4,564 |
| Phoenix | $4,801 |
| Mesa | $4,198 |
| San Tan Valley | $4,138 |
| Tempe | $4,203 |
Scottsdale Car Insurance Rates by Zip Code
Believe it or not, where you live in Scottsdale affects your car insurance rate. Here are what drivers in different parts of Scottsdale can expect to pay on average per year for car insurance.
| Zip Code | Average Annual Premium |
| --- | --- |
| 85251 | $4,313 |
| 85260 | $4,250 |
| 85257 | $4,216 |
| 85254 | $4,397 |
| 85255 | $4,077 |
| 85258 | $4,127 |
| 85250 | $4,285 |
| 85259 | $4,341 |
| 85262 | $3,923 |
| 85266 | $4,083 |
Scottsdale Car Insurance Rates by Age
The average car insurance rate in Arizona depends on driver age as well as gender.
| Age | Female | Male |
| --- | --- | --- |
| 17 | $7,284 | $8,652 |
| 25 | $2,592 | $2,832 |
| 35 | $2,364 | $2,376 |
| 60 | $2,148 | $2,232 |
Men in Arizona can expect to pay more than women for car insurance, with younger men paying much more for their car insurance than women the same age.
Driving Conditions in Scottsdale
How Many Fatal Accidents Happen in Scottsdale?
In 2018, there were 4,526 car crashes in Scottsdale, of which 24 were fatal. Included in these statistics are 228 alcohol-related car crashes, of which 10 were fatal.
How Are the Road Infrastructure and Bridges in Scottsdale?
Scottsdale's highway access is via Arizona State Route 101, a loop highway that surrounds Phoenix and connects Scottsdale with other nearby suburbs.
Local streets and roads in Scottsdale are maintained and operated by the City of Scottsdale Transportation Department. Over the past years, Scottsdale has experienced very high growth. The city responded by adopting a Transportation Master Plan to ensure the city's transportation infrastructure can keep up with future growth.
In 2020, the American Society of Civil Engineers (ASCE) released a report rating Arizona's infrastructure with a C. Given that Arizona has the third-highest population growth in the U.S., the ASCE report stresses the need to improve infrastructure to address future demand.
Minimum Car Insurance Requirements in Scottsdale
Drivers in Scottsdale must maintain the minimum car insurance required in Arizona, which is:
$25,000 bodily injury liability for one person and $50,000 for two or more people
$15,000 in property damage liability
Factors Allowed in Scottsdale Car Insurance Rates
If you live in Scottsdale, then your car insurance rate will depend on a variety of factors in addition to your zip code. Other factors that affect car insurance rates in Scottsdale include:
Age
Gender
Marital status
Driving history
Discounts for Car Insurance in Scottsdale
On average, drivers in Arizona pay some of the lowest average car insurance premiums in the U.S. Drivers in Scottsdale can reduce their car insurance premiums even further if they:
Maintain a clean driving record (no speeding tickets, DUIs, etc.)
Have no accidents or other car insurance claims
Have good credit
Have multiple policies with the same insurance company, such as home insurance
What Are the Penalties for Driving Without Insurance in Scottsdale?
It is required by law for all drivers in Arizona to carry the minimum required car insurance coverage. Scottsdale drivers who are caught without valid insurance can face suspension of driving privileges for up to a year and fines of up to $1,000. In addition, the state will likely require the driver to file an SR-22 certificate of financial responsibility, which itself will lead to higher car insurance premiums and annual filing fees.
Get a Scottsdale Car Insurance Quote Today!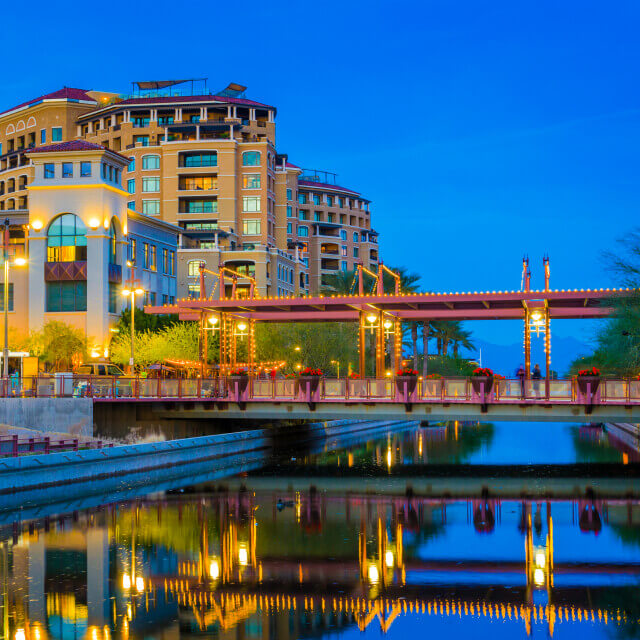 The penalties for being caught without car insurance in Scottsdale are strict; even first-time offenders may be required to file an SR-22 form for two years. At the same time, car insurance rates in Scottsdale are among the lowest in the country. It just makes sense to keep an active car insurance policy in Scottsdale. Get started with a quote online, visit one of our local Scottsdale offices, or give us a call toll-free at (800) 777-5620 for a quote today.