Mesa, Arizona, is considered a suburb of Phoenix, the state capital, but with almost half a million residents, it's also a city in its own right. Famous attractions include the nearby Tonto National Forest, the Arizona Museum of Natural History, and the Mesa Grande Cultural Park, home to an ancient ceremonial mound and artifacts of the Hohokam people. Despite being in the middle of the Sonoran Desert, Mesa attracts travelers looking for water adventures in the area's nearby lakes and rivers.
Keep reading to learn more about cheap car insurance in Mesa, plus ways to lower your premium through discounts and information about how much insurance you should carry to be legal and protected.
Quick Facts
With over 300 days of sunshine per year, drivers in Mesa rarely need to worry about adverse driving conditions
A light rail system connecting Mesa to Phoenix and nearby suburbs helps alleviate commuter traffic
How Much Does Car Insurance Cost in Mesa
Although car insurance in Arizona is among the cheapest in the U.S., drivers in Mesa pay some of the highest car insurance rates in the state, with an average annual cost of $4,198. That said, when compared to car insurance rates in other major cities in Arizona, car insurance rates in Mesa are on the lower end.
Here are average car insurance rates in other major cities in Arizona:
| City | Average Annual Premium |
| --- | --- |
| Mesa | $4,198 |
| Glendale | $4,564 |
| Phoenix | $4,801 |
| San Tan Valley | $4,138 |
| Scottsdale | $4,188 |
| Tempe | $4,203 |
Mesa Car Insurance Rates by Zip Code
Most insurance companies consider location when calculating insurance premiums, and Mesa is no different. Below are what drivers in a few parts of Mesa can expect to pay on average per year for car insurance:
| Zip Code | Average Annual Premium |
| --- | --- |
| 85204 | $4,436 |
| 85201 | $4,305 |
| 85205 | $4,156 |
| 85209 | $4,088 |
| 85206 | $4,101 |
| 85207 | $4,007 |
| 85202 | $4,248 |
| 85208 | $4,126 |
| 85210 | $4,287 |
| 85203 | $4,260 |
Mesa Car Insurance Rates by Age
In Arizona, average car insurance rates are different depending on driver age and gender.
| Age | Female | Male |
| --- | --- | --- |
| 17 | $7,284 | $8,652 |
| 25 | $2,592 | $2,832 |
| 35 | $2,364 | $2,376 |
| 60 | $2,148 | $2,232 |
Male drivers in Arizona can expect to pay more than women for car insurance, with younger men paying much more for their car insurance than women the same age.
Driving Conditions in Mesa
How Many Fatal Accidents Happen in Mesa?
Out of 7,641 total car crashes in Mesa in 2018, 35 were fatal. Of these, 321 car crashes and 11 fatalities were due to alcohol.
How Are the Road Infrastructure and Bridges in Mesa?
Mesa is conveniently located near several major highways in the greater Phoenix area, including Highway 60, State Route 101, and (indirectly) Interstate 10.
The City of Mesa Transportation Department manages, maintains, and operates local streets and roads. Like many cities in the area, Mesa has seen explosive growth over the past years. The current transportation plan includes bike and pedestrian programs to alleviate car traffic and improve the health of its citizens.
The American Society of Civil Engineers (ASCE) released a report in 2020 that rated Arizona's infrastructure with a C. The report noted that Arizona has the third-highest population growth in the U.S., and the state needs to do more to improve current road infrastructure to address current as well as future demand.
Minimum Car Insurance Requirements in Mesa
$25,000 bodily injury liability for one person and $50,000 for two or more people
$15,000 in property damage liability
Factors Allowed in Mesa Car Insurance Rates
For drivers in Mesa, car insurance rates depend on several factors, including:
Zipcode
Age
Gender
Driving history
Credit score
Discounts for Car Insurance in Mesa
Though car insurance rates in Mesa are high compared to the rest of Arizona, drivers in Mesa can reduce their car insurance premiums if they:
Keep a clean driving record without any speeding tickets, DUIs, or other traffic violations
Have no accidents or other car insurance claims
Have a high credit score
Purchase other policies from the same insurance company, such as home insurance
What Are the Penalties for Driving Without Insurance in Mesa?
Arizona requires that all drivers in the state carry the minimum required liability insurance coverage. Drivers who are caught without proof of adequate insurance coverage can have their license suspended for up to a year and face fines of up to $1,000. It's also likely that the state will require the driver to file an SR-22 certificate of financial responsibility, which will have long-term effects on your car insurance premium costs.
Get a Mesa Car Insurance Quote Today!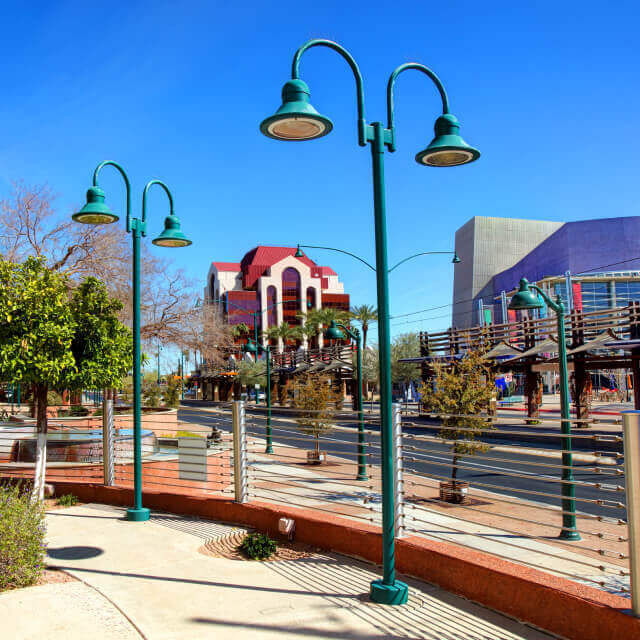 Mesa drivers without car insurance can find themselves in a lot of trouble. Arizona is known for having some of the strictest penalties for drivers caught without adequate car insurance coverage. Even first-time offenders in Mesa may be required to file an SR-22 form for two years. As a result, even a short lapse in car insurance coverage can cause years of higher car insurance premiums. Luckily, car insurance rates in Mesa are some of the lowest in the country. Get started with a quote online, visit one of our local Mesa offices, or give us a call toll-free at (800) 777-5620 for a quote today.