Flagstaff is one of northern Arizona's most popular cities, and when visiting this beautiful area, it's important to remember to have proper auto insurance. Nestled in the high country mountains, Flagstaff is steeped in Native American traditional and natural wonders, starting with its "International Dark Sky City" designation that makes it one of the best cities in the country to stargaze with its exceptionally clear skies.
The city is also located within the world's largest Ponderosa Pine forest with several neighboring national parks. A stone's throw away is Grand Canyon, another archeological wonder. From the Wupatki National Monument to the Sunset Crater Volcano National Monument, Flagstaff offers a little bit of everything for nature lovers. Downtown Flagstaff is located along historic Route 66, a mecca for those on road trips.
Quick Facts
The average cost of full coverage car insurance in Flagstaff is $1,656 per year.
In 2020, there were 4 reported fatal accidents in Flagstaff, out of a total of 1,035 crashes. Seventy-three of those crashes were alcohol related.
Visitors come from across the world to drive Route 66, America's "Main Street".
How Much Is Car Insurance in Flagstaff, Arizona?
On average, car insurance in Flagstaff costs $1,656 for full coverage and $504 for state-required minimum coverage per year. This is just slightly lower than the national average of $1,674 and a little above the state average of $1,547. The amount you pay in Arizona car insurance will depend on several factors, most notably your age, gender, zip code of residence, and claims record.
Other factors that go into determining your auto insurance premiums include the make/model of the vehicle you drive, credit history, marital status, and safe driving behaviors. For example, some insurers reward the insured with lower rates if they prove their vehicle has anti-theft devices or anti-lock brakes.
Arizona is an at-fault state, which means if you caused the accident, you are on the hook for the property damage of anyone else involved. The state-required minimum liability pays for those costs up to your policy limit. Any damage you sustain – to yourself or your property – comes out of your pocket, in addition to anything left over after your insurance has paid the other party.
On the other hand, full coverage pays for the other party's bills, as well as your own, if you are at fault. In the event of an accident, you do not want to be on the hook for medical bills, court fees, and countless headaches. Thankfully, there are many steps you can take to reduce your premiums that are within your control.
Flagstaff Car Insurance Rates by Zip Code
Zip code is a determining factor on your car insurance premium. The higher the theft and incident rate in a select zip code, the higher the rates. Since Flagstaff only has 4 zip codes, there's not much difference between them.
Flagstaff has four zip codes. Here are the average monthly rates for each zip code:
| Zip Code | Average Monthly Car Insurance Rate Full Coverage/Minimum |
| --- | --- |
| 86001 | $125/$38 |
| 86004 | $124/$38 |
| 86005 | $122/$38 |
| 86011 | $138/$42 |
Flagstaff Car Insurance Rates by Age
Age is a major determining factor when calculating insurance rates. Teenagers and drivers in their 20s typically pay higher insurance premiums due to a riskier driving profile compared to drivers in their 30s, 40s. and 50s. For example, teenagers in Flagstaff can expect to pay an average monthly rate of $600, which pales in comparison to drivers in their 50s with an average $127 monthly rate.
| Age | Average Monthly Car Insurance Rate Full Coverage/Minimum |
| --- | --- |
| 18 | $521/$168 |
| 20s | $308/$96 |
| 30s | $138/$42 |
| 40s | $135/$42 |
| 50s | $127/$40 |
| 60s | $123/$39 |
| 70s | $136/$46 |
*Unless otherwise specified, we use the following methodology to arrive at our average cost: male, age 30, lowest possible legal coverage allowed by state. Your rates will be determined by several factors, including your age, your gender and the amount of coverage you want to purchase.
Driving Conditions in Flagstaff
How Many Fatal Accidents Happen in Flagstaff?
In 2020, there were 4 reported fatal accidents in Flagstaff, out of a total of 1,035 crashes. There were 328 people injured. Seventy-three of those crashes were alcohol related. In 2020, Arizona estimates it had $17.193 billion in economic loss due to motor vehicle crashes.
How Are the Road Infrastructure and Bridges in Flagstaff?
Flagstaff roads and infrastructure are constantly undergoing revision. According to the City of Flagstaff Construction Information page, there have been numerous road repair and street safety projects over the years to address underground water, storm drain, and pavement stripping issues. Other areas of focus include the reopening of key bus routes and various utility and roadway improvements.
Get a Quote for Car Insurance in Arizona Today!
Minimum Car Insurance Requirements in Flagstaff
Arizona is an at-fault state, meaning the driver determined to be at fault for an accident is expected to pay for all damages. This means any opposing parties can file claims using the at-fault driver's insurance provider. However, at-fault Arizona drivers are entitled to some protections where they can still be eligible for compensation, depending on their share of the liability.
In Arizona, the state minimums are:
If you lease a vehicle, your finance company may require that you obtain full insurance coverage. As a rule of thumb, the lower the deductibles and the higher the coverage limits, the more protection you have in the event of an accident.
Factors Allowed in Flagstaff Car Insurance Rates
Many factors influence your car insurance rates and different states allow insurance companies to use different determining factors when charging you for insurance.
Some factors allowed to determine car insurance rates in Flagstaff include your age, gender, zip code of residence, claims history, marital status, applied discounts, and credit score.
Keeping a safe driving record and calling your insurance company regularly to see what discounts you may qualify for is a safe bet to keeping insurance rates low.
Discounts for Car Insurance in Flagstaff
Demographics (e.g., good student, current homeowner)
Equipment-related (e.g., installation of anti-lock brakes and various safety/restraint systems)
Be sure to call your insurance company to see if you are eligible for any discounts.
What Are the Penalties for Driving Without Insurance in Flagstaff?
Expect some serious penalties and a lot of headaches if you are caught driving without insurance in Flagstaff. For starters, getting caught will result in having your driver's license suspended for up to a year on top of fines of up to $1,000, possible suspension of plates and registration and the required filing of SR-22 insurance, which stays on file for three years.
If there is more than one offense on your record, expect penalties to increase, such as fines jumping from $500 to $750 for a second offense.
Your insurance company in Arizona is required to notify Arizona Motor Vehicle Department of all policy cancellations, non-renewals and new policies.
Get a Cheap Car Insurance Quote in Flagstaff Today!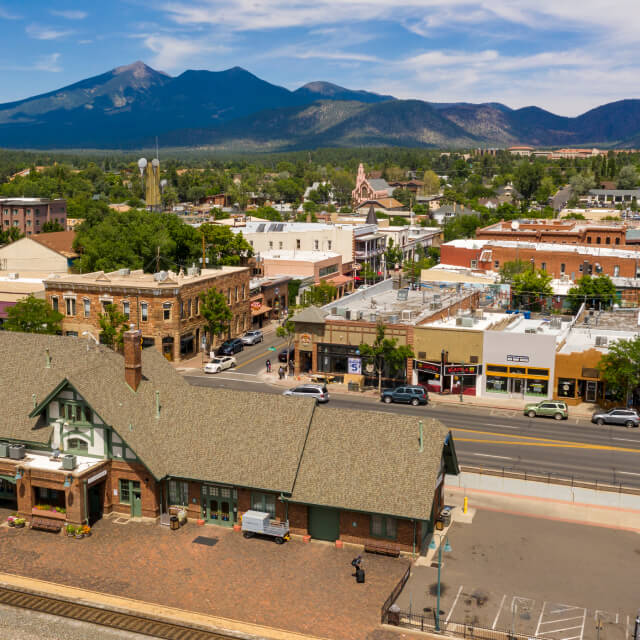 Getting a comprehensive insurance policy with low deductibles and high coverage limits offers the greatest peace of mind on the road.
Freeway Insurance can help you find the best and most affordable car insurance policy in Flagstaff, Arizona. Get started with a quote online, or visit us at a Flagstaff office near you. Feel free to call (800) 777-5620 as well for a quote.
Select a Product or Service to request a quote
Ready to Get a Quick Quote?