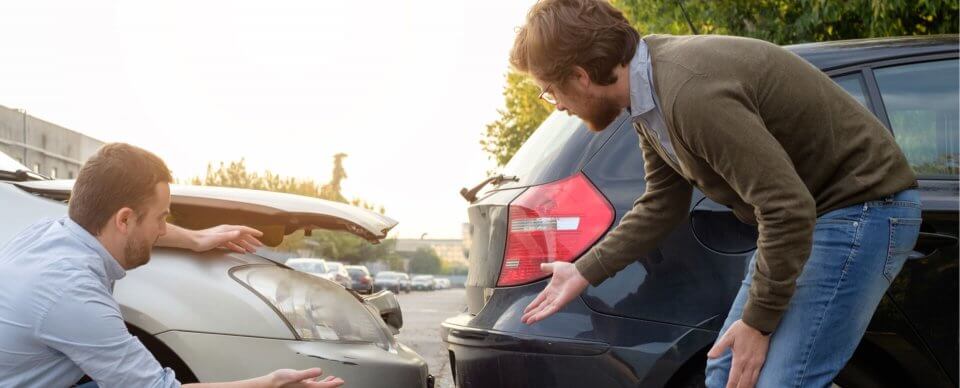 When you bought your car you probably made sure you had the necessary insurance coverage to drive in your state. So you should be totally protected in the event of an accident, right?
Unfortunately, this may not be the case if another driver hits you and they are uninsured or underinsured. The chances of that happening might seem unlikely, but in reality according to the Insurance Research Council approximately one in eight drivers in the United States are uninsured. You can be confident you are protected if you include uninsured motorist insurance coverage on your auto insurance policy.
You can be confident you are protected if you include uninsured motorist insurance coverage on your auto insurance policy, especially if you look at its cost vs benefits. So, do you know what happens if you get hit by someone without insurance? We got you covered.
What Should You Do if You Were Hit by an Uninsured Motorist?
Imagine you are stopped at a stop sign and all of the sudden you are rear-ended by another driver. You step out of your vehicle to assess the damage and to speak with the other driver and they tell you they have no insurance to pay for the damage. This certainly makes a bad situation worse, but there are a number of steps you should follow to help you in getting your vehicle's repairs.
Call the police.

It is wise to call the police in the event of any accident, but even more so when it's with an uninsured driver. The claims process will be much easier if there is a report from local authorities. This is also a good step to take to avoid any car insurance scams, where someone deliberately creates an accident.

Do not accept money from the individual who hit you.

Since the other driver is breaking the law by driving without insurance they may attempt to offer you money to avoid the involvement of the police or insurance companies. Do not accept it as you do not know the extent of your damages or injuries.

Do not accept liability.

It's better to not say more than what's needed until your insurance provider arrives. Comments that can be taken advantage of when used out of context can result in you or your insurance having to pay for the other driver's vehicle or injuries. When giving the police details, steer clear of unnecessary details or phrases like "I'm sorry". 

Exchange information.

While the police will collect your information as well as the other driver's it is important to collect their contact information yourself as it could take some time to access the police report. Attempt to get as much as you can from the other driver including their name, address, phone number, make and model of the vehicle, license plate number, etc.

Take pictures.

The best way to document the evidence of what occurred at the scene of the auto accident is to take pictures. Capture images of as much as possible such as the damage to your car, the other driver's car and license plate, surrounding signs and other important details. Photo documentation will help to expedite the claims process.

Contact your insurance company.

If you already have uninsured motorist insurance then your auto insurance company should be able assist you a great deal in the process. If you do not they should be able to advise you on next steps on your phone call.

Don't forget a medical evaluation.

With the adrenaline pumping after an accident, you might not be aware of any injuries or medical care that should be addressed with your insurer. Don't take your well being for granted and get a medical evaluation so you can get accurate information as soon as possible.
What Does Uninsured Motorist Insurance Cover?
If an at-fault driver hits you then uninsured motorist coverage would compensate you for any property damage that the accident caused as well as any serious injuries and medical costs you or your passengers experienced as a result of the crash.  Similar to liability insurance, uninsured motorist insurance is divided into uninsured motorist bodily injury and uninsured motorist property damage.
Now the big question: how much does it cost? Is it worth it? As you'll see in this article, it definitely is. UM coverage tends to be on the cheaper side, since it could range from 3% to 5% of your total insurance bill. Now, consider paying $50 a year for a $1,000 annual insurance bill that protects you against damages, and saves time and stress after an accident with an uninsured driver. Definitely a deal!
Does My Policy Automatically Include Uninsured Motorist Insurance?
Some states require a form of uninsured motorist coverage, but many do not. Some states also separate uninsured motorist coverage and underinsured motorist insurance. The minimum limits for coverage also vary.
The states that require UM insurance are:
| | |
| --- | --- |
| State | State Required UIM Coverage |
| Connecticut | 25/50 UIM |
| Illinois | 25/50 UIM |
| Kansas | 25/50 UIM |
| Maine | 50/100 UIM |
| Maryland | 30/60/15 UIM |
| Massachusetts | 20/40 UIM |
| Minnesota | 25/50 UIM |
| Missouri | 25/50 UIM |
| Nebraska | 25/50 UIM |
| New Hampshire* | 25/50 UIM |
| New York | 25/50 UIM |
| North Carolina | 30/60/25 UIM |
| North Dakota | 25/50 UIM |
| Oregon | 25/50 UIM |
| Rhode Island* | 25/50/25 UIM |
| South Carolina | 25/50/25 UIM |
| South Dakota | 25/50 UIM |
| Vermont | 50/100/10 UIM |
| West Virginia | 25/50/25 UIM |
| Wisconsin | 25/50 UIM |
*New Hampshire: Drivers are not required to purchase car insurance, but if they do, they must purchase a minimum package that includes UM
*Rhode Island: Drivers may decline to purchase UIM if they choose to buy only the minimum requirements 25/50/25 liability coverage
How Much Uninsured Motorist Coverage Do I Need?
If your state requires uninsured motorist insurance, it is wise to consider limits that are higher than the minimum requirement. It is recommended to have your uninsured motorist bodily injury limits match your liability limits. Since uninsured motorist property damage coverage protects your vehicle you should consider limits that are in line with the value of your car.
For example, if your liability limits are $100,000 per person and $300,000 per accident, you will want to match those in your uninsured and underinsured bodily injury limits. If your car is worth approximately $25,000 then your uninsured and underinsured motorist property damage coverage should closely match that amount.
What If the Uninsured Driver Is Driving an Insured Car?
It depends on the auto policy the vehicle owner has. Full coverage insurance should cover the damages if the driver borrowed the car, but there are always terms and conditions that should be checked. That's why you should always be sure if your insurance covers other drivers.
What Happens If I Don't Have UM Insurance?
While there are different options for you if you don't have uninsured motorist coverage, there's no guaranteed solution. You could take legal action against the at-fault party. However, there is no way to guarantee you'll be able to collect your compensation, since they may not have necessary assets to solve the debt.
In other words, you'll spend time and money on winning a claim that in the end you might not collect. Avoid the stress, time and money and instead be sure to have UM insurance in place.
How Uninsured Motorist Protection Can Help
Having uninsured motorist protection makes sense – so much sense that many states require it. If you live in a state where this coverage is optional, it's still a good idea to purchase it for added protection to prevent unwanted circumstances. Uninsured motorist bodily injury coverage could help cover your medical expenses and lost wages if you have to stay home from work, while the property damage portion of this coverage would take care of fixing up your car. Seems like a good deal!
Get Low-Cost Auto Insurance
If you're currently without affordable auto insurance from Freeway Insurance, chances are you're overpaying for your car insurance. . Compare car insurance quotes from multiple insurance companies in minutes by requesting a free consultation online, over the phone at 800-777-5620 or visiting our offices to talk with an insurance agent.
Ready to Get a Quick Quote?