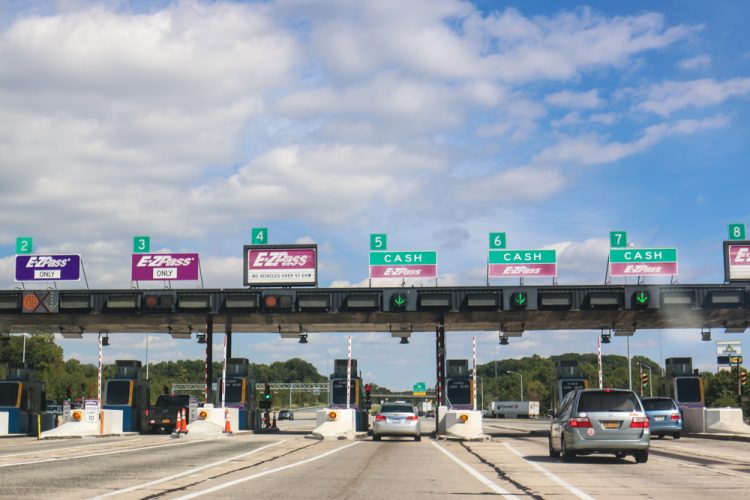 Whether you're planning a scenic road trip down miles of toll roads in the Southwestern United States, or up and down the east coast, or simply want a smoother commute, understanding toll passes and their benefits is essential.
Since the US (from Massachusetts to West Virginia to Rhode Island and beyond) doesn't have a singular toll pass that is compatible across all toll systems, we've put together a starter guide to unravel the world of tollways, explain their purpose, outline the most popular options available and provide a roadmap to navigate the process.
How Tolls Work
Toll roads are vital revenue sources for maintaining and enhancing transportation infrastructure. As you travel on them, you'll be required to pay a fee that varies. The fee depends on different factors including distance, vehicle type, and the specific toll or bridge you're using.
Just like you should familiarize yourself with what's legal or required to drive a car anywhere in the United States, including the consequences of driving without car insurance, you should also know the different types of tolls, toll rates, and how they work. There are three types:
Open Road Tolling, also known as All-Electronic Tolling (AET), is a system that allows vehicles to pass through toll plazas at normal highway speeds without the need to stop or slow down.
Barrier tolling is a traditional toll collection system that utilizes toll booths or barriers at designated toll plazas.
Express lanes, also known as High Occupancy Toll (HOT) lanes or Managed Lanes, are designated lanes on certain highways that offer drivers the option to choose a faster and more reliable route by paying a toll.
How to Pay it
Gone are the days of people fumbling for cash at toll booths as they haphazardly approach the toll lanes. Advancements in technology have brought about electronic toll collection systems for customers, which rely on transponders or license plate recognition, which allows you to pass through toll plazas seamlessly. These systems eliminate the need to stop, enabling faster and more efficient travel experiences for visitors (yes, even ones in rental cars)!
If you've planned a road trip to top destinations that you wouldn't commonly frequent, some toll systems accept cash or are more often equipped to accept card payment via an online portal using license plate recognition. If you're not sure what the web address is for the toll system or did not stop to pay, you will receive a bill at your home address listed with the license plate registration.
How to Get a Toll Pass
Obtaining a toll pass is a straightforward process that comes with a multitude of benefits, including saving time and avoiding the inconvenience of cash transactions and long lines. Research the various toll pass options available in your region. Different states may have their own systems, so it's essential to understand the options specific to your area or the areas you plan to frequent.
Review the eligibility criteria and any necessary documentation needed to apply for the toll pass. This may include vehicle registration information, proof of residency, or identification documents.
Choose your preferred toll pass. There are different types available. Visit the toll pass provider's website or contact customer service to fill out an application form with accurate information and submit it as instructed.
Bear in mind that some toll passes require an initial charge or a refundable deposit, so be prepared with your preferred form of payment. Once your application is processed and approved, you will receive the toll pass device, usually in the form of a transponder or sticker, along with instructions on how to activate it. Follow the provided instructions to securely mount the toll pass device on your vehicle's windshield or license plate, as specified by the toll pass provider.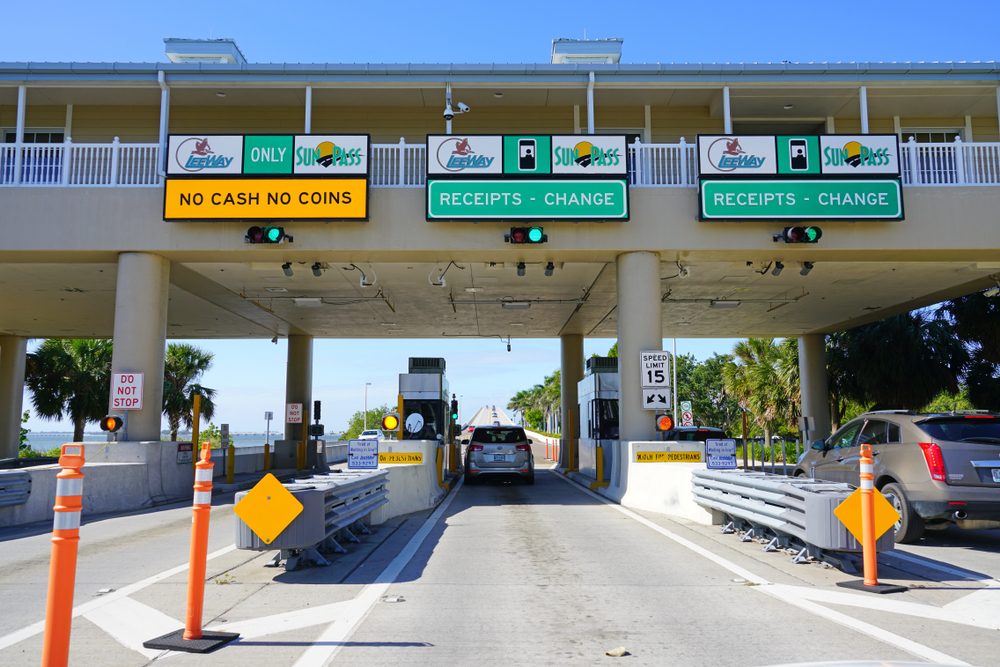 Most Common Toll Passes in the US
As we first mentioned, there is not one universal toll pass that will cover all the toll systems and toll charges in the United States. In fact, the US has over 90 tolling agencies! The longer the distance you plan to drive, the more toll systems and toll pass brands you're likely to encounter. The savviest RV travelers checklist will include the required toll passes needed while traveling in the US. Below is a list of some toll agencies.
E-ZPass or EZ Pass
One of the largest and most widely recognized toll pass systems, accepted in numerous states such as New York, New Jersey, Pennsylvania, and more. The E-ZPass system offers a convenient way to pay tolls electronically and is compatible with several other states' systems.
SunPass
Prevalent in Florida, SunPass allows for seamless electronic toll payments on the state's toll roads, bridges, and express lanes. It offers different types of transponders to suit individual preferences and vehicle types.
FasTrak
Popular in California, FasTrak enables quick and convenient toll payments on designated express lanes and bridges. It helps drivers save time and reduce congestion during peak hours.
TxTag
Widely used in Texas, TxTag offers a hassle-free way to pay tolls electronically, covering various toll roads throughout the state.
Uni
Uni is a versatile toll pass system accepted in multiple states, including Delaware, Illinois, Indiana, and more. It provides interoperability and convenience for drivers traveling across state lines.
ExpressToll
Operating in Colorado, ExpressToll allows for seamless electronic toll payments on the state's toll roads, ensuring a smoother driving experience.
Freedom Pass
Accepted in Virginia and North Carolina, Freedom Pass offers an easy and efficient way to pay tolls electronically, making travel more convenient for drivers in the region.
How to Choose a Toll Tag
Now that you've seen the most popular options for toll passes, how do you choose which one is right? Consider factors such as coverage area, compatibility with other states' systems, and any additional features or discounts offered by the toll pass provider.
You may also want to consider the time it takes to get approval on your application, and how long it will take to obtain an official item if a transponder or sticker is involved. Furthermore, consider the initial cost of signing up. Some toll passes require a minimum or initial pre-loaded amount before you're toll account is activated. All in all, it's best to research the available options, compare their benefits, and choose the one that best suits your specific travel needs.
Affordable Car Insurance Through Every Toll
Whether you're planning for the road trip of your dreams or you frequently commute, you want to be prepared. Make sure you also choose auto insurance at the right price. Freeway Insurance can help you find the best car insurance. Get a fast and free quote online, give us a call at (800) 777-5620, or stop by one of our convenient locations.
Ready to Get a Quick Quote?