When is the journey more important than the destination? Simple … when you're taking a road trip through the Southwest!
The Southwest is full of many scenic destinations, but where will your own journey through the Southwest take you? To Utah, Arizona, Nevada, Colorado, or even further than that?
As you can tell, the perfect Southwest jaunt begins with proper planning and preparation, including affordable car insurance. Ready to make your own trip perfect? Keep reading to discover how to make the perfect plan.
When Is the Best Time to Take a Southwest Road Trip?
Some of your more adventurous friends may say there is never a bad time to go on an adventure. However, the only way to combine great destinations with your scenic drive is to go at the best time.
When is the best time to go, though? Before you tear off for places like California and New Mexico, you need to understand how both weather and road conditions may affect your journey.
Weather
The weather is always a concern when you're driving, and it's especially important if you want to spend a full day biking or hiking. With that in mind, you should plan your road trip around certain months of the year.
For example, summer may sound like the perfect time of year to enjoy stunning views of the American Southwest. However, these months (especially July and August) are so hot that you may feel like staying in the shade during your entire Southwest USA exploration.
Instead of checking out the grand view of desert landscapes in the summer months, you could always wait until winter. However, for best results, we recommend planning your trip for either April/May or September/October. It won't be too hot or too cold, and as an added bonus, you'll avoid the wave of crowds you might otherwise encounter during summer and winter break times.
Road Conditions
One of the harder elements of your trip to plan around are the road conditions. Once you begin driving (perhaps down the iconic Route 66), you'll need to listen for local updates about road closures, accidents, detours, or anything else that might affect your trip. If you use GPS software, such as Google Maps, you can get automatic alerts as you drive.
Right now, though, you may be better off monitoring the current road and weather conditions in the Southwestern areas you plan to visit. There is no guarantee these will be the same conditions you encounter when visiting for the first time, but doing this will give you a rough idea of what to expect.
Where to Begin Your American Southwest Road Trip
Strictly speaking, you can kick off your U.S. road trip from any location, including the most rural backcountry roads in the land. Still, if you want to experience as many natural vistas as the Southwest has to offer, it's important to begin your drive in the right places.
For example, one fun jaunt takes you from Las Vegas to Bryce Canyon and back again. Taking this path lets you experience other great attractions, including Valley of Fire State Park and Zion National Park.
You can always hit the road starting in Utah and visit the state's biggest state parks. This includes Canyonlands National Park, Arches Natural Park, and Capitol Reef National Park. This trip gives you a great view of different rock formations, and you can enjoy the scenic sights just as easily from a car as you can while hiking.
Another classic Southwest path takes you from Las Vegas to the Grand Canyon. On this round-trip journey, you'll experience one-of-a-kind sights, such as the Hoover Dam.
Ultimately, where you begin depends on what you want to see. Begin in Arizona if you want to check out Red Rock State Park, or start out in Utah if you want to spend some time at Monument Valley. The choice is up to you.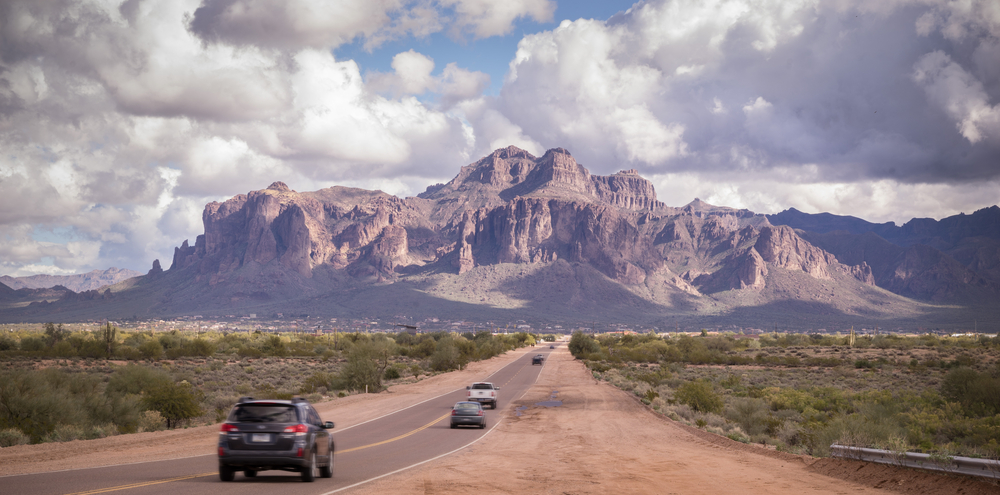 How to Save Money on Your Southwest Road Trip
Road trips are great, but how much driving time you have often depends on your budget. That brings us to some good news: The better you are at saving money, the more "must-see" stops you can pack into your trip! After your southwest trip, you may consider a midwest road trip to see even more of America!
With that in mind, here are a few of our top tips for saving money during your trip.
Lodging
Whether you're going an hour away or much farther, you're going to need to find a place to stay. While the local visitor center may have some recommendations, they may also end up steering you towards pricey accommodations (assuming, of course, you aren't staying in a motorhome). Fortunately, we have recommendations for lodging that balance budget and fun.
If you visit Las Vegas, we recommend staying at The W. It has a lot of personality but is cheap enough that you can spend more money on your bucket list.
Flagstaff, Arizona, is a great stop for any trip, especially because it lets you check out the Hoover Dam along the way. Plus, the local Hilton Doubletree in Flagstaff provides clean, comfortable rooms at an awesome price.
If you make it to Capitol Reef, you should check out the Capitol Reef Resort. In addition to great prices, it provides theming (including covered wagons) that is fun for the whole family.
Roadside Assistance
Hitting the highways is great because they take you from campgrounds to sights like those at Mesa Verde National Park. However, you never know what might happen on your way. That's why we recommend getting roadside assistance before you drive out to that scenic desert view and enjoy some of the most beautiful places in this country.
Roadside assistance offers the towing and repair services you need when you're on the go. Whether you're on a day trip or something longer, roadside assistance can get you back on the road in a jiffy.
America the Beautiful Pass
Arguably, one of the best things of the trip is that you get to enjoy the different state and national parks the Southwest has to offer. If you want to save money while visiting, you need to get an America the Beautiful Pass first.
This national park pass gives you unlimited entry to all U.S. national parks for only $80. So in addition to helping you have a Southwest experience as you drive through places like Springdale and Slot Canyon, it will let you explore all the nation's other parks as well.
What to Pack for Your Southwest Road Trip
No matter where you visit in the Southwest, there are a few things you need to pack. This includes obvious things like your license, registration, and insurance card. You should also have a car charger and phone mount to keep your phone juiced up and within easy view so you can use the GPS.
Beyond that, be sure to pack a roadside emergency kit, flashlight, spare tire, and tire-changing tools. All of this can help you out in the event of an unexpected "speed bump" on your scenic drive.
Places to Visit on Your Southwest Road Trip
Ultimately, where you begin and end is up to you. We are starting this itinerary at Four Corners, which has an address in Arizona, but affords to opportunity to head mostly south and west afterwards. You'll end in Death Valley, CA – which does seem like a fitting place to call it a day! However, you can always Google it to find your complete guide to a custom path.
Four Corners National Monument
Four Corners makes the prefect starting point. You can say your Southwestern journey started in four states since this is where Arizona, New Mexico, Colorado, and Utah meet. There is a small entrance fee of $5 per person and you can actually stand in all 4 states at the same time. When you leave Four Corners, take a short drive west for about 93 miles to be amazed by Monument Valley.
Monument Valley
If you want to see a monumental view of the desert southwest, this is one place to do it. Monument Valley is so named due to a variety of towering buttes with descriptive names, such as the Mittens, Three Sisters and Ear of the Wind. You can hire a Navajo guide to take you deeper into the desert if you wish, or explore by horseback. There's a dirt road to drive around and see the wild beauty of a place untouched by progress. When you leave Monument Valley, you'll drive 316 miles (about 5 hours) to hit Phoenix.
Phoenix, Arizona
By the time you get to Phoenix, you'll be ready for night in a desert hacienda. Enjoy some shopping and southwest-style food in Scottsdale or take advantage of one of numerous beautiful golf courses before leaving the next day for Sedona (116 miles north). Be sure to take the time to check out the Lost Dutchman State Park outside Phoenix first.
Sedona, Arizona
Head due north to reach Sedona, a mystical place that features natural beauty and great hiking opportunities. Sedona is known as one of the most beautiful small towns in America. Be sure to check out Devil's Bridge and Cathedral Rock while you are there. Devil's Bridge has a free parking lot and no entrance fee, but come prepared with lots of water for your hike in. From Sedona, head to the Grand Canyon, just a short 114 miles west and north.
Grand Canyon National Park
The Grand Canyon is even bigger and more beautiful than you imagined. Take as much time as you need to check this out. In fact, don't be afraid to spend your whole day there. If you like to hike, the Grand Canyon offers several trails down to the Colorado River – just remember, you will be hiking back up to get out. The Grand Canyon also offers a mule train down and up, maybe the best way to explore this canyon. There is an entrance fee to get in to the Grand Canyon. Head NE for 133 miles to get to Horseshoe Bend.
Horseshoe Bend
Horseshoe Bend is perhaps the most beautiful area of the Colorado River. Be sure to snap some selfies in this great spot while you're here. If you decide to get adventurous and kayak Horseshoe Bend, the best starting point is Petroglyph Beach. After that, it's only a short 61 miles to your next stop, Grand Staircase-Escalante.
Grand Staircase-Escalante National Monument
Destinations don't get much bigger than the Grand Staircase-Escalante National Monument. There are nearly 2 million acres for you to explore, which is great for the pioneers at heart. It's only 20 miles from here to Bryce Canyon, your next stop.
Bryce Canyon National Park
Bryce Canyon, located in Utah, is a quick stop on your trip and looks more like a surrealist painting than a desert landscape. Called "hoodoos", this is the largest collection of "irregular columns of rocks" anywhere on earth. Truly, you'll have to see it to believe it. As with all national parks, there is an entrance fee. Your next stop is Zion.
Zion National Park
Veteran hikers speak of Zion in hushed tones, and there's a good reason for that. This is, simply put, the best hiking location in the country. Zion is only 73 miles, give or take, from Bryce Canyon, so if you want, you can hit them both easily in one day. Zion is surrounded by true southwestern charm, with canyons and a wide array of biodiversity. You can choose to spend the night at one of Zion's well-known resorts if you want to indulge in a popular hike before making the trip to Las Vegas the next day.
Las Vegas, Nevada
Head southeast for 167 miles to hit Sin City. There are plenty of things to see and do inside Las Vegas itself. However, the best thing for adventure and nature lovers in Las Vegas to do is take a trip to Antelope Canyon, about 275 miles. You'll be backtracking but since you can only see it with a guided tour, it should be on your list for your time in Vegas. Before you do that, take some time in Las Vegas to check out some of the attractions, such as the Fremont Street Experience, a great place for visitors to see the glitz and the glam.
Antelope Canyon
Located on private land on the Navajo Nation, visitors may only access Antelope Canyon on a guided tour. However, the experience is well worth the price (4.5 to 5 on Trip Advisor's rating) – you won't see such breathtaking views in other places. It's less than a day's trip from Vegas but has an early start. You'll be returning to Sin City, so spend the night, have some fun and get an early start the next day for Joshua Tree, a 198 miles trip due south and slightly west.
Joshua Tree
Joshua Tree is known for its unique and somewhat brutalist beauty. When the Mojave and Colorado desert systems meet, you get this unforgettable national treasure. There is an entrance fee, but it's well worth it when you see this massive desert firsthand. You can camp here, if you dare (maybe even in a VW bus for some real nostalgia). There's no services (at all) and sketchy cell reception. But if you've got a little bit of a wild side, this might be the experience for you.
Death Valley
We'll end our journey at the door of Death Valley National Park, a drive of 228 miles from Joshua Tree. Death Valley is famous all over the world for its stark and isolated vistas. The hottest and driest national park, Death Valley is home to such mysteries as the sailing stones, ghost towns, wildlife and much more. You should plan to stay for at least a day to end your southwestern journey on a pensive note among the spectacular views of desert and dunes.
Get the Right Insurance for Your Southwest Road Trip
Now you know how to plan the perfect Southwest adventure, but do you know who can protect your car as you cruise down these beautiful roads and exotic locations?
Here at Freeway Insurance, we protect your journey by protecting your ride. Get started with a low-cost auto insurance quote online, or if you'd like to work through an agent, you can come and visit us at a local office near you or give us a call at (800) 777-5620 for a quote.
Ready to Get a Quick Quote?