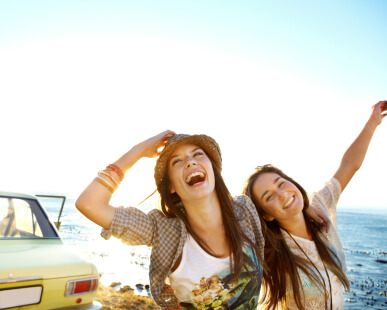 If you're planning a road trip – whether it's a solo trip or with friends or family – decide on a destination that offers a wide range of attractions. No matter what part of the country you live in, there's no shortage of worthwhile destinations. To help you in planning a road trip, consider one of the following spots – each one located in a different region of the country.
Northeast: Washington D.C.
At one point or another, everyone should visit the nation's capital, so why not plan a road trip there? Among the absolute must-see sites are the White House and the Capitol. Also be sure to visit one of many free museums, including one of the world-renowned Smithsonian museums. This city has enough monuments to rival any European capital, and the inspiring Lincoln Memorial is not to be missed. For shopping and dining, take a relaxing stroll along the picturesque streets of Georgetown.
South: New Orleans
Planning a road trip to one of the country's oldest cities will not disappoint. Head to the storied French Quarter for the quintessential New Orleans experience – a place to indulge in the Cajun and Creole cuisines, enjoy the smooth sounds of jazz, partake in the lively nightlife scene or join a spine-chilling ghost tour. For a change of scenery, take a streetcar to St. Charles Avenue where you can get a glimpse of the stately 19th century mansions that line this charming street.
Midwest: Chicago
Chicago most definitely has something for everyone, so you can't go wrong with planning a road trip to the Windy City. Some activities in your itinerary should include a walk along the Lake Michigan shoreline, a visit to the Art Institute of Chicago to catch an Andy Warhol exhibit, a pit stop at an authentic blues club, and perhaps a food tasting tour to try a Chicago-style hot dog and deep dish pizza. For a bird's eye view of this urban gem, go to the John Hancock Observatory or the Sears Tower Skydeck.
West: California Coast
If you're planning a road trip to the West, consider making it the ultimate road trip by winding through Highway 1 from San Diego to San Francisco. As a starting point in San Diego, consider a trip to Sea World or perhaps a hike at the Torrey Pines State Reserve. Next up in Los Angeles, take a stroll through the Venice Beach Boardwalk where you can shop, dine and be entertained by a plethora of street performers. After the sun sets, head over to Griffith Park where you can catch amazing views of the sparkling urban sprawl that is the City of Angels. As you make your way up to San Francisco, take a bike ride through the iconic Golden Gate Bridge or check out the largest Chinatown in the U.S., where you'll even find a fortune cookie factory that you can tour.
When you're planning a road trip, remember that getting there really is half the fun. Just make sure you pick the right destination so that the entire experience is full of fun.
Ready to Get a Quick Quote?