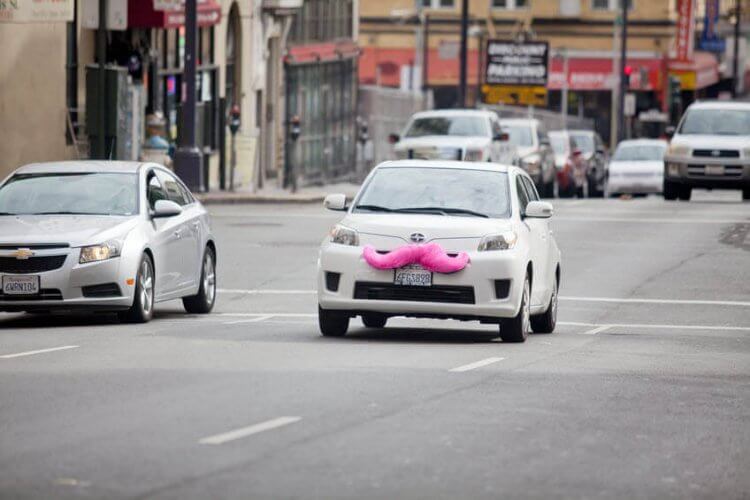 How do you top the marketing magic of a big fuzzy pink mustache that made you the most recognized ride-sharing service in the country? Easy – you replace it with the "Glowstache", a smaller glowing pink dashboard version. The quirky car ornament, officially known as the "carstache", was highly noticeable when strapped to the front grills and bumpers of Lyft cars. It angered many taxi drivers, who retaliated by claiming the service's drivers were not properly licensed or insured when, in fact, Lyft reportedly maintains a $1 million auto insurance policy to cover its rides.
In contrast to the original iconic symbol, the new hand-sized pink trademark will now be displayed inside the driver's car on the dashboard, and will remain highly visible. Though some drivers question the logic behind the switch, most go along with the view expressed by Lyft's President John Zimmer, who stated he didn't want to overuse the pink facial ornament.
The general consensus is that the introduction of the new Glowstache marks an exciting industry moment as Lyft embarks on the next chapter of its growth. Made of synthetic fur, the fuzzy pink mustaches are not about to be entirely forgotten as, ironically, the company is searching for an alternative to make them more weather proof in order to resist exposure to harsh climate such as in windy Chicago and rainy Seattle. And, if the community of Lyft drivers, who love iconic pink whiskers, have anything to say about it, along with the behind the scenes attempt to find a way to protect or come up with a better material for the pink mustaches, it could be they're not going away permanently by any means.
Lyft's ride-sharing service has enjoyed a great deal of success, leading to planned future expansion. Financially sound, the company is reportedly worth $275 million and at present operates in 13 U.S. cities, the last of which opened in the past month. To date, Lyft drivers have given more than one million rides and amassed over $82.5 million from investors.
If you don't own a car and don't like public transportation, ride-sharing is a great way to go. On the other hand, if you do own a car, you know how important it is to find the cheapest car insurance quotes. Make sure you're getting the best rate on you auto insurance. Why not get a free auto insurance quote today?
How do you feel about Lyft switching from the fuzzy pink mustache to the dashboard version? Feel free to share your thoughts in the comments section below.
Ready to Get a Quick Quote?