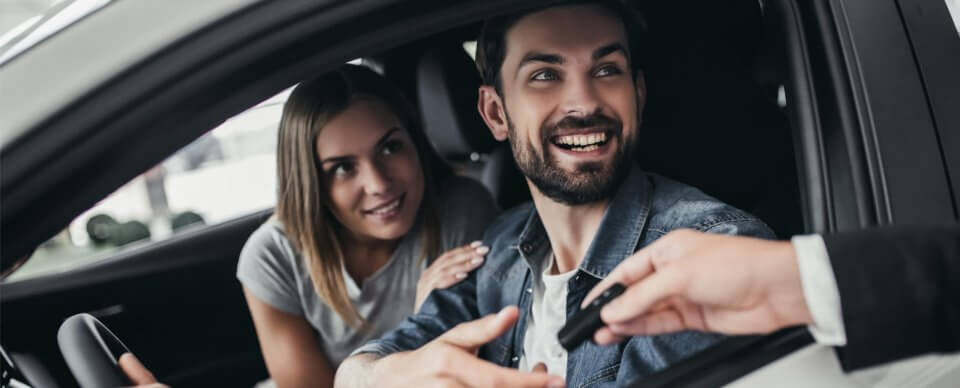 Updated 09/13/2022
When you buy a new car, there are many factors to consider—like add-ons and upgrades—but nothing is more important than learning how to insure a new car. The new auto insurance grace period or temporary coverage differs per carrier, but it ranges between 0 to 30 days. If you must make a claim within this period, your carrier can cover your new ride with your previous plan. However, it's best to get your new ride insured as soon as possible.
Buying a new set of wheels involves a lot of choices that come at you suddenly. Do you want leather seats, front- or four-wheel drive, or an add-on package that includes the latest technology? In all of the excitement of your new purchase, you may forget to think of one very important thing — your auto insurance. However, if you drive off the dealership lot without proof of insurance, the clock is ticking. If you forget, then you can end up driving while uninsured.
Will My Current Auto Policy Protect My New Ride?
The short answer is yes. But when buying an auto policy for your recent purchase, new car insurance grace period timelines can differ. Though your existing car insurance policy will protect your new auto for a short while, it may not be a good fit. Most insurers have a grace period owners rely on to have enough time to set up a new policy. Dealerships also offer some temporary coverage. During this time, you can add your new car to your existing policy or get a new plan from a different carrier. Any claim within the grace period will cover you with the same limits.
Unfortunately, this is not always the best way because it is recommended or required to add certain coverages for a new vehicle. It is smart to connect with your auto insurance agent or insurance company as soon as possible to be confident you are fully protected and have proof of insurance. For instance, your new vehicle may have an anti-theft device that can offer you some discounts. Or, you may want to add roadside assistance or higher liability coverage in case your higher-valued ride is damaged.
Do I Need Specific Coverage for My New Car?
Yes. It will depend on whether you financed, leased, or owned and what states are involved. Each type of use involves different levels of risk to the carrier, so costs may be higher for different coverage options.
Financed Vehicles
If you financed, your lender or dealership will typically require you to have full coverage car insurance – collision coverage and comprehensive coverage on your policy. Collision insurance will help cover damage resulting from an accident with another vehicle or object, such as a house or a sign. Comprehensive will cover damage that did not occur from a fender-bender, but damage caused by natural disasters, fire, theft, etc. Financers also typically require a specific amount of minimum liability insurance coverage, which would help to pay for medical bills to another individual or their property damage from an accident you caused.
Leased Vehicles
In addition to the full coverage car insurance requirements to carry collision insurance and comprehensive coverage and minimum liability insurance limits, lessees may also be required to obtain gap insurance coverage. Gap helps cover the "gap" between the value of a vehicle in the event of an accident and the amount owed.
Auto insurance brokers typically determine how much they will pay out for a covered claim based on value at the time of the accident. This can be an issue for new cars because they begin to depreciate as soon as they are driven off the lot. In fact, according to the Insurance Information Institute, a vehicle can depreciate as much as 20% in its first year.
Imagine that you leased a $25,000 vehicle, and after a year, it was valued at $20,000, but you still owed $23,000 — gap would not only cover the current value, but the $2,000 gap that you still owe the lienholder.
Owned Vehicles
In the case that you own outright without a lien or a loan, you would only be required to carry your state's liability insurance minimum limits; however, you may want to consider increased coverage limits to protect your new investment. To find out your state's minimum requirements, contact your local DMV. However, it may be a good idea to have more protection than just the minimum if you don't want to pay for a large part of incidental repairs.
Even if your lender or state doesn't require it, you should seriously consider uninsured motorist coverage. Uninsured motorist coverage is typically cheap and protects you against injuries and damage from an uninsured driver or someone who isn't carrying enough insurance. Uninsured motorist coverage can make a big difference.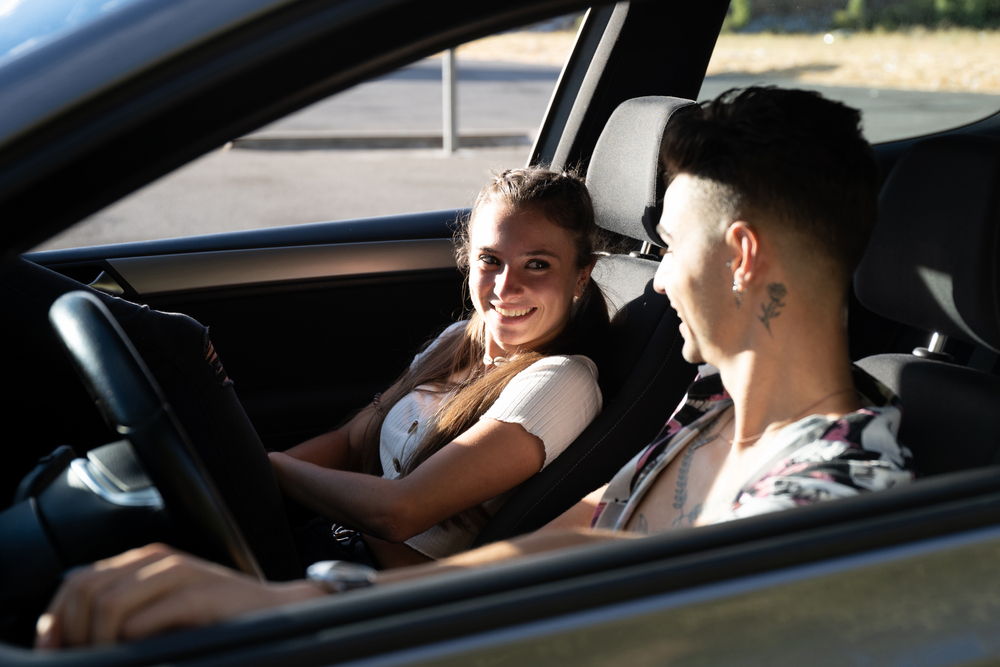 How Can I Insure a New Car?
Before you sign on the dotted line and drive off the dealership lot, it is important to research coverage for new cars and find out how to insure a new car. The rates differ in different states, and the types of coverage you need to be financially protected differ from a less costly used option. To get the best rates for more demanding coverage, it's smart to shop around for the best deals by getting multiple auto protection quotes.
There are a few ways to get this insurance coverage on your auto insurance policy. First, you can try to stick with your current insurer and recalibrate your existing car insurance policy. This will involve different rates from your insurance company that are usually higher.
If you want to find a new carrier, you can go online and enter your information on any company's website and receive approximate quotes. These online forms produce estimated figures based on your car's general data. You must repeat this process on each website that you visit. After comparing quotes, you can call back the company you like the best.
Another good idea is to call an independent insurance agent or broker. This broker can speak to you and get specific information to retrieve more accurate quotes from multiple carriers at once. Brokers can even recommend ways to reduce your premium with exclusive discounts. This is the fastest way to comparison shop and to see how much it will cost. By speaking with a broker, you can also get expert advice on what types of coverage are recommended so that you get the right type of protection while you're on the road.
How Much Is Insurance for a New Car?
Premiums are based on many factors, including the make and model and are different across states. The average cost is $1,592 per year, which amounts to around $133 per month for an auto insurance policy. This figure is for a person with a high credit score and a good driving history. Other factors like age, location, marital status, and more can also influence this rate to make it higher or lower. Any at-fault accidents increase the average premiums. For instance, car insurance rates averages $2,439 per year after just one at-fault wreck and can cost over $3,000 after a DUI.
The best way is to shop around and get a quote from your current company, as well as from other companies. Start this search process before purchasing and determine required coverages so you aren't stuck with an auto that is too costly to insure. Additional coverages such as new car replacement protection may be an option.
And though new vehicles are more expensive than a used car, it doesn't always have to be more costly to insure. New cars come with some of the latest technology, such as advanced safety features, anti-theft devices, and parts that are more available on the market. These factors can make the ultimate price not as high as you think. It's also possible to lower rates with some discounts.
How Can I Lower My Rates?
There are several steps you can take. The latest vehicles can have higher auto insurance rates than a used car for their typically higher value. They haven't depreciated much yet and are insured based on their full value. As it ages, it will be less expensive to cover due to depreciation alone. Therefore, even if you do nothing but own your ride, the rates can go down over time. Here are some other steps that can lower your rates.
Pay in bulk. By paying your 6- or 12-month quote in full, you can potentially negotiate a discount. Carriers benefit from the advance payment, and you also get to "set and forget" payments for a while.

Bundle your policies. Many insurers also offer other types of coverage, such as home, boat, RV, or renter's insurance. When you choose to buy multiple policies from the same company, you may get a discount for keeping your business with one entity. This discount is similar to how customers can get a lower rate on cable and internet when choosing a bundled deal.

Good Driver Discount. Having a good driving record can grant you rewards in the form of lower rates. The less risky you are to insure, the better it is for carriers. By staying out of incidents, you are considered affordable to cover and can benefit from this valuable discount.

Anti-Theft Device When you have security measures in place that make your vehicle harder to steal, insurers typically reward you. This higher confidence means lower rates. Anti-theft devices that companies acknowledge generally apply to these items:

Alarms (active or passive)
GPS trackers
A vehicle disabling device


Choose higher deductibles. If you don't mind paying more for any repairs, you can save on monthly premiums by opting for higher deductibles. When you choose to be responsible for more repairs, it costs less for the company to cover you. Even raising your deductible by just $1,000 can reduce your rates noticeably.

Become a part-time driver. By lowering your daily miles through carpooling or becoming a part-time driver through a non-owner car insurance policy, you can pay a lower monthly premium. If you plan to have the new car in your name, tell your agent that you plan to use it to carpool so that your cumulative daily miles will be lower than if you drive alone daily.

Improve your credit. Bad credit can significantly affect your rate. For example, a person with good credit can pay $133 on average, but a person with all the same credentials but with bad credit can pay up to $234 per month. Work with a financial advisor on improving your score. When the numbers improve, call your agent to get a better quote to reward all your hard work.
Find Affordable Protection For Your New Ride Online Today
Looking to buy insurance for your new car? Look no further than Freeway Insurance company. Freeway compares rates from top carriers to find you the best coverage at the best price. Get a free insurance comparison online or over the phone at 800-777-5620 today.
Ready to Get a Quick Quote?